Retailer's pre‑COVID-19 strategic retreat from the High Street, and resistance towards sales volume targets, matched with growing O2 emphasis on its own channels, prompted the breakdown of an already strained relationship.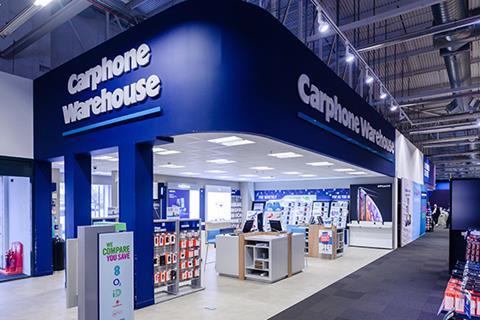 Telefónica UK (O2 UK) cancelled its retail contract with Carphone Warehouse, ending a commercial relationship that stretches back 20 years.
O2 has been blazoning the news on the home page of its online store, although offering only the somewhat nebulous reason that it wanted to "focus our attention on continuing to improve the experience of being with O2".
The two former partners were said to have been in the process of negotiating terms for a contract renewal, but were unable to reach an agreement by the expiry date of 31 March 2020. According to Reuters, O2 UK said it was not possible to reach a new agreement with Carphone Warehouse, "as they've made clear to the market that they wish to take a new strategic direction and change the relationship they had with mobile operators".
"As part of our strategy, we are moving to a new, more flexible, and transparent mobile offer that gives better value and choice to our customers. This offer is set to launch later this year. While our contract with O2 to sell post‑pay has ended, we continue to offer our customers a wide range of choice through our own mobile virtual network operator, iD Mobile [hosted by Three UK], and partners EE, Vodafone, Virgin Media [hosted by EE], and Voxi [a Vodafone sub‑brand], including those who currently have an O2 connection."

— Spokesperson for Dixons Carphone.
The development appears to be related to Dixons Carphone's announcement in mid‑March 2020 stating its intention to close all 531 standalone Carphone Warehouse stores in the UK on 3 April 2020. In future, the group aims to focus on a 'shop‑in‑shops' format in 305 Currys PCWorld stores and online, with the overall objective of turning Dixons Carphone's mobile division into a profitable business, from the £90m loss made this year. The group's 70 stores in the Republic of Ireland and any international operations are to be retained.
Dixons Carphone said other measures would include renegotiating its "legacy volume commitments" with mobile operators, to rid itself of "historic sales volume targets". Overall, the group's new strategy appears to have proved unpalatable to O2 UK, and could also affect the retailer's relationships with other operators.
O2 UK and Carphone Warehouse have certainly not always been on the best of terms. In August 2019, it was reported that Dixons Carphone had issued a High Court writ against Telefónica UK, alleging it had lost £21.7m (€24.7m) in profit as a result of O2 failing to meet its contractual obligations. At the time, Telefónica Group was said to have rejected the accusations, and that "we will be vigorously defending the claim" (Telefónicawatch, #137).
The Carphone writ also came against the backdrop of another High Court battle in progress, brought by the administrators for the bankrupted retail chain Phones 4u. O2 UK, EE, and Vodafone UK are accused of colluding to put the firm out of business and the administrators are seeking £1bn in damages (Telefónicawatch, #136, #141, and passim).
O2 UK currently operates more than 450 retail stores across the UK. The operating business has been exploring other retail opportunities, most recently with British fashion and homewares chain NEXT plc (Telefónicawatch, #138). It is piloting O2 shop‑in‑shops at four NEXT stores initially, and may extend the concept to more outlets over the coming months.