Startup enabling prompt treatment lands NHS contract on the back of successful Telefónica-backed pilot.
Group renewing interest in ICT health sector.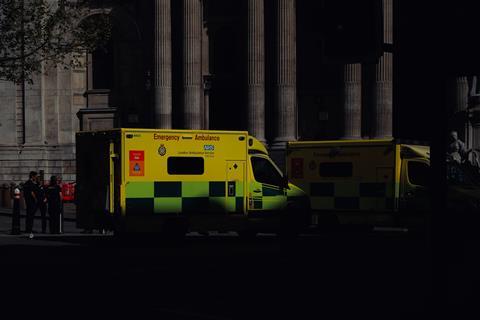 Wayra investment and video and voice software provider Visionable received a £500,000 (€562,225) grant from the UK government's Innovate UK agency, and will reportedly use it for wider rollout of its smart-ambulance solution across the UK's National Health Service (NHS) emergency vehicle fleet.
The fresh investment follows a reportedly successful trial of Visionable's Connected Ambulance solution — for which Telefónica UK (O2 UK) was flagged as an enabler (Telefónicawatch, #135) — in collaboration with the NHS East of England Ambulance Trust.
The trial, leveraging 5G connectivity provided by O2 UK, deployed Visionable's "all-in-one" remote diagnosis platform in six ambulances. It is said to provide paramedics with real-time connectivity and high-quality imaging in order to relay patient data and computed tomography to specialist consultants in hospitals, shortening the time between an emergency call out, diagnosis, and the administering of treatment.
A Financial Times report suggested that the trial — which focused on linking paramedics with stroke specialists — saved the NHS East of England trust an estimated £19m (€21m). This estimate seems to have been based on the system's ability to allow faster consultant decision-making, enabling patients to enter treatment more quickly and also spend less time going through rehabilitation in hospital.
Wayra investment branching out
Visionable has also reportedly signed a deal (via digitalhealth) with NHS England to use its solution in 114 prisons and juvenile detention centres across the UK as a means for inmates to speak to consultants remotely via video link. Further, the vendor is looking into developing smart wearables as a means to stream electrocardiogram data from ambulances to hospitals, according to the Financial Times.
According to Crunchbase, Visionable was founded in mid-2015, and received an undisclosed investment from Telefónica's incubation arm Wayra in early-2017. It has subsequently received over £15m from London-based investment vehicle West Hill Capital. Headed by Chief Executive Alan Lowe and Co-Founder Lord Victor Adebowale, CBE, it holds office space in London and in Lamberhurst, Kent with a relatively small workforce of about 50 staff.
e-health and automotive axis
5G healthcare use-cases are a key area of focus for Telefónica, including in conjunction with connected-vehicle testing. A similar pilot using an NHS emergency vehicle to test Visionable's solution took place at Millbrook Proving Ground in Bedford, UK, in September 2019, again with O2 UK providing connectivity (Telefónicawatch, #138). While outcomes of this test have not been divulged, it leveraged data collection software from startup Array (in which Wayra has also planted capital). It is unclear whether or not Array (previously known as Launchcloud) is still an enabler of Visionable's solution. The O2 UK-backed Darwin Innovation Group also partnered with the NHS and the University of Glasgow in July to pilot what was referred to as a 5G-enabled "COVID-19 clinic-on-wheels"; a means of testing residents and staff at Glaswegian care homes remotely.
The Telefónica-backed Open Future startup incubation hub La Farola, moreover, recently kicked off a new scaleup programme at the newly-opened 5G-enabled vehicle-to-everything lab in southern Spain and chose Zaguan Tech — which, like Visionable, is also proposing a smart ambulance solution — as a member if its five-strong cohort.
Meanwhile, in Spain, the operator is supporting sector specialist Dedalus Healthcare in its development of a "digital pathology" solution, so health workers can deliver a quicker diagnosis to patients (Telefónicawatch, #145). Telefónica España also recently launched Movistar Salud in collaboration with telemedicine provider Teladoc Health, to offer private medical support for its consumer and enterprise customers (Telefónicawatch, #148).

Sam Patterson is a Staff Reporter for TelcoTitans, contributing telecoms news analysis since September 2020 as part of the TelcoTitans Editorial team.