Longstanding partner and stakeholder CaixaBank namechecked as partner on TV-based payment solution.
Group's smart-home play given potential leg up by pandemic, with expanded Living Apps catalogue.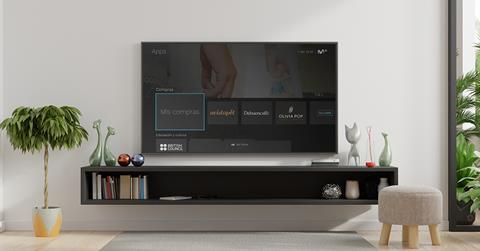 Telefónica España (Movistar) built out its digital services relationship with CaixaBank with the launch of Mis Compras (My Shopping), a new and remote "sales channel" accessible via its Movistar+ TV platform.
Mis Compras — available to customers using the Movistar Ultra HD (UHD) set-to-box or UHD Smart Wi-Fi decoder — currently houses seven e-commerce-based Living Apps, the ecosystem for third-party smart-home applications Movistar debuted in November 2019 (Telefónicawatch, #138).
Movistar flagged that customers will be able to "make all kinds of purchases" on the Mis Compras-tagged Living Apps, using a "simple and secure" payment solution, developed in conjunction with CaixaBank. The payment system is linked with the operator's self-care mobile application Mi Movistar.
Mis Compras forms part of Movistar's ongoing smart-home expansion programme.
It falls under the umbrella of the operating business' (OB) home-as-a-computer (HAAC) portfolio, which can be activated and controlled via the Group's voice-based Aura assistant, unveiled in late-2019 (Telefónicawatch, #138).
The seven organisations that have so far created Living App services for the Mis Compras channel are Aristopet, El Corte Inglés, Debuencafé, La Resistencia, Olivia Pop, tu.com, and Zeleris. Also available through Living Apps are multimedia entertainment, gaming, and sports channels, which enable users to stream content and check news via their connected TV. Movistar services, including personal billing information and the e-health private consultation platform Movistar Salud, which launched earlier this year, can also be accessed (Telefónicawatch, #148).
The move expands Movistar's digital commerce relationship with CaixaBank, which is Telefónica's second largest stakeholder behind rival financial services player BBVA. Movistar has been tied with CaixaBank on the Telefónica Consumer Finance joint venture (JV) since 2013 (Telefónicawatch, #81 and passim). The JV laid the foundations for the OB's Movistar Money personal loan service in March 2019 (Telefónicawatch, #134).
Smart-home in the spotlight (again)
The original goal of Living Apps was to allow large commercial partners, such as airline Air Europa and football club Atlético de Madrid, to create and offer digital services to Movistar customers built on Aura cognitive intelligence technology.
Initially, reports raised questions over consumers' level of interest in the services provided by Living Apps (Telefónicawatch, #138). Even so, the Group has now widened their scope and looks to consider there to be fertile ground for Living Apps in the much-changed consumer landscape following the pandemic.
The Mis Compras announcement gave a nod towards the impact of the health crisis and 'stay-at-home', state-mandated lockdowns as reasons for accelerating its smart-home go-to-market play. In addition, the Group launched a new HAAC Activation programme in September, welcoming external proposals for new Living Apps from Spanish startups, suggesting that the Group continues to see its smart-home offering as an opportunity for growth (Telefónicawatch, #148).
As yet, however, Telefónica has disclosed little detail on how its smart-home services are performing.

Sam Patterson is a Staff Reporter for TelcoTitans, contributing telecoms news analysis since September 2020 as part of the TelcoTitans Editorial team.