Wayra interest Volava taps into Spanish OB's customer base, with flexible payment options for its hardware.
Movistar raises possibility that early-stage link-up could be expanded upon, as startup pounces on COVID-19-spurred exercising-at-home trend.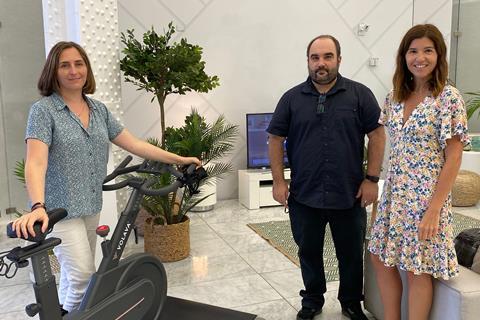 Telefónica España (Movistar) signed a deal with home fitness appliances provider Volava to distribute its Smart Bike bicycle and Smart Pulse heart-rate monitor. The offerings are stocked in a "selection" of Movistar-branded stores and online.
The operating business (OB) is offering interest-free payment terms, with the option of spreading the cost of Smart Bike over twelve to 36 months, and Smart Pulse over three to 24 months. Smart Bike and Smart Pulse are priced at €699 (£599) and €89, respectively.
Included in the Movistar packages is a two-month free subscription to the Volava smartphone app, providing access to around 60 live and on-demand fitness classes taught by "professional trainers" each week. A Premium subscription, costing €39-per-month, allows users to compare their performance data with the "Volava community" in "real-time".
Volava is cited as a business that has benefited from the current health crisis and the resultant 'stay-at-home' state-mandated lockdowns. The startup is in growth mode having seen a "tenfold" increase in sales in the last year. According to Startups' Oasis, it expects to achieve an annual turnover of between five and six million euros in 2021. Volava's product portfolio also includes the Smart Run treadmill, as well as a Boxing punchbag and boxing glove sensor kit. Through the app, defined by the business as the "Spanish Netflix of Fitness", instructors also provide dance, mediation, and yoga sessions, among others.
An announcement referred to the Movistar deal as a "pilot", a means for the operator to gauge demand for Volava products — currently stocked in retail stores across 15 locations — before expanding the scope of the partnership.
Telefónica Group has a stake in Volava via its startup accelerator arm Wayra, which participated in a Seed funding round that raised €2m in February 2021. To Marta Antúnez, Director of Wayra Barcelona, Volava's engagement with the OB is a marker of how the venturing unit helps "startups scale through Telefónica" sales channels.
Wayra was joined in the recent financing round by existing shareholder Inveready and newcomer JME Ventures. Barcelona-headquartered Volava has raised €4.5m since it was founded by its Chief Executive Joel Balagué in 2017.

Sam Patterson is a Staff Reporter for TelcoTitans, contributing telecoms news analysis since September 2020 as part of the TelcoTitans Editorial team.