O2 hands over the keys to the campus network it built at the automaker's Factory 56: seen as a "flagship" for 5G in manufacturing.
Production green light marks the start of Mercedes' all-digital production overhaul.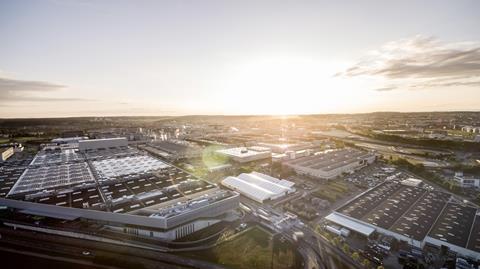 Mercedes-Benz Cars officially opened Factory 56, an all-digital production facility underpinned by a Telefónica Deutschland (O2) 5G campus network. On 2 September, the automaker began production of its new S-Class saloon at the Sindelfingen site.
O2 Chief Executive Markus Haas described the much-anticipated opening as a "flagship project" for the operating business. "5G is becoming a huge efficiency lever in robotics, in the connection of production facilities and thus in industry as a whole", he claimed.
O2 flagged in June 2019 that it was working with Ericsson to kit out the "digital, flexible, and green" factory with a 5G campus network, and recently indicated completion of the project was imminent (Telefónicawatch, #136 and #146). Mercedes-Benz will run the network, said to be based on 5G-enabled small-cells and dedicated core (although it is not clear exactly what level of 5G-type functionality is provided at launch).
Though the project itself is of considerable size — Mercedes-Benz invested €730m (£649m) to digitise and automate production at the 220,000 square metre site — for O2 it comes with the potential for further installs across the automaker's German footprint.
Mercedes-Benz Cars has production facilities in China, South Africa, and the USA, as well as several across Europe (France, Germany, Hungary, and Romania).
The opening is another step towards the car manufacturer's Ambition 2039 goal of overhauling its production processes, and which has seen it invest €2.1bn since 2014. The Factory 56 blueprint "sets the direction for the future of automobile production" at the business, Chairman Ola Källenius said. It will be incrementally copied to all Merecedes-Benz car plants around the world. The manufacturer's Mercedes-Benz Cars Operations 360 platform, which drives the new facility's connected production systems and has already been deployed in some form in 30 sites, will eventually be deployed at all the business' plants.
Mercedes-Benz Cars has not confirmed whether O2 or Ericsson will play a role in future private network deployments within the Telefónica footprint.