Telefónica Peru extends partnership with Loon through its Internet para Todos (IpT) initiative to provide mobile internet access in remote regions of the Amazon rainforest from 2020.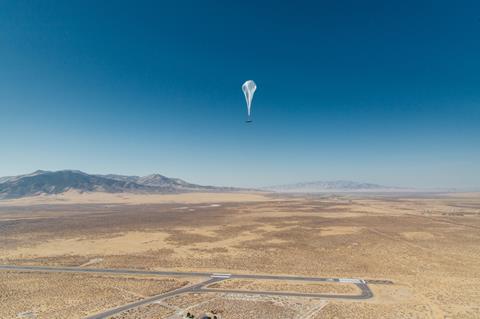 Telefónica Peru extended its work with the Alphabet Inc-backed Loon through its Internet para Todos (IpT) initiative, after agreeing a deal to use the Google 'moonshot' arm's high‑altitude balloons to provide mobile internet access to the operating business's customers in remote regions of the Amazon rainforest from 2020.
Pending regulatory approval, the project is said to be the first in Latin America to leverage Loon's solution on a commercial basis. Loon helps provide connectivity using a network of balloons that operate 20km above sea level as 'floating towers' to transmit a mobile operator's signal directly to smartphones in areas with low population density.
IpT and Loon will work to provide Telefónica customers with mobile internet connectivity in parts of the Loreto region in the Peruvian Amazonia, one of the largest and most remote regions in the country. They will "initially" provide service in locations that make up 15% of Loreto and where nearly 200,000 people live, where about a quarter of the population lack 3G or 4G connectivity (and many others are without any reliable mobile service at all, outside of populated areas).
Telefónica said that more than 800,000 people living in 5,300 rural communities in Peru now have access to mobile internet through IpT, which is aiming to connect more than 30,000 communities by 2021, and that it is intending to replicate the model elsewhere.
According to telecoms regulator Osiptel, internet penetration in Loreto is 100-times lower than in Peru's capital, Lima.
IpT Perú, launched in May 2019, is an open-access wholesale rural mobile infrastructure operator facilitated by Telefónica and Facebook, along with regional development banks Corporación Andina de Fomento — Banco de Desarrollo de América Latina/CAF and IDB Invest. Its aim is to bring mobile internet to remote populations where conventional telecom infrastructure deployment is not yet economically feasible.
Telefónica Peru began working with Project Loon in 2014, when early tests of the technology commenced (Telefónicawatch, #93 and #96). In 2017, the collaboration was extended to providing emergency mobile connectivity to flooded areas of the country (Telefónicawatch, #117), before the pair provided emergency coverage during an earthquake in the country in May 2019 (Telefónicawatch, #136).
Telefónica unveiled the IpT programme for Latin America at the Mobile World Congress tradeshow in 2018 (Telefónicawatch, #124), as part of the telco's collaboration with Facebook and its participation in the Telecom Infra Project (Telefónicawatch, #121 and passim), with the objective of taking internet access to an additional 100 million people in the region.