Reports suggest that Liberty Latin America is stepping up its acquisition strategy, and could enable Telefónica to tick two more boxes on its regional divestment list.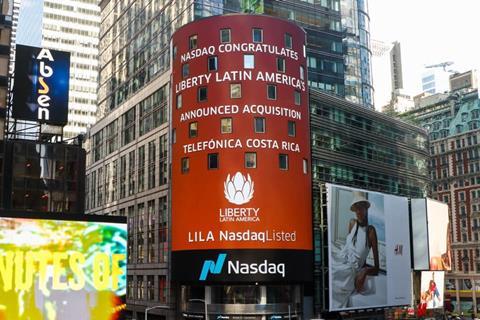 Telefónica Colombia and Telefónica Ecuador are reportedly being eyed up by Liberty Latin America, signalling further possible market exits by Telefónica in the Hispanoamérica region.
A Bloomberg report said the two groups have held talks over a potential deal, although only unidentified sources have been cited so far. According to the news agency, sources also said other suitors have expressed interest in Telefónica units in the region, although no details were provided.
Liberty Latin America certainly has form when it comes to buying up Telefónica units in the region. The service provider enabled Telefónica to salvage the sale of its assets in Costa Rica after the original buyer, Millicom International Cellular, pulled out of a deal.
Divestment strategy: picking up pace?
Telefónica unveiled a major transformation plan in November 2019 that includes the sale of underperforming assets in Hispanoamérica and an increased focus on the four key markets of Brazil, Germany, Spain, and the UK (Telefónicawatch, #139).
Telefónica is also in the process of carving out the Hispanoamérica unit from the rest of the Group, including businesses in Argentina, Chile, Colombia, Ecuador, Mexico, Peru, Uruguay, and Venezuela (Telefónicawatch, #141).
The speculation about potential deals in Colombia and Ecuador comes hot on the heels of reports that Telecom Argentina and its controlling shareholder Grupo Clarín are interested in buying Telefónica Uruguay.
The fate of the unit in Colombia has already been the subject of particular speculation, heightened by reports in August that the Colombian government wants to sell its 32.5% stake in Colombia Telecomunicaciones (Coltel). It was suggested that a sale might be more attractive because there could be potential to buy not only the state's holding but also Telefónica's 67.5% stake.
However, Coltel recently expressed interest in buying 5G spectrum, demonstrating a degree of future planning and raising questions over the potential timeframe for Telefónica's retreat from the Colombian market.
Telefónica previously sold its operating businesses in Nicaragua and Panamá to Millicom. América Móvil also agreed to buy Telefónica's interests in El Salvador and Guatemala for $570m (Telefónicawatch, #132 and #133). However, América Móvil recently decided to halt its plans to acquire the El Salvador business, whose future is now up in the air.
At the end of 2019, Telefónica sold 2,029 towers in Colombia and Ecuador to Phoenix Tower International.
Liberty's shopping spree
Liberty Latin America, which was split off from Liberty Global in 2018 to form an independent telecoms service provider, certainly seems to be on an expansion drive, and could be interested in assets that complement its existing operations and expand its footprint in the region.
In addition to prospectively buying Telefónica's assets in Costa Rica, Liberty Latin America recently completed the acquisition of AT&T's wireless and wireline operations in Puerto Rico and the US Virgin Islands. In both cases, it is acquiring mobile assets that can support a strategy of becoming an integrated provider of fixed and mobile services, matching the objectives of Liberty Global's recent overhaul of European interests.
The acquisition of Telefónica Colombia/Coltel and Telefónica Ecuador would allow Liberty Latin America to enter two new markets. In addition, both operators already provide mobile and fixed services.
As things stand, Liberty Latin America provides services in markets including the Bahamas (Bahamas Telecommunications Company/BTC), 15 countries in the Caribbean via the Flow brand, Chile (VTR GlobalCom), Costa Rica (Cabletica, and Telefónica Costa Rica when the deal is approved), Panama (Más Móvil), and Puerto Rico (Liberty Communications of Puerto Rico and the former AT&T assets). It also owns C&W Business, which serves enterprise customers in 18 countries, and sub-sea cable provider C&W Networks.

Anne Morris is a freelance journalist, editor and translator. She has been working as a reporter and news analyst for TelcoTitans since 2016.