Prisa stake potentially in play; Cisco trumpets Telefónica sell-with relationship; next stop USA for content?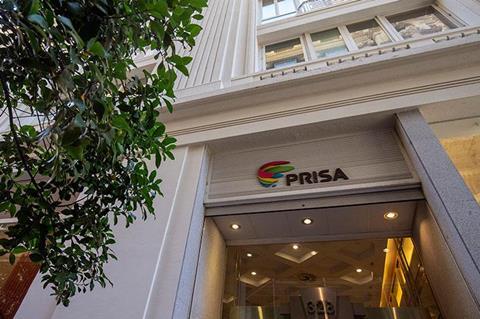 Telefónica may have an opportunity to offload its 9.4% stake in media group Prisa as fellow shareholders and industry peers circle the debt‑ridden company. In November 2020, a low‑ball €200m offer for Prisa's newspapers (including Cinco Días and El País) and high profile radio stations was submitted by Spanish radio mogul Blas Herrero. The bid was quickly rejected, but prompted a spike in the Prisa share price, and rumours that further manoeuvring to wrest control of the influential assets could see attempts by Herrero and his backers to buy Telefónica's holding. However Telefonica has not, as yet, provided any official indication of interest in selling its shares.
Telefónica was awarded the Technology Excellence Partner of the Year accolade for the Europe, Middle East, Africa, and Russia South region at Cisco Systems' Partner Summit.
Teladoc Health, the telemedicine provider partnered with Telefónica on the Movistar Salud wellness package (Telefónicawatch, #148), flagged the collaboration in its latest earnings call as indicative of "new and innovative opportunities" outside of its native USA. Chief Executive Jason Gorevic added that he was "optimistic" that the partnership would lead to "similar initiatives in other geographies".
Rafael Nadal extended an agreement with Telefónica, which will see the tennis player continue to act as an ambassador for the operator for a further five years. The agreement has so far seen the launch of the Rafa Nadal Academy by Telefónica in Mallorca, and several marketing campaigns across Brazil, Spain, and the UK (Telefónicawatch, #88).
Technology, media, and telecoms (TMT) players in Europe are taking out more debt this year than in 2019, according to S&P Global Market Intelligence research. Loan issuance to TMT companies makes up 24.1% of the global total, compared with 11% last year. Among the more frequent TMT issuers is Liberty Global's Virgin Media, which has issued bonds ahead of its merger with Telefónica UK.
Sergio Oslé, President of Telefónica's pay‑TV service Movistar+, flagged ambitions to produce content for the US Hispanic market. Movistar+ has produced original series for four years, and targeting Spanish-speaking US audiences is seen as a logical next step. Speaking to Variety magazine, Oslé said "we really need to find strong local partners to have some impact in the US". However, he conceded that partnerships are difficult because global platforms demand global deals, which would compete with the Movistar+ platform in Spain. The priority, he clarified, "is to be relevant in Spain".
Wayra investment and video and voice software provider Visionable received a £500,000 (€562,225) grant from the UK government's Innovate UK agency, and will reportedly use it for wider rollout of its smart-ambulance solution across the UK's National Health Service (NHS) emergency vehicle fleet. The fresh investment follows a reportedly successful trial of Visionable's Connected Ambulance solution — for which Telefónica UK (O2 UK) was flagged as an enabler (Telefónicawatch, #135) — in collaboration with the NHS East of England Ambulance Trust.
[Further reference: Movistar Plus polishes overseas connection — Variety, 12 October 2020; Visionable to connect prisons and hospitals across England — digitalhealth, 21 October 2020; Teladoc Health Q3 2020 earnings call — transcript — CQ FD Disclosure, 28 October 2020; Pandemic sees Europe's defensive TMT sector accessing more, but cheaper, debt — S&P Global, 29 October 2020; Rafa Nadal refuerza su acuerdo con Telefónica y seguirá siendo su embajador cinco años más — Telefónica, 30 October 2020; Telefónica recibe el premio 'Technology Excellence Partner of the Year: Service Provider' Emear Sur en Cisco Partner Summit Digital 2020 — Telefónica, 4 November 2020; Smart ambulances and wearables offer route to speedier treatments — Financial Times, 24 November 2020.]