In Colombia, Movistar makes a mark in the mobile market and Telxius bags an infrastructure contract worth €60m.
Telefónica's Internet para Todos hits its coverage targets in Peru.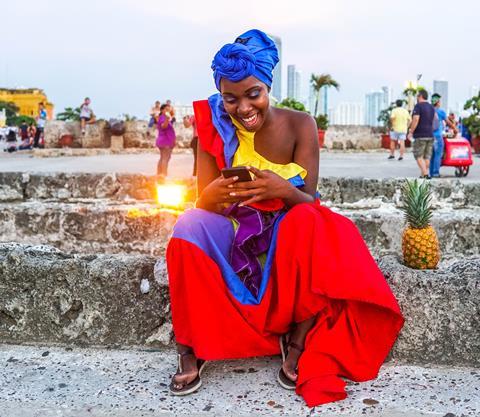 Argentinian oil services company Pecom signed a Memorandum of Understanding with Telefónica Argentina to invest ARS 482.4m (€5.9m) in a 4G LTE network and fibre network in northern Patagonia, initially with nine sites and 150km of fibre, and ultimately being extended across 40 locations and 530km. The tie-up aims to provide "comprehensive services based on digital communications", to improve the efficiency of oil and gas production operations first in the Vaca Muerta Formation and then across the Neuquén Basin, an area rich in resources. The project will enable critical traffic, video, and surveillance systems. The rollout also aims to support Internet of Things capability in the area.
Telefónica International Wholesale Services (TIWS) partnered with Israel-based satellite network provider Gilat to deliver connectivity in Argentina. Gilat will provide cellular backhaul and rural broadband services, supported by local partner Planex, enabling quicker delivery. TIWS will leverage Gilat's SkyEdge II-c platform. Gilat has partnered with Telefónica Group entities before, across Argentina, Brazil, and Peru, offering its VSAT network technology to underpin rural connectivity (Telefónicawatch, 2006.07, 2009.10, #49, and #106).
Mobile performance analysts Opensignal published its Mobile Network Experience Report for Colombia to July 2020. It found that 4G was becoming "increasingly ubiquitous", with Movistar rivals Claro and Tigo both surpassing the 80% milestone. Telefónica Colombia narrowly missed out on this accolade, hitting 79%. It did, however, best its competitors in the Video Experience marker, and tied with Claro in terms of upload speed. Claro emerged as a clear leader across most metrics, with Tigo failing to pick up any gongs.
Telefónica reportedly resumed the sale of its operating business in Costa Rica, after Millicom International Cellular in early-May 2020 unexpectedly pulled out of a $570m (€497m) deal to buy the subsidiary (Telefónicawatch, #143). According to El Economista, an unnamed party has already commenced due diligence, with Telefónica said to be pursuing a price close to the $570m agreed with Millicom. The newspaper deemed América Móvil a likely candidate, although its bid could face regulatory challenges. AT&T and Liberty Global, along with Chilean operators Entel and Novator Partners-controlled WOM, were also said to be in the running. Telefónica is thought to have filed a lawsuit in New York against Millicom for the last-minute collapse of the deal. Telefónica agreed to sell its Central American operating businesses in Costa Rica, Nicaragua, and Panama for a total of $1.65bn in early-2019 (Telefónicawatch, #133). Although the Nicaragua and Panama disposals were completed during 2019, divestment of Telefónica Costa Rica remained subject to regulatory clearance. Telefónica also agreed the sales of its other Centroamérica operating businesses in El Salvador and Guatemala to América Móvil, although the status of the former still appears to be pending regulatory approval (Telefónicawatch, #132 and #137).
Telefónica Colombia confirmed it had awarded Telxius Cable America a five-year contract to provide international internet transit services. Valued at $68.2m (€59.4m), the agreement has apparently been in force since 1 January 2020. Telefónica Colombia, in which Telefónica owns a 67.5% majority, was seemingly given late authorisation for the contract from its Board of Directors on 6 July 2020.
Telefónica Colombia (Coltel) issued $500m (€436m) in bonds to international markets in an oversubscribed placing, with the proceeds intended to improve liquidity. Coltel released ten-year bonds with a yield of 4.95%, eight-times over-subscribed with orders for $4bn. The funds will replace shorter term debt, including senior unsecured notes, issued by Coltel in September 2012.
Telefónica Peru ceased airing channels owned by Televisa on its Movistar TV platform, and replaced them with international and Peruvian alternatives. In a series of Tweets responding to customers criticising the decision, Telefónica said that several channels would be removed on 1 July 2020, supposedly in order to "reinforce our commitment to Peruvian content, mainly that which covers sports, culture, and news". The swap includes localised Mexican channels, which appear to have been replaced by Peruvian equivalents. Other replacements are drawn from Televisa's Mexican competitors AZ Mundo and Grupo TV Azteca.
Telefónica Peru's Internet para Todos (Internet for All/IpT) joint venture (JV) claimed to have reached 135,000 people in the Puno region of southern Peru. The JV, a partnership between Telefónica, the Development Bank of Latin America (CAF), Facebook, and investment bank IDB Invest, seeks to deploy 4G networks in remote regions. It has reportedly reached 1.6 million Peruvians, with targets set for 2.3 million by the end of 2020. The connectivity rollout has been supported by IpT's induction as a Rural Mobile Infrastructure Operator in May 2019, which enabled a wholesale model to lease telecommunications assets (Telefónicawatch, #134).