Proposed merger of Orange with MÁSMÓVIL would create largest player by subscribers.
CNMC President will seek to balance obligations of telcos with those of digital platforms.
Regulator reports on football rights contracts are being ignored.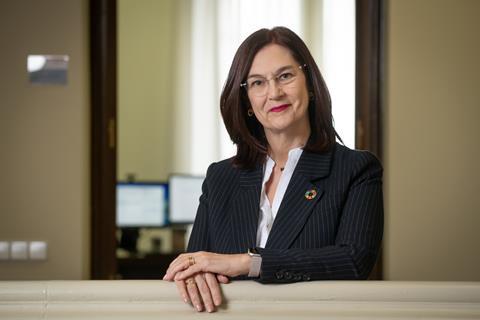 Cani Fernández, President of Spanish regulator Comisión Nacional de los Mercados y la Competencia (CNMC), provided assurances that current regulations governing Telefónica in its domestic market would be reviewed if a proposed merger of two rival operators is successful and creates a bigger player on the market.
According to local media, Fernández said during a Nueva Economía Fórum (New Economy Forum) event that should Orange Spain and MÁSMÓVIL merge into the largest operator in terms of subscribers, the combined entity would then have certain access obligations imposed upon it to ensure there is sufficient competition "downstream".
Fernández also indicated that CNMC would seek to balance the obligations of telcos with those of digital service providers that use telecoms networks but do not necessarily pay for them. She suggested that telcos should be compensated in some way by those that use their infrastructure.
Here, reports said she was responding to recent comments by Telefónica Group Executive Chairman José María Álvarez-Pallete, who railed against regulations that apply to telecoms operators but still fail to adequately address the impact of newer digital platforms that compete with them.
Spain is due to transpose the European Electronic Communications Code (EECC) into its General Telecommunications Law this year. With the adoption of the EECC, a new, broader definition of electronic communication services is defined, including the terms of number-independent interpersonal communications services (NI-ICS) and number-based interpersonal communications services (NB-ICS).
Fernández also pointed to the newer European Digital Markets Act, which specifically seeks to rein in "gatekeepers", such as Amazon, Apple, Google, Microsoft, and Meta, among others. The European Council and Parliament recently agreed on the new rules, which are now moving closer to implementation.
Fernández indicated that Spain would look to adopt the rules under the Digital Markets Act once the new laws are in force.
Falling on deaf ears
Meanwhile, Fernández also demanded that the CNMC be freed from the obligation to issue a mandatory report on every sale of football broadcast rights. She asserted that owners of football rights such as La Liga or the Spanish Football Federal "never pay attention to us".
For example, the regulator typically wants to limit the duration of rights contracts to three years. In December 2021, La Liga concluded the tender for its broadcast rights in Spain and Andorra across the next five seasons, securing €4.95bn (£4.2bn) from bumper agreements with Telefónica España and sports streaming specialist DAZN.
At the time, Telefónica acknowledged that while issues regarding the first three years of the agreement are not anticipated, the part covering 2025–2027 requires an agreement with CNMC to lift restrictions on how long Movistar can form contracts for sports rights.
The Digital Markets Act and Digital Services Act are two legislative initiatives to upgrade rules governing digital services in the European Union. Their main goals are to protect the fundamental rights of all digital service users; and establish a level playing field to "foster innovation, growth, and competitiveness, both in the European Single Market and globally".
Merger plan
Orange is in exclusive talks with MÁSMÓVIL on the creation of a 50:50 joint venture (JV) with a combined enterprise value of €19.6bn. Orange Spain is valued at €8.1bn while MÁSMÓVIL, owned by Lorca JVCO following the group's acquisition by private equity firms Cinven, KKR, and Providence Equity Partners in 2020 (Telefónicawatch, #144), was assessed at €11.5bn. Orange said the combined entity would have revenue of more than €7.5bn and in excess of 20 million mobile customers, of which 11.5 million derive from Orange. That would place the JV firmly in second place in the market, in terms of revenue, with Vodafone Spain reporting €4.2bn in FY20–21 and Telefónica España €12.4bn in FY21.
In terms of mobile subscribers, the new JV would be in the lead, as Telefónica España reported 18.48 million mobile customers at the end of 2021 and Vodafone Spain 13.54 million. The new JV also estimates its fixed broadband subscriber base at over seven million, which places it ahead of Telefónica España's 5.87 million and Vodafone Spain's three million.

Anne Morris is a freelance journalist, editor and translator. She has been working as a reporter and news analyst for TelcoTitans since 2016.