Telefónica debt reduction strategy set to extend to submarine infrastructure as buyers are sought for 100,000km cable network.
Reports indicate that an agreement is wanted by mid-2021, with rough valuations standing around the €2bn mark.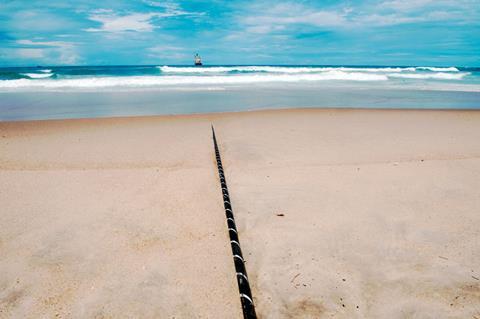 The long-anticipated sale of Telxius' submarine cable business looks set to begin in earnest this week, with non-binding offers expected in the coming days.
According to sources speaking to Cinco Días, Telefónica's infrastructure arm is hoping to choose a winning bidder in mid-2021. Previous reports indicated that corporate banks Greenhill and Société Générale were hired to oversee the sale.
The submarine element up for sale is valued at an estimated €2bn (£1.73bn) and will include 100,000km of cable by the end of the year, once planned additions are completed.
Among the subsea infrastructure Telxius operates are the two largest capacity systems on the market, BRUSA and MAREA. It also provides backhaul for a handful of Google cables, including Dunant which went live in early-2021. Last month, Telxius flagged a partnership with Claro Peru to launch Mistral, which will run along Latin America's Pacific coast and is planned for launch later this year.
The subsea cable business is held by Telxius, Telefónica's majority-owned infrastructure subsidiary. Shares are divided between holding company Pontel Participaciones, which has a 60% stake, and investment fund KKR, with a 40% holding. Pontel, in turn, is shared between Telefónica, with an 83.35% stake, and Pontegadea, the holding company of Zara billionaire Amancio Ortega, with a 16.65% holding. Through Pontel, Ortega has a 9.9% stake in Telxius, which reduces Telefónica's directly controlled share to 50.1%.
A sale of Telxius' subsea business has been on the cards for some time, with Telefónica Chief Operating Officer Ángel Vilá previously noting that "all possible strategic alternatives" were being considered.
Earlier this year, Telefónica agreed to sell its Telxius subsidiary's tower division to American Tower in a deal which is expected to produce capital gain of about €3.5bn, once approved.
Elsewhere in Telefónica's infrastructure holdings, the debt reduction strategy has seen the recent sale of a tranche of data centres to Asterion.
Any other business
Ahead of the anticipated sale of its subsea assets, Telxius has over the past year been busy renewing contracts "with relevant clients", increasing net contract value by "approximately $620m" (€522m/£451m), and ensuring the long-term value of the Telxius customer base.
Recent vendor agreements for the Telxius cable business include:
an April agreement with Ciena to provide a managed spectrum service for its MAREA and Dunant transatlantic submarine cables, building on trials last year of the vendor's WaveLogic 5 Extreme optical solution on Telxius' BRUSA cable.
a partnership with data centre colocation specialist Interxion, signed in March, to enable "direct" interconnection between the Dunant cable and Interxion in Paris.

Joseph Purnell is a Staff Reporter for TelcoTitans, contributing telecoms news analysis since 2019 as part of the TelcoTitans Editorial team.