Newly‑appointed Telekom Deutschland CEO Srini Gopalan leaves US board, swapped for Dominique Leroy.
hubraum's Tazi and Group veteran Wilkins also join.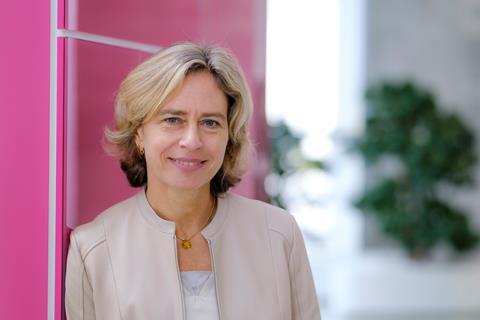 Deutsche Telekom refreshed and filled out its representation on the T‑Mobile US Board of Directors.
A changing of the guard has seen Telekom Deutschland Chief Executive (CEO) Srini Gopalan resign his T‑Mobile US directorship and be replaced by Dominique Leroy — a like‑for‑like replacement reflecting Leroy's recent move into Gopalan's former position as CEO of Europe at Deutsche Telekom.
In addition, Leroy was named a member of T‑Mobile US' Nomination & Corporate Governance Committee to complete the swap.
Seats added to the top‑table
The German operator also took the opportunity to strengthen its hold on the T‑Mobile US Board following an increase in the grouping to 14 seats, appointing two executives to fill it out.
Deutsche Telekom's Senior Vice-President (SVP) of Innovation, Product & Customer Experience Omar Tazi and Group Controlling SVP Michael Wilkens have joined the Board.
Tazi joined the Group in 2018 and was promptly named Chairman for the operator's tech incubator hubraum in the summer of that year. He is a former Orange EVP and Oracle Chief Evangelist, and a serial startup founder. Wilkins, a relative Deutsche Telekom veteran, joined in 2001 as EVP Controlling at what was then T‑Mobile Deutschland.
Telekom influence locked in
The reshuffle means Deutsche Telekom now has seven representatives on the T‑Mobile US Board, reflecting the USA's crucial importance to Group fortunes, especially following the Sprint merger earlier in 2020. Group CEO Timotheus Höttges, Chief Financial Officer (CFO) Christian Illek, USA & Corporate Development Head Thorsten Langheim, and Corporate Operating Office SVP Raphael Kübler account for its other directorships at the American business.
As well as strengthening Group oversight of T‑Mobile US, this could increase the flow of influence coming in the other direction, seeing the traditionally arms‑length US business provide more input into developments within Deutsche Telekom's European-based operations, especially via Tazi and Leroy.
T‑Mobile US Board of Directors, 13 November 2020
Board members
Committee membership

Source: T‑Mobile US.

Marcelo Claure

Chief Operating Officer, SoftBank Group

-

Srikant Datar

Incoming Dean of Harvard Business School

Audit Committee (Chair).

Lawrence Guffey

Former Senior Managing Director at The Blackstone Group

Compensation Committee; Executive Committee; Nominating & Corporate Governance Committee.

Timotheus Höttges (Chair)

CEO at Deutsche Telekom

Executive Committee (Chair).

Chiristian Illek

CFO at Deutsche Telekom

-

Stephen Kappes

Former Sprint Director

-

Raphael Kübler

SVP, Corporate Operating Office at Deutsche Telekom

Compensation Committee; Executive Committee

Thorsten Langheim

Board Member for USA & Group Development at Deutsche Telekom

Executive Committee; Nominating & Corporate Governance Committee.

Dominique Leroy

CEO for Europe at Deutsche Telekom

Nominating & Corporate Governance Committee.

Mike Sievert

CEO & President at T‑Mobile US.

-

Teresa Taylor

Former COO at Qwest Communications

Audit Committee; Nominating & Corporate Governance Committee (Chair).

Omar Tazi

SVP Innovation, Product & Customer Experience at Deutsche Telekom

-

Kelvin Westbrook

CEO and President at KRW Advisors

Audit Committee; Compensation Committee (Chair).

Michael Wilkins

SVP Controlling at Deutsche Telekom.

-