DT and American NatCo pick a safe, greenfield side‑line of cross‑border IoT as first target for international B2B collaboration plan they flagged in 2021.
Move comes with T‑Mobile quietly beginning to look beyond USA for opportunities, raising strategic questions for DT and its own international B2B interests.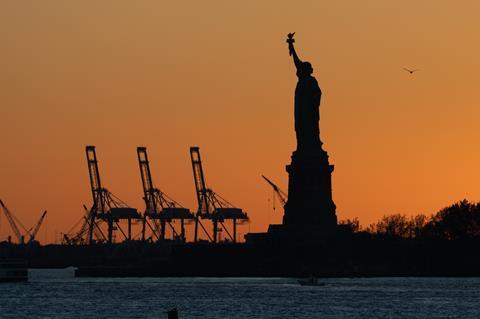 T‑Mobile US is set to kick off a long‑anticipated international expansion of its enterprise business with the launch of a joint Internet of Things offering alongside parent Deutsche Telekom.
The T‑IoT service — scheduled to go live next week during Mobile World Congress — gives multinational corporations a cross‑country IoT platform supported by the two operators' native networks and 150 roaming partners.
Mercedez‑Benz and medical device seller Biotronik have signed up as customers of the new offering, said Claudia Nemat, Head of Technology & Innovation at DT, during the telco's pre‑MWC press conference this morning. She described T‑IoT as a "product global enterprises have asked telco operators to provide for a long time", offering simpler access to connectivity across 188 markets.
The solution is said to support NB‑IoT, LTE, LTE‑M, and 5G‑based IoT deployments, and will come with a harmonised service level agreement, pricing, and management system, according to Nemat. She also indicated T‑IoT will have one customer service team, although did not go into detail on how the resource behind it will be split between DT and T‑Mobile, nor on how the tie‑up works financially.
The indications are that the service will be made available by both T‑Mobile and DT's businesses "across… Europe", with clients offered a pay‑per‑data model or a choice of three, flat‑rate "unlimited" connectivity packages.
Family politics
T‑Mobile has traditionally been a bit‑part and purely domestic-focused player in the B2B market — but this has been changing, and inviting some curiosity about how it and DT will avoid conflict as the aggressive and increasingly super‑sized NatCo (which already heavily outweighs its parent on many metrics) expands its horizons.
It refreshed ambitions to grow its B2B operations with the 2020 acquisition of Sprint, laying out plans to double its market share among large enterprises and government organisations (Deutsche Telekomwatch, #92, #105, and passim).
The buyout also saw T‑Mobile pick up a range of disparate former Sprint International operations in various markets across Africa, Asia, Europe, and Latin America — adding a significant non‑US layer to its B2B division, T‑Mobile for Business, for the first time. DT, for its part, has a broad presence in the Americas, as well as other non‑European territories, through enterprise comms division Deutsche Telekom Global Business Solutions and IT services arm T‑Systems, although has given out signals of plans to up focus on its inner DACH core.
DT and T‑Mobile flagged plans to cooperate on international B2B projects during the German telco's Capital Markets Day in 2021, with T‑Mobile Chief Executive Mike Sievert citing a "unique opportunity to capture transatlantic synergies by leveraging the assets of DT and T‑Mobile to offer solutions to global companies" (Deutsche Telekomwatch, #105).