Dido Blankenburg, who has piloted Telekom Deutschland's fibre agreements for the past four years, says his work is done.
Broadband Cooperation unit to be dissolved.
Telekom CEO Gopalan calls Blankenburg a "valuable sparring partner" on recently refreshed strategy.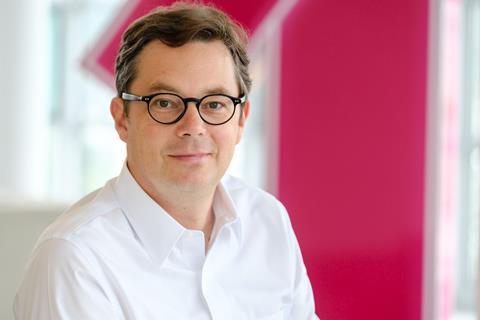 Dido Blankenburg, Deutsche Telekom's point man on German fibre tie-ups, is departing the Group after declaring "mission accomplished".
He will leave his role as Head of Broadband Cooperation at Telekom Deutschland, DT's domestic business, at the end of June, at which time his Broadband Cooperation function will be dissolved. His exit was the "best sign of a successful transformation of the business", he said.
Blankenburg joined the operator in 2018 to drive broadband expansion projects, define a new broadband strategy, and overhaul the NatCo's wholesale model (Deutsche Telekomwatch, #75).
Key tie-ups established by Blankenburg included Telekom Deutschland's two fibre-building joint ventures — Glasfaser Nordwest (with EWE) and GlasfaserPlus (with IFM Investors) — although the former has been hampered by legal and regulatory issues (Deutsche Telekomwatch, #107 and passim).
Blankenburg pointed to these JVs as evidence that his job was complete, adding that "solutions exist today for the challenges we identified four years ago".
The partnerships are one of a number of tactics being employed by the operator to help stretch out its financial resource when it comes to fibre-to-the-premises infrastructure rollout and efforts to meet a headline target of passing ten million households with fibre by the end of 2024.
Telekom Deutschland Chief Executive Srini Gopalan — who launched a major refresh of the operator's fibre strategy and goals shortly after his appointment in 2021 (Deutsche Telekomwatch, #105) — thanked Blankenburg for being a key player in "crucial" projects. He also, intriguing, called the executive a "valuable sparring partner in strategic decisions".
As well as the new JVs, Gopalan underlined Blankenburg's role in tying up what he described as €15bn (£13bn) worth of wholesale fibre contracts and strengthening the operator's dialogue with local government on rural expansion. Telekom Deutschland has entered expanded wholesale deals with 1&1 Versatel, Telefónica Deutschland, and Vodafone Germany over the past year or more (Deutsche Telekomwatch, #98, #102, and #112).