DT's enterprise division re-commits to plan to hire thousands of new tech staff.
Local digital boss Anant Padmanabhan promoted to lead services unit T-Systems ICT India.
India back in vogue for DT's management as it seeks fresh talent for digital transformation.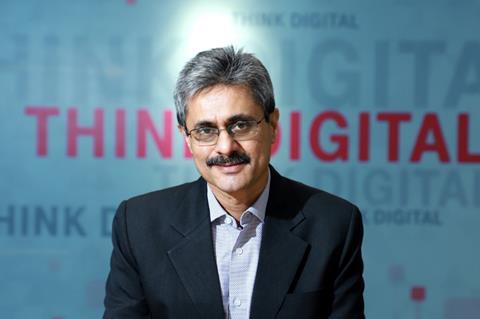 T-Systems (T-Sys) made a switch in the leadership of its Indian operations to help push through a long-planned expansion of its digital talent pool in the country.
The swap, which took place on 1 January 2022, has seen former Cognizant executive Anant Padmanabhan promoted to become Managing Director of T-Sys ICT India, the enterprise IT division's local subsidiary. He moves up from his previous role as Head of the business's Digital Enabler unit, and replaces Laszlo Posset (whose next role has not yet been confirmed).
T-Sys Chief Executive Adel Al-Saleh noted that Padmanabhan had in his previous position "contributed to many strategic initiatives to scale the India operations and drive business value for T-Systems".
The executive has been with T-Sys ICT India since 2016, when he joined as Vice-President (VP) of the subsidiary's Growth Portfolio. Before that, he was Senior VP of the global SAP Practice at Cognizant, having sold Ygyan Consulting, a consultancy he founded, to the IT service provider in 2004.
Hiring spree deadline shifted to 2024
Padmanabhan's mandate will be to "accelerate the company's growth in India", according to T-Sys's statement on the move.
This includes an objective to grow its local workforce to more than 5,000 "experts" over the next two years — a goal predecessor Posset first laid out in 2019, with a "two- to three-year" timeframe (Deutsche Telekomwatch, #89). T-Sys ICT India is currently said to have "3,000+" staff — about 11% of its parent division's total workforce — so that target was evidently missed.
While ramping up in India, T-Sys has been reducing its overall headcount through a combination of activity trimming (such as the transfer of telecoms businesses to Telekom Deutschland in 2020) and efficiency measures.
Deutsche Telekom headcount development: full-time employees, 2019–2020
31 December 2019
31 December 2020
Change
Source: Deutsche Telekom.

Total

210,533

226,291

-12%

By segment

Group

17,461

15,374

-12.9%

Group Development

2,603

2,684

3.1%

Group Headquarters & Shared Services

17,292

16,585

-4.1%

Germany

69,117

66,051

-4.4%

USA

47,312

71,303

50.7%

Europe

44,410

41,273

-7.1%

Systems Solutions

29,800

28,395

-4.7%

By geography

Germany

94,111

89,032

-5.4%

International

116,422

137,258

17.9%

EU

58,743

55,816

-5%

Other Europe

2,055

2,168

5.5%

North America

47,652

71,617

50.3%

Rest of the World

7,971

7,658

-3.9%
DT's rediscovery of India
Deutsche Telekom (DT) has a patchy history of involvement in India's technology space, but is clearly re-engaging in a bid to tap into the country's services industry and find workarounds for the fierce international competition taking place for digital talent.
This drive has in parallel seen DT looking to other territories such as Southeast Europe and Russia for digital recruitment possibilities (Deutsche Telekomwatch, #108). It has also seen DT peers such as minority-owned BT Group flag plans for major expansion of their Indian operations (BTwatch, #331 and passim).
Al-Saleh — who has been attempting to improve T-Sys's profitability since joining DT in 2018 — has been indicating intent to expand T-Sys's Indian base from the first few months of his leadership stint (Deutsche Telekomwatch, #67 and #71).
In 2019, the division opened a new country headquarters in the western city of Pune, with room to house 3,000 workers and act as a "delivery centre" and "innovation hub" in areas including cloud computing, data analytics, mobile applications, and "automation-led services" (Deutsche Telekomwatch, #89). The new campus added to DT's existing internal services centres in Bangalore and Gurugram, and a healthcare services development and maintenance unit called Deutsche Telekom Clinical Solutions India.
Previous ventures into India have been less than overwhelming successes for DT. T-Sys, for example, ended up offloading much of its Indian assets in 2008 through a strategic systems integration and consulting tie-up with Cognizant, and has said noticeably little regarding the health of their relationship since. In 2009, DT took a minority, indirect (20.7%) stake in now-defunct Indian satellite venture Devas Multimedia, which more than a decade later remains wrapped in legal entanglements following the government's subsequent cancellation of its spectrum rights (Deutsche Telekomwatch, #56 and passim).
Still, DT will be relieved not to have succumbed to the temptation to get more heavily involved in India's telecoms and IT sector — which remains a competitive and regulatory quagmire for arch-rival Vodafone (Vodafonewatch, #203 and passim), and has been a graveyard for several other Asian and European operators in recent years.