Ever-expanding American operator overtakes arch-rival Verizon.
Big boost for parent DT as it seeks greater recognition for its positioning in USA.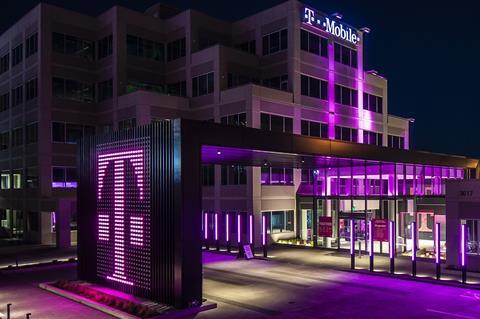 Execs at T-Mobile US and parent Deutsche Telekom will have been especially tightly glued to their portfolio tracking apps since mid-August with the resurgent American operator approaching, and overtaking, rival Verizon Communications on market cap.
The crossover ultimately happened last week, and with subsequent widening T-Mobile now has an approximate implied value of $183bn (£159bn/€184bn), against Verizon's $173bn.
This makes T-Mobile — seen as a near-basket case a decade ago — the world's largest telecoms player by stock market worth, with Verizon, Comcast, China Mobile, and American Tower rounding out the top five, according to the companiesmarketcap website. Its stock is up almost 70% since it completed its Sprint mega-takeover in April 2020 (Deutsche Telekomwatch, #93).
The operator remains behind Verizon on other measures, including customers, revenue, and enterprise value (~$346bn vs. ~$283bn), but is evidently in vogue with stock market traders after making serious inroads in the 5G era, apparently avoiding any major missteps so far in execution of the Sprint meld, and continuing to dangle the carrot of a huge buyback programme (Deutsche Telekomwatch, #105 and #112).
DT's transatlantic reset remains a work in progress
For Deutsche Telekom, the milestone will be a big positive overall — perhaps accompanied by another dose of relief at the failure of its attempted sale of T-Mobile to AT&T back in 2011.
It also likely comes with a slight bitter aftertaste; executives continue to believe DT is not given sufficient City cred for how well it is positioned to tap into the T-Mobile growth story (and clear route to boost its stake further through option uptake and/or buybacks).
DT's 48.4% interest in T-Mobile should be valued at about $89bn, if taking T-Mobile's market cap at face value. But DT's own market cap — which includes its Europe-side businesses — only sits at around €93bn, or $93bn, so something is missing somewhere.
This apparent disconnect keeps DT's management tantalisingly short of meeting a flagship ambition of becoming a €100bn stock (Deutsche Telekomwatch, #105).
As T-Mobile expands, another challenge for DT leaders is to refocus strategically and develop deeper collaborative ties with its American powerhouse. Throughout the past decade, it has positioned T-Mobile at arms-length and allowed US management to do its own thing (while not getting involved in Europe-side matters).
The two operators formed a global partnership on Internet of Things back in February, and there have been hints that an international tie-up on enterprise connectivity is coming next (Deutsche Telekomwatch, #112).
Its positioning of home region bosses Srini Gopalan (Germany) and Dominique Leroy (Europe) on the T-Mobile board, as well as CEO Tim Höttges, Chief Financial Officer Christian Illek and key M&A lieutenant, USA & Corporate Development Head Thorsten Langheim, indicates strengthening of transatlantic ties is a growing priority for DT's top team.