Chief Executive agrees to continue leading the business until at least 2027.
Will guide T-Systems through "the next phase" following four-year transitional period.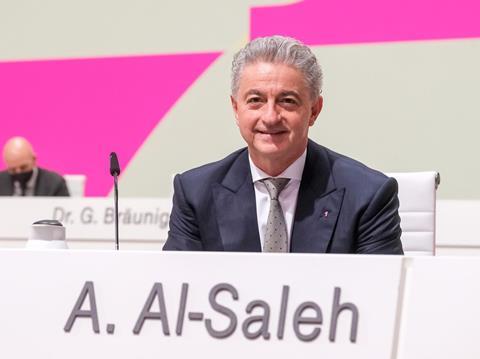 Deutsche Telekom extended the contract of T-Systems (T-Sys) Chief Executive (CEO) Adel Al-Saleh until 2027.
His current term expires at the end of 2022, with the new deal coming into effect next year.
Tim Höttges, Deutsche Telekom CEO, said he was "very pleased" with Al-Saleh's extension. "Adel has led T-Systems confidently through a major corporate transformation and the [coronavirus] crisis," he stated.
He believes that maintaining a "proven leader" who has laid the foundation for growth and profitability is "a clear signal for stability and continuity".
Al-Saleh joined DT in January 2018 to inject new ideas and impetus into the Group's T-Sys turnaround effort (Deutsche Telekomwatch, #67). He accepted a two-year extension to his original three-year deal in early-2020.
It is not yet clear how much DT has bumped up Al-Saleh's remuneration, which totalled €2.27m in FY19, including a €900,000 fixed annual salary (Deutsche Telekomwatch, #92).
Onwards and upwards
The extension means Al-Saleh will oversee a new chapter at T-Sys, which is now at the end of a four-year transformation project. "[T-Sys] is moving to the next phase, focusing on growth while continuing to evolve," it said in a press release.
Said transformation, developed by Al-Saleh, has reshaped T-Sys into a pure IT service company for multi-cloud services and digital solutions.
More specifically, T-Sys aims to protect its "number one" market position in the DACH market, and pointed to digitalisation, cloud services, data sovereignty, and security solutions as key growth areas for the business.