DTCP-backed fibre builder started its Amsterdam deployment in two districts, with anchor tenant T-Mobile Netherlands in tow.
Extra 29,000 homes set to be added to Dutch network, driving ODF closer to one million target.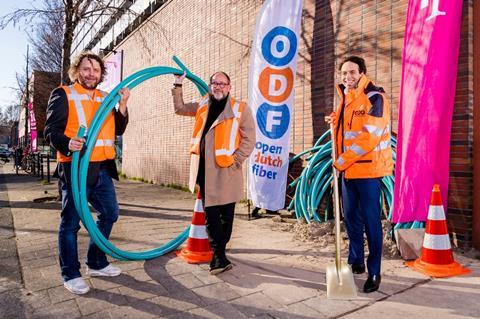 T-Mobile Netherlands and partner Open Dutch Fiber began a joint rollout of fibre-to-the-premises infrastructure in Amsterdam.
ODF, part-owned by Deutsche Telekom Capital Partners, broke ground with its T-Mobile anchor tenant on a programme set to add 29,000 households to its FTTP network. The new premises are in Bos en Lommer and Westerpark, two districts in Amsterdam.
Onno Rip, Vice-President for Consumer Sales & Terminals at T-Mobile, represented the operator at an event marking the start of the deployment this week. The network is "now being rolled out on a large scale", he said. "We have received positive reactions from recently activated customers about both the network and the construction process", he added, pointing to ODF and T-Mobile's prioritisation of customer experience — "the most important thing to us", according to Rip.
Connections growing
The rollout is expected to be completed by September this year, by which time ODF will have passed just shy of 300,000 premises since operations began in April 2021. T-Mobile noted that this pace puts the deployment ahead of schedule, given its five-year deadline to reach the one million mark.
ODF said more districts in the capital would follow shortly, with announcements expected in the coming months.
T-Mobile already provides FTTP services in The Hague, Eindhoven, Haarlem, Rotterdam, and Zoetermeer. Plans are in place to expand to Delft, Leidschendam-Voorburg, Ridderkerk, Roosendaal, and Utrecht.
ODF noted that although T-Mobile is the anchor tenant on the current project, its infrastructure will be available for other providers with "very attractive conditions".
Competition heats up
KPN claimed its FTTP network passed 3.2 million homes at the end of 2021, and boasted a 51% uptake rate, with 1.64 million FTTP connections made. KPN also has a stake in Glaspoort, a fibre building joint venture with investment firm APG, comparable to the setup at ODF. Glaspoort has a €1bn packet to invest by the end of 2026, with targets to pass 1.15 million premises. This, next to ODF's €700m funding and one million premises target, puts the two in direct competition. DELTA Fiber is a third player, with €2bn set aside to pass two million premises.

Joseph Purnell is a Staff Reporter for TelcoTitans, contributing telecoms news analysis since 2019 as part of the TelcoTitans Editorial team.