MR developer and DT tech partner Nreal ties-up with incubator hubraum to find "the next killer MR app" ahead of its Nreal Light commercial launch.
hubraum feeding its XR startup obsession.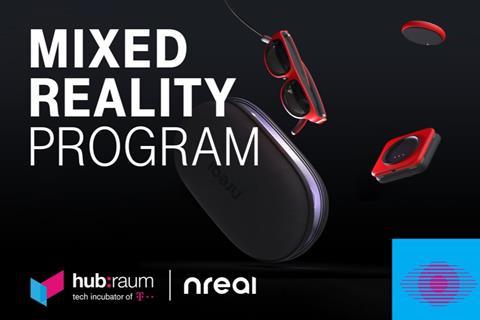 Deutsche Telekom's (DT) tech incubator hubraum partnered with artificial reality (AR) headset manufacturer Nreal to launch the Mixed Reality (MR) Programme, an accelerator initiative to discover the "next killer MR app".
The programme will launch on 28 May 2020 and run until the consumer debut of the Nreal Light headset, slated for autumn 2020.
The Nreal Light commercial launch has seen some slippage over the past year, having been anticipated for early-2020 initially. However, with the MR Program announcement came news of a new developer kit, launched on 19 May 2020, which brings some of Nreal's promises to life for MR developers. Among the additions is testing of a multiplayer mode, where multiple headset wearers can interact in the same MR environment.
Nreal snags telco deals
Nreal itself, though with no apparent previous connection with hubraum, has an ongoing technology partnership agreement with DT. In January 2020, the pair teamed with Qualcomm Technologies and AR developer 6D.ai to unveil a preview version of AR FieldAdvisor, an AR headset designed to provide remote, hands-free support to field service engineers (Deutsche Telekomwatch, #90). The solution was said to be the target of a scale-up for enterprise markets thanks to integration with also DT-affiliated MobiledgeX edge computing platforms.
Nreal has comparable partnerships with other operators. Nreal Light was included in 5G network promotions from EE in the UK, and Nreal struck a strategic partnership with KDDI to develop spatial computing technology and promote smart glasses in Japan. It also has a deal with South Korean carrier LG U+ to prepare for "the world's first consumer-facing large scale mass-adopted AR glasses".
XR focus for hubraum
hubraum has been no stranger to MR, artificial reality and virtual reality (AR/VR) innovation over the past several years, and a heavy focus on 5G testing in previous programmes has often utilised AR/VR startups (Deutsche Telekomwatch, #85 and #92).
Several AR/VR and MR (XR) startups participated in the hub's 5G Prototyping Programme (April 2018 to July 2019), including edge-computing XR developer QuarkXR, engineering use-case AR developer Holo-Light, and XR software developer 1000 Realities.
Currently, hubraum is running three programs: 5G Consumer Entertainment; Campus Network; and Residency. Past innovation programs have had a focus on 5G prototyping, consumer Internet of Things applications, and low-latency prototyping.