CTÚ to launch another bid to disrupt three-player cosiness.
Quid pro quo for 700MHz and 3.4GHz–3.6GHz availability.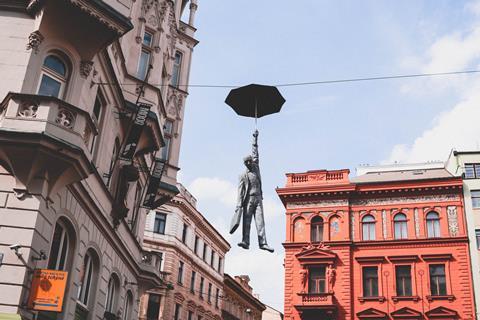 T‑Mobile Czech Republic (TMCZ) inched closer to the possibility of securing 5G‑enabling spectrum rights in the 700MHz and 3.4GHz–3.6GHz bands, although the NatCo could also face competition from a new market entrant.
Regulator Český Telekomunikační Úřad (CTÚ) published draft rules for the upcoming auction, with a 30‑day consultation period, and indicated that the sale will likely take place in January 2020 — not during 2019, as previously speculated (Deutsche Telekomwatch, #81). That means spectrum licences should be granted by April 2020 and spectrum in the 700MHz band released for mobile networks by the middle of the year. The call for tenders is expected to take place in the autumn of 2019.
The fourth dimension
The CTÚ confirmed that a 2×10MHz block in the 700MHz band will be reserved for a potential fourth mobile network operator, in order to stir up competition in the Czech mobile market and bring down prices in what is one of Europe's most expensive markets for mobile broadband services. That means TMCZ could find itself competing with three operators, instead of just O2 Czech Republic and Vodafone Czech Republic at present.
Speculation has already been rife about the possible identity of a fourth player. Earlier in 2019, local online news service iDnes.cz mooted the possibility that AT&T might enter the market, citing discussions held at the January 2019 World Economic Forum in Davos between the Czech Prime Minister Andrej Babiš and John Donovan, Chief Executive of AT&T. iDnes.cz has subsequently reported that Babiš and Karel Havlíček, Minister of Industry & Trade, had indicated that the new entrant would be backed by a leading Czech entrepreneur in cooperation with a foreign operator, and said they were in talks with several interested parties.
The Czech authorities have long sought to bring in a number-four mobile operator to compete with the current trio, including via 2013's 4G frequency rights auction, where potential new players did not take up the opportunity to gain spectrum set networkaside for them in the sale (Deutsche Telekomwatch, #23 and passim). In recent months, the Czech government appears to have shown renewed enthusiasm for a market shake‑up, and to have been applying pressure on TMCZ and its two rivals to introduce cheaper mobile data services. The government is also said to be planning an amendment to the Electronic Communications Act from 1 January 2020, in order to strengthen the position of mobile users.
5G spectrum auction: key rules in draft
A new spectral limit will be established for the new entrant in the 3.4GHz–3.6GHz band, compared with other players.
As well as the 2×10MHz block being reserved in the 700MHz band, the new entrant will be allowed to bid for a 5MHz block of 3.4GHz–3.6GHz spectrum if there is little interest from existing players.
If no new entrant shows interest in the reserved block, it will be opened up to the other auction participants.
Those bidding for 700MHz licences will be subject to a national roaming commitment for six years.
Any newcomer will have to cover at least 20% of the population with its own network in order to qualify for national roaming.
Operators will be required to cover 95% of populations in municipalities where high-speed internet is not already available within three years of the allocation.
The CTÚ indicated that total auction proceeds should not be less than CZK 6.3bn (€246m).
Other 5G tweak requests
There were indications TMCZ is seeking to do some wider spectrum resource tidying, to accompany 5G rights acquisition and build a stronger platform for next-generation service rollout.
The CTÚ said it was considering requests from the incumbent trio of operators for a rejig of spectrum allocations in the 900MHz and 1800MHz bands, to improve network effectiveness and efficiency.
The regulator also initiated a consultation in relation to an application from TMCZ to gain increased flexibility for its fixed wireless holdings at 24GHz–25GHz. TMCZ wants the rights to be made technology-neutral, and therefore extended to 5G services support.
DT's 5G shopping list remains lengthy, although big items ticked off
Beyond the Czech auction, DT retains a packed 5G licence agenda over the coming months, and something of a public affairs minefield as it seeks to dampen the regulatory and financial damage from concessions' costs and conditions.
The hit taken in Germany's 2GHz and 3.4GHz–3.7GHz sell-off is now a 'known', for planning purposes (Deutsche Telekomwatch, #84), but there are ongoing concerns that other European governments could design auction rules with market change in mind (like in Czech Republic) or to inflate bidding. Romania, for example, has indicated it is seeking to hit operators with as big a bill as possible when it auctions 5G rights later in 2019 (Deutsche Telekomwatch, #79).
Further, while Europe auctions so far have largely focused on lower- or mid-band spectrum, plans have not yet fully come on the radar for microwave frequency rights distribution for high-capacity, short-range 5G deployments, where Europe has been in less of a rush to prepare groundwork than the USA. In May 2019, the European Commission mandated member states to harmonise technical conditions for use of the 26GHz band for 5G systems by 31 December 2020.
Deutsche Telekom's Europe spectrum agenda FY19–20
Market
Bands mooted for liberalisation or renewal
Expected end of award procedure
Notes: * Spectrum selection yet to be firmed up. Based on recent signals, Hungarian operators appear to expect an auction drawn from 700MHz, 2.1GHz, 2.6GHz, and 3.4GHz–3.8GHz rights.
Sources: Deutsche Telekomwatch; national regulators.
Austria

700MHz / 1500MHz / 2.1GHz

FY20

Croatia

2.1GHz / 3.4GHz–3.8GHz

FY19

Czech Republic

700MHz / 3.4GHz–3.6GHz

FY20

Greece

3.4GHz–3.8GHz

FY19

Hungary

700MHz / 1500MHz / 2.1GHz / 2.3GHz / 2.6GHz / 3.4GHz–3.8GHz / 26GHz *

FY19

North Macedonia

1800MHz (extension)

700MHz / 2.1GHz (extension) / 3.4GHz–3.8GHz

FY19

FY19

The Netherlands

700MHz / 1500MHz / 2.1GHz

FY20

Poland

3.7GHz–3.8GHz

700MHz / 3.6GHz–3.8GHz

FY19

FY20

Romania

700MHz / 800MHz / 1500MHz / 2.6GHz / 3.4GHz–3.6GHz

FY19

Slovakia

700MHz

FY19