NatCo puts auction gains to quick use.
5G auctions plans topple in Europe due to COVID‑19.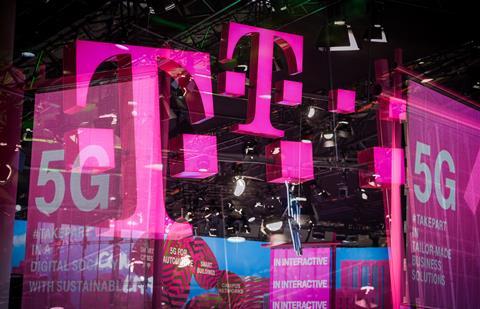 Magyar Telekom (MT HU) launched commercial 5G services in Hungary on 9 April 2020, just two weeks after acquiring 5G‑enabling spectrum during the country's auction in late‑March 2020. The 5G network operates in the 3.6GHz band based on equipment provided by longstanding network partner Ericsson.
The availability of 5G services is still somewhat limited, with coverage currently focused on parts of Budapest and Zalaegerszeg. Only two 5G smartphones are included in the NatCo's portfolio, the LG V50 and the Huawei Mate 20X 5G, although Samsung 5G smartphones are to be added soon and MT said it will release 5G‑capable devices from "several manufacturers" by the end of 2020.
MT HU was certainly quick to launch services after the auction, although it is not the first Hungarian mobile network operator (MNO) to provide the next-generation mobile services: Vodafone Hungary launched 5G services in 2019 using 3.6GHz frequencies acquired in 2016.
MT HU strengthens air power
During the spectrum auction organised by Nemzeti Média- és Hírközlési Hatóság (National Media and Infocommunications Authority/NMHH), MT HU laid out a total of HUF 54.24bn (€153m), making it the biggest spender. It paid:
HUF 26bn for 2×10MHz of 700MHz frequencies.
HUF 8.4bn for 2×10MHz in the 2.1GHz band.
HUF 19.8bn for 120MHz in the 3.6GHz band.
The 15‑year licences expire in 2035, with the option for a five‑year extension to 2040. The 700MHz frequencies are due to be available from September 2020.
NMHH confirmed that the three MNOs — MT HU, Telenor Hungary, and Vodafone Hungary — paid a total of HUF 128.5bn for the spectrum licences. It noted that competition was fierce for 700MHz frequencies, and no bids were submitted for lots in the 2.6GHz band. Reuters reported that the auction proceedings were nearly double the initial target of HUF 70bn. It seems that a preliminary bid stage on 11 March 2020 indicated that demand outstripped supply, particularly regarding the 700MHz band, prompting the NMHH to proceed to a secondary auction.
Vodafone acquired 80MHz across the three frequency bands for HUF 38.65bn, while Telenor Hungary presumably paid HUF 35.6bn. MT HU gained the biggest allocation at 2.1GHz, and joint equal biggest at 700MHz (with Vodafone). Telenor secured the biggest chunk (140MHz) of 3.6GHz spectrum, but tempered this by failing to win any licences in the 2.1GHz band.
Digi plans legal action over 'unfair' 5G auction
As previously indicated, the 5G auction did not usher in any new entrants after the only other applicant — RCS & RDS-owned pay‑TV and broadband player Digi — was blocked from taking part (Deutsche Telekomwatch, #87). However, Digi has already issued a statement claiming that the outcome of the auction was "unfair", and has called on NMHH to withdraw the results. It also flagged its intention to pursue legal action over its exclusion from the process. In November 2019, Digi Hungary and Ericsson started live 5G network testing in Budapest using a 20MHz frequency block in the operator's existing 3.4GHz spectrum allocation.
Elsewhere in Europe, COVID‑19 continues continental drift
Despite the controversy, Hungary was at least able to complete the auction in the face of the COVID‑19 pandemic. NMHH said the sell‑off took place under "special" conditions, including onsite supervision and protective equipment for all participants.
Elsewhere in Europe, the picture around auctions is muddier. Regional telcos have been waiting impatiently for regulators to free up 5G‑enabling spectrum, with many auctions dragged out due to bickering over licensing conditions. Now, as COVID‑19 continues its grim journey, timetables are in even more disarray in a number of countries and placing an even larger question mark over operators' spend plans. The European Commission is likely to be forced to extend the current deadline of 30 June 2020 for European Union member states to allocate the 700MHz band to 5G.
According to the European 5G Observatory, as of April 2020:
Rights in the 700MHz band have been assigned in Denmark, France, Finland, Germany, Hungary, Italy, and Sweden.
Licences at 3.4GHz–3.8GHz have been assigned in Austria, Czech Republic, Finland, Germany, Hungary, Ireland, Italy, Latvia, Spain, and the UK.
26GHz concessions have been assigned in Italy.
Bands
Expected start of award procedure*
DT interest concerned
European spectrum agenda, 2020
Note: * Tentative and prone to slippage due to factors incl. COVID-19.
Sources: BTwatch, Deutsche Telekomwatch, Telefónicawatch, Vodafonewatch, regulators.
Austria
700MHz / 1500MHz / 2.1GHz
2020
Magenta Telekom
Croatia
2.1GHz / 3.4GHz–3.8GHz / 26GHz
2020
Hrvatski Telekom
Czech Republic
700MHz / 3.4GHz–3.6GHz
H2 2020
T‑Mobile Czech Republic
Greece
700MHz
July 2020
Cosmote Greece
1500MHz / 3.4GHz–3.8GHz / 26GHz
H2 2020
Ireland
700MHz / 2.1GHz / 2.3 GHz / 2.6GHz
2020
North Macedonia
700MHz / 2.1GHz (extension) / 3.4GHz–3.8GHz
H2 2020
Makedonski Telekom
The Netherlands
700MHz / 1500MHz / 2.1GHz
Q2 2020
T‑Mobile Netherlands
Poland
700MHz / 2.1GHz
2020
T‑Mobile Poland
800MHz / 3.6GHz–3.8GHz
Portugal
700MHz / 900MHz / 1800MHz / 2.1GHz / 2.6GHz / 3.4GHz–3.8GHz
2020
Romania
700MHz / 800MHz / 1500MHz / 2.6GHz / 3.4GHz–3.8GHz / 26GHz
H2 2020
Telekom Romania
Slovakia
700MHz / 900MHz / 1500MHz / 1800MHz
Q2 2020
Slovak Telekom
Spain
700MHz
2020
UK
700MHz / 3.6GHz–3.8GHz
H2 2020
BT Group
Overall, however, EU 5G auction schedules have dragged and now face further disruption by COVID‑19.
In Austria, Telekom‑Control‑Kommission has postponed its second 5G auction, involving the allocation of 700MHz, 1500MHz, and 2.1GHz concessions, affecting A1 Telekom Austria, Drei, and Magenta Telekom.
The Czech Telecommunication Office appears to have pushed back its auction of frequencies in the 700MHz and 3.5GHz bands to mid‑2020, affecting O2 Czech Republic, T‑Mobile Czech Republic, and Vodafone Czech Republic.
In France, Arcep has postponed its planned auction of 3.4GHz–3.8GHz frequencies, affecting Bouygues Telecom, Free, Orange, and SFR.
In Poland, regulator Urzad Komunikacji Elektronicznej (UKE) recently said its auction of 3.6GHz frequencies will not go ahead as planned because of the disruption caused by the pandemic. UKE is planning to relaunch the tender process to avoid any legal challenges relating to moves already made by operators under the former process. In Poland, T‑Mobile Poland competes against Orange Poland, P4's Play Mobile, and Polkomtel‑owned Plus.
In Portugal, MEO, NOS, and Vodafone Portugal have requested a suspension of ANACOM's public consultation process on draft regulations for the allocation of frequency rights in the 700MHz, 900MHz, 1800MHz, 2.1GHz, 2.6GHz, and 3.6GHz bands.
Romania has delayed its auction of 700MHz, 800MHz, 1500MHz, 2.6GHz, and 3.4GHz–3.6GHz frequencies until late‑2020, affecting Digi Mobil, Orange Romania, Telekom Romania, and Vodafone Romania. Regulator ANCOM said on 3 March 2020 that it aimed to finalise the tender documentation in the third quarter of 2020, and allocate the rights in the fourth quarter.
Spain has halted the migration of 700MHz spectrum from digital terrestrial television services to 5G. This has delayed the planned auction of these frequencies, affecting Másmóvil, Movistar, Orange Spain, and Vodafone Spain.
Other markets could yet follow suit.
Croatia has yet to update on plans to issue licences in various bands, including at 3.6GHz and 26GHz, following a consultation opened during 2019.
Greece has been consulting on the award of frequencies in the 700MHz, 3.4GHz–3.6GHz, 3.6GHz–3.8GHz, and 26GHz bands, with a 700MHz rights auction said to be planned for July 2020 and sales of licences in the other bands due later in 2020. Here, likely participants are OTE‑owned Cosmote Greece, Vodafone Greece, and Wind Hellas.
The Netherlands is due to hold its auction of 700MHz, 1400MHz, and 2.1GHz spectrum by the end of June 2020, with KPN, T‑Mobile Netherlands (TMNL), and VodafoneZiggo all expected to take part. TMNL confirmed in April 2020 that it had registered to participate in the sale.
North Macedonia is planning to award 700MHz and 3.6GHz frequencies in the second half of 2020, with likely participation by A1 Macedonia and Makedonski Telekom. Frequencies in other bands may also be allocated.
Slovakia appears to be pressing ahead with an auction of 700MHz, 900MHz, and 1800MHz spectrum. Applications to participate are due to be submitted by 25 May 2020. Here, 4ka, O2 Slovakia, Orange Slovakia, and Slovak Telekom are all likely to take part.
Meanwhile, the USA continues to provide a stark contrast to many European markets. Mobile network operators now appear well‑resourced following a number of low- and high-band spectrum auctions in 2017–2020, as well as consolidation of much of Sprint and T‑Mobile US' portfolio through their recent mega‑merger.