Deutsche Telekom technology accelerator hubraum showcases mixed reality startups as part of its MR Program in partnership with Nreal and Qualcomm.
Thirteen startups given a platform at virtual Demo Day.
Nreal Light available via Deutsche Telekom.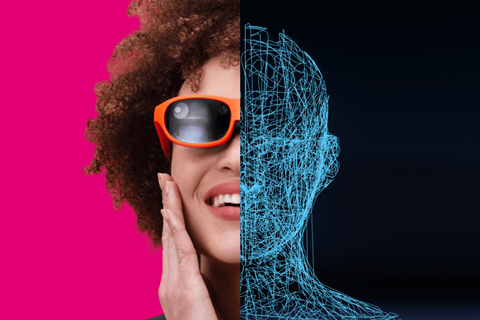 Deutsche Telekom tech incubator hubraum displayed its eagerness to find "killer" mixed reality applications at a Program Demo Day. A 13-strong cohort pitched MR-focused apps across a range of use-cases, including education, gaming, and virtual communications.
The programme is the product of a partnership between hubraum, chipset-maker Qualcomm, and MR headset manufacturer Nreal. Unveiled in early-2020, it has been seeking startups with commercially-viable apps. The first six were welcomed in September 2020, with a further seven showcased at yesterday's Demo Day.
Some 150 startups applied to the programme, according to Axel Menneking, Managing Director of hubraum. For the 13 that were selected, the MR Program offers the opportunity to work with engineering teams from Deutsche Telekom and Nreal, along with access to Nreal's Light DevKit (a hardware package supporting development of MR solutions), mentorship, and networking opportunities. On completion, there is "potential" for hubraum investment, although only one player — Australia's tagSpace — has been flagged as having received funding so far.
hubraum's MR Program startups
Among the startups selected there is representation from the usual Deutsche Telekom hunting grounds of Germany, Israel, and the USA, but there are also innovators from a handful of European countries and a sole entry from Australia.
Slovakia's MATSUKO was voted the audience's favourite at the Demo Day, with a pitch that included a meeting room populated by holograms.
Real Shot garnered the most audience interaction after its pitch, which centred on virtual competitive sports.
Startup
Focus
Source: Companies and Deutsche Telekomwatch.

Artivive

Austria

AR tool to add a digital layer to classic artworks. Claims 68,000 users at installations in museums and galleries.

Electric Eggplant

US

AR for education in books and games. Founded by former LucasArts "employee number two" David Fox.

eyecandylab

Germany

Developer of two products: Augmen.tv (VR for retail) and LENS.AD (transactions through video). Targeting an enterprise market.

Graffiti

France

AR for tourism via a mobile "vision assistant". Primarily consumer-focused.

Inception

Israel

AR for education via the Bookful app, which adds an immersive layer to children's books. Partnerships flagged with KDDI and LG U+ for localised content in Japan and South Korea respectively.

MATSUKO

Slovakia

AR-powered communications tools and MR holograms.

mixed.world

Germany

MR for industrial use-cases, including remote consultations for engineers. mixed.world is a team of MR developers and consultants primarily focused on Microsoft's HoloLens.

Overlay

US

Creator of Figmin XR, an MR content creation platform. Consumer-focused.

Real Shot

US

AR gaming via two products, Real Shot TV and Real Shot AR — both of which are "coming soon".

tagSpace

Australia

AR for cities, tourism, and events. Also enrolled on hubraum's 5G Consumer Entertainment Program and was flagged as one of three startups to receive investment from the incubator in late-2020.

TechTics

Netherlands

Creator of Project.BB, an AI-powered litter-picking robot. XR is used to train the robot's AI.

TRIPP

US

Subscription-based wellness app with an MR experience. Names hospitals and clinics as well as individuals as its current customers, looking to expand with enterprise offering. Currently engaged in clinical trials to support development.

vTime

UK

Virtual avatars and MR-powered collaboration. Claims to have "more than a million downloads" for vTime, which it describes as a "3D messaging app".
Seeking mixed reality magic
The Demo Day included keynote presentations from: Hugo Swart, Vice-President of XR at Qualcomm; Julian Randall, Head of Business Development at development platform Unity Technologies; and Nreal founder and Chief Executive Chi Xu. Xu used the opportunity to announce that Nreal Light, the long-anticipated XR glasses initially slated for launch in mid-2020, were now available to pre-order in Germany via the Deutsche Telekom website.
The latest iteration of Nreal hardware aims to provide a more affordable consumer entry point, and is expected to retail at around €799 in Germany. There are slim pickings in terms of competitors. Magic Leap, ostensibly Nreal's closest competitor until 2020, markets a $2,200 (€1,800) headset and last year pivoted to focus on enterprise customers.
Nreal and hubraum's partnership is more developer-focused. With Nreal's hardware, hubraum is hunting for "killer apps" to draw consumers in.
Deutsche Telekom beat peer Vodafone to launch Nreal Light, with the latter opening its order book a day later. Nreal Light is available via Vodafone Germany as of 18 March 2021 with Vodafone's Giga AR app, which includes Kitchen Stories, a virtual cooking app complete with recipes and celebrity chefs.
Research from P&S Intelligence projects that the MR sector will grow from $18.5bn in 2019 to $1trn by 2030. The majority of this growth is expected to come from consumer engagement, with MR for gaming, travel, and tourism the predicted drivers.
Casting the net wide
The hubraum-germinated MR Program is one of several avenues Deutsche Telekom is exploring to identify commercially-viable use-cases for augmented- and extended-reality (AR/XR) technology. The unit's preceding 5G Consumer Entertainment and 5G Prototyping programmes both named MR as a technology of interest.
At Group-level, Deutsche Telekom's partnership with Nreal and Qualcomm extends to the AR FieldAdvisor product: an AR headset designed for field service engineers, developed by the trio and AR mapping specialist 6D.ai (Deutsche Telekomwatch, #90). 6D.ai was acquired in March 2020 by AR games developer Niantic, with which Deutsche Telekom edge gaming spinout MobiledgeX is partnered (Deutsche Telekomwatch, #70, #77, and #90).
Deutsche Telekom is also partnered with optical lens specialist Carl Zeiss on a smart-glasses joint venture, tooz technologies. Though quiet in recent years when compared to the hubraum–Nreal partnership, tooz did release a software developer kit in China in late-2020, three-years after the JV was launched (Deutsche Telekomwatch, #61, #101, and passim). Deutsche Telekom's 50% stake in tooz is held via the Telekom Innovation Pool.
Other smart glasses players include Dynabook, Konica Minolta, and RealWare, all of which are Deutsche Telekom Campus Network solution partners and market AR hardware solely to enterprise customers.

Joseph Purnell is a Staff Reporter for TelcoTitans, contributing telecoms news analysis since 2019 as part of the TelcoTitans Editorial team.