Book-summarising startup gets into the black for the first time.
Milestone reached decade into life of the business.
Deutsche Telekom incubator hubraum exits startup on the cusp of profitability.
Operator was early investor in 2012.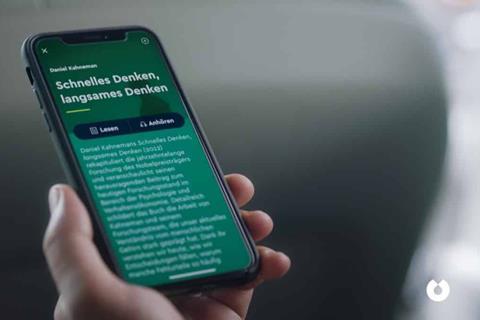 Former Deutsche Telekom interest and book-summarising startup Blinkist posted a positive income statement for the first time in its ten-year period of operations.
In its financial statement for the year ended 31 December 2020 (FY20), Blinkist reported €728,000 in income, reversing a €10.1m loss in FY19. Achieving profitability was put down to a move to prioritise "profitability instead of growth", although FY20 saw the business grow its active user base by 8%, to 20 million, and sales by 26.4%, to €42m, thanks to improvements in its subscription model and expansion to international markets.
Blinkist hosts a library of more than 4,000 non-fiction titles, the key points of which are summarised in 15-minute snippets to be read or listened to via an app. The business has raised $35m (€26m/€31m) in the past six years, with US investor Insight Partners leading the most recent Series-C round, held in 2018. In its latest Annual Report, Blinkist confirmed it did not plan to hold a round of financing in 2022.
hubraum's changing portfolio
Deutsche Telekom's tech incubator hubraum made Blinkist its first investment after being founded in 2012, when it took part in a €147,000 seed funding round. Holger Seim, Co-Founder and Chief Executive of the Berlin startup, said hubraum connected Blinkist to mentors in the Berlin startup ecosystem, and "were really helpful in getting the word out initially by leveraging some of Deutsche Telekom's efforts". It appears that hubraum exited Blinkist in 2021.
hubraum's initial buy-in was said to have been made after "nothing more than a single PowerPoint presentation". The unit has since shifted focus onto more mature startups that have a product and customers.
hubraum investments, January 2022

Startup (country of origin)
Year of initial investment
Proposition/focus
Source: Deutsche Telekomwatch; hubraum.
Current portfolio

ciValue (Israel)

2015

Personalisation

CloudStorm (Hungary)

2018

Robotic process automation

Contiamo (Germany)

2014

Analytics

DanceFight (USA)

2020

Virtual dance app

eParkomat (Czech Republic)

2017

Parking spot availability predictor

Excalibur (Poland)

2014

Authentication service

HypeLabs (Portugal)

2019

Mesh networking

JustTAG (Poland)

2019

Advertising analytics

LeoAR (USA)

2020

Artificial reality (AR) developer

neoteq ventures (Germany)

2020

Early-stage venture capital fund

PHYTunes (USA)

2021

In-building coverage solutions

tagSpace (Australia)

2020

AR experiences

Teraki (Germany)

2017

Internet of Things (IoT) enabler

Texel (Israel)

2018

Virtual reality software

Twyla (Germany)

2017

Machine learning-based chatbots

UBIRCH (Germany)

2020

Blockchain data security

Unigluko (Croatia)

2015

Digital health

Exits

Blinkist (Germany)

2012

Mobile reading app

Flexperto (Germany)

2015

Customer communications platform

M2MGo (Germany)

2015

IoT enabler

Reparando (Germany)

2017

Device repair

Reputami (Germany)

2013

Hospitality reputation management

Salonmeister (UK)

2013

Salon booking platform

Joseph Purnell is a Staff Reporter for TelcoTitans, contributing telecoms news analysis since 2019 as part of the TelcoTitans Editorial team.