City of Samobor tabled as 5G testing ground.
Krk and Osijek lined up next for trials.
Close 5G ties with Ericsson evidently firmed up.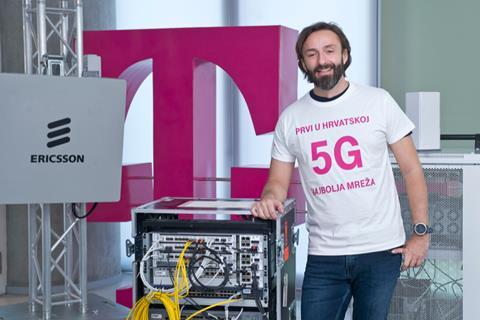 Hrvatski Telekom (HT) claimed to be making solid 5G progress, using what it said was "commercial radio and core 5G equipment and functionalities" in the city of Samobor, as part of a demonstration.
The NatCo has also lined up other areas of "economic and social importance" for 5G testing, including the eastern city of Osijek and the Adriatic island of Krk.
HT said it picked Samobor and its surroundings for 5G testing with an eye to tapping the area's industrial, craft, and tourism potential. The diversity of the local economy made it an ideal environment to try out diverse 5G business cases, added HT.
The idea is to roll these out throughout the country — and, more ambitiously, "globally". Operators from comparatively small domestic markets often see opportunities for expansion abroad using 5G standards, although it is hard at this early stage of 5G development to gauge how this sort of globalisation will pan out.
On the same theme of innovation, HT said it selected Osijek for 5G testing as a way to raise the city's strong startup community to a "whole new level" and boost the local economy. HT further identified Krk — already scene of multiple 'smart' services projects by HT and partners (Deutsche Telekomwatch, #55) — as an island in the process of implementing a wide variety of "advanced digital solutions". With the help of 5G, HT wants to turn Krk into Croatia's first 'smart-island'.
The NatCo reckoned that the first commercial 5G devices will become available in the second half of 2019, but did not commit to a time when the network will be ready to support commercial 5G services.
Between January 2018 and March 2019, HT said it had ploughed more than HRK 1bn (€135m) into its 5G‑led mobile network modernisation programme.
The Swedish connection
No mention was made of suppliers in HT's latest 5G update, but the NatCo has well‑established ties with Ericsson and its Croatian affiliate, Ericsson Nikola Tesla (ENT). In July 2018, HT paraded involvement of ENT in 5G testing in Pula, the largest city in the Istria region (Deutsche Telekomwatch, #75).
At the time, HT said it expected to complete nationwide network modernisation, capable of supporting 5G, by the end of 2019. The project involves revamping infrastructure and transport capacities, and a re‑think on radio access network (RAN) design. HT is deploying single RAN and said the upgrade will double capacity of its existing 4G network and help it support new Internet of Things products and services.