Deutsche Telekom CEO said he is "very committed" and doused questions about leaving his post early.
Former O2 Germany Chief Consumer Officer Wolfgang Metze is headed back to DT.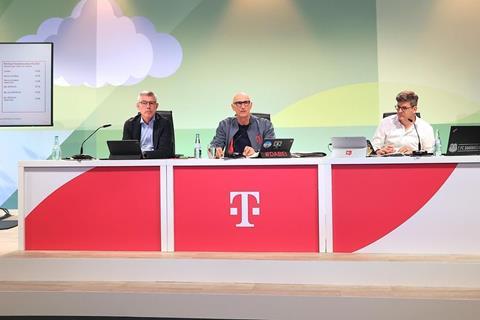 Deutsche Telekom Chief Executive Timotheus Höttges slammed a recent Handelsblatt report that claimed he is planning to leave the Group before his contract ends in 2026 and called it a "fiction".
According to Handelsblatt, DT has reportedly started succession planning in anticipation of Höttges' early departure, citing sources with knowledge of the operator's internal plans. The next in line for the top job at DT is claimed to be Srini Gopalan, CEO of Telekom Deutschland, according to the report.
The article asserted that Gopalan's replacement is expected to be Wolfgang Metze, who recently resigned his role as Chief Consumer Officer at Telefónica Deutschland (O2 Germany).
Höttges sought to quash any questions about his plans for his early departure during the earnings call today for the three months to 30 June 2022.
"This whole story from Handelsblatt… I found amusing because it's a fiction", he said. Further dismissing the article, he maintained that he did not know "what they're constructing together".
Höttges confirmed that he is "very committed" and reminded the audience that he just "decided to extend my contract here".
One out of two
Having rubbished the report of his early leaving, Höttges then conceded that one part of the story was indeed right: Metze is going back to Deutsche Telekom. Handelsblatt reported that Metze is expected to join Gopalan's team in mid-2023, although it is not clear what role he will have.
" It is true that we have hired back Metze, who did an outstanding job at O2… He's a great marketeer. He's very young and very agile… I'm very happy he's decided to come back to Bonn. "

Höttges.
Metze resigned from O2 Germany in June 2022 to pursue an unannounced external opportunity and said he gave up the position for "personal reasons". He was showered with praise by Markus Haas, CEO of O2 Germany, who described the operator's Consumer unit as an "excellent setup".