CEO's second recent trip to capital raises questions.
Speculation of Hungarian sale talks adds to intrigue.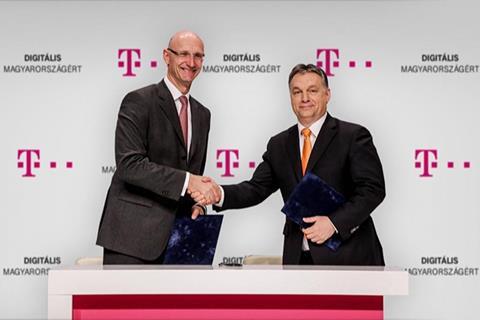 Timotheus Höttges, Chief Executive (CEO) of Deutsche Telekom (DT), was reported to have met once again with Hungarian Prime Minister Viktor Orbán, to talk through local telecoms policy and Group plans for Magyar Telekom (MT).
The discussion, also attended by MT CEO Tibor Rékasi and Srini Gopalan, Head of Europe at DT, focused on "opportunities and challenges for digital development in Hungary", according to local news agency MTI.
No further information on the agenda was reported, but there will not have been a shortage of items to discuss, with a multi‑band spectrum rights auction due to take place in Hungary later in 2019, amid ongoing concerns over European 5G licence pricing and conditions.
Höttges' trip also follows the emergence in 2018 of rumours about a possible DT sale of its majority stake in MT (Deutsche Telekomwatch, #71 and #79). In recent weeks, there has been local speculation that MT could sell all or part of enterprise unit T‑Systems Hungary, with local service provider 4iG apparently interested.
This is the second such meeting the three executives have attended with Orbán in recent months, after an earlier discussion in September 2018 (Deutsche Telekomwatch, #76).