Deutsche Telekom partners BMW and KUKA join list of organisations seeking to test out private nework use-cases.
German regulator to publish details of 26GHz applicants from April at the earliest.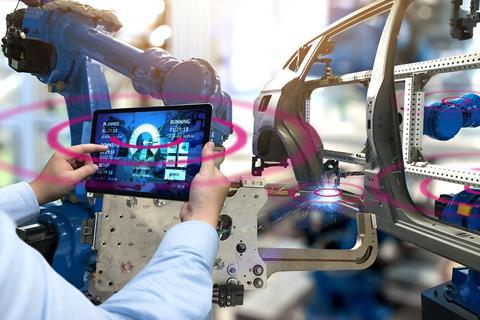 Germany's Bundesnetzagentur (Federal Networks Agency/BNetzA), which is spearheading private 5G licensing in Europe, said it had received 120 local 5G network applications as of 12 March 2021, with 117 granted.
This represents a moderate increase from November 2020, when approvals stood at 88, and points to steadily rising demand for localised, mid-band (3.7GHz/3.8GHz) rights for agricultural, industrial, and research organisations. Approvals stood at 74 in September and 43 in April; the nation's liberalisation of the rights commenced in November 2019.
BNetzA has now been permitted to publish details of 69 applicants, up from 51 in November. The regulator also indicated that it launched the applications process for local licences in the 26GHz band (24.25GHz–27.5GHz) on 1 January, although information about applications and approvals will not be published until April at the earliest.
Telefónica Deutschland (O2), T-Systems International, and Verizon Deutschland, Verizon Communications's local enterprise service provider, remain the only telecoms operators on the list.
Trade shows exhibit interest
Mobile network operators were initially critical of BNetzA's 'industry band' plan. Having failed to block it, they now pitch themselves as key campus network partners, pushing for end-to-end responsibility across connectivity, service, and solutions.
Deutsche Telekom has been steadily building up its go-to-market play around campus networks, supported by a strategic partnership with Ericsson and trial partners such as Accenture, Audi, BASF, BMW, and OSRAM (Deutsche Telekomwatch, #93). DT and Ericsson have also expanded their strategic relationship beyond the borders of Germany, with T-Systems teaming with the vendor to bring solutions into new markets.
Notably, Deutsche Telekom said in February it is partnering with German trade fair organiser Deutsche Messe on the construction of what is described as "one of the largest 5G campus networks in Europe", covering 1.4 million square metres in Hanover. A spokesperson for the operator confirmed that Huawei Technologies is supplying the radio access network (RAN) and Ericsson the core network.
Siemens has also said it is setting up its own private 5G campus network in one of the exhibition halls at the Hanover site, and indicated that the network will be handed over to Deutsche Messe so that others can use it as a 5G test environment.
Also worth noting is that Koelnmesse has recently gained a local 5G licence from BNetzA. The Cologne trade fair organiser previously trialled 5G together with DT at the operator's Digital X event in 2019.
BMW and KUKA join list
Among other recent additions to the BNetzA list are two Deutsche Telekom partners: BMW and KUKA. The operator announced in February last year that it was building a 4G campus network at BMW's plant in Leipzig, together with Ericsson, and indicated a move towards 5G in future. KUKA was flagged in mid-2020 as one of the businesses working with T-Systems on edge-enabled robotic automation in industrial settings.
Neither of Deutsche Telekom's main rivals, O2 and Vodafone Germany, have yet been highlighted as local network applicants.
However, O2 is already providing private 5G network solutions to enterprise customers. One high-profile project is the deployment of a 5G campus network for Mercedes-Benz Cars at Factory 56 in Sindelfingen, in collaboration with Ericsson. O2 also partnered with Nokia for its first 5G private network deployment at BASECAMP, with the supplier providing a small-cell-based indoor network for the project (Telefónicawatch, #141).
Vodafone has previously indicated that it is working with almost 200 organisations on 5G campus networks. Publicly confirmed projects include a collaboration with e.GO and Ericsson on electric car production, and a partnership with Lufthansa Technik and Nokia on the construction of a 5G campus network at an aircraft hangar at Hamburg Airport (Vodafonewatch, #185).
New entrants since November:
Becon GmbH (IT services).
BMW (car maker).
Cologne/Bonn airport.
Two new departments of the Fraunhofer Institute (Fraunhofer-Institut für Entwurfstechnik Mechatronik IEM and Fraunhofer-Institut für Produktionstechnik und Automatisierung IPA)
Helios Park-Klinikum (hospital).
Hochschule Osnabrück (university).
Koelnmesse (trade fair).
KUKA AG (industrial robots and automation)
Landesamt für Umwelt, Landwirtschaft und Geologie (State Agency for Environment, Agriculture and Geology in Saxony).
M3 Connect (wireless ISP).
NürnbergMesse GmbH (trade fair).
Opticoms GmbH (telecoms and IT consultancy and managed services provider).
Otto-von-Guericke-Universität Magdeburg (university).
Rheinmetall Technology Center (integrated technology group).
Ruhr-Universität Bochum (university).
Technische Universität Dortmund (university).

Anne Morris is a freelance journalist, editor and translator. She has been working as a reporter and news analyst for TelcoTitans since 2016.