Telekom Deutschland Chief Executive Srini Gopalan continues to emphasise need for network‑building partnerships.
DT has not given up on under-scrutiny Glasfaser Nordwest JV.
Group tech boss Claudia Nemat maintains environmental messaging — and surprises with a musical demo of 5G SA.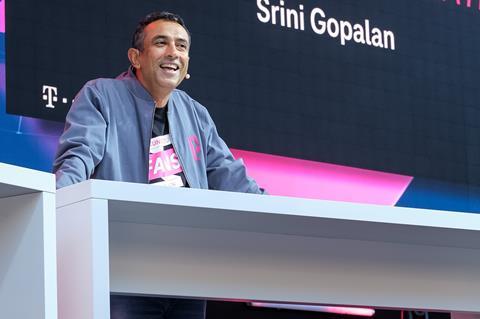 Srini Gopalan, Chief Executive of Telekom Deutschland (TDE), used the German NatCo's Telekom Netze Tag 2021 event to highlight progress so far with 5G and fibre network construction — while also showing off his newly acquired German language skills.
Gopalan, who took over at TDE in late-2020, was as recently as February 2021 insisting that his German was "barely up to scratch". "I can understand about 80% of a meeting in German, but I can probably speak about 10% of it", he said, during a keynote at Converge 2021 "So, I'm still learning. I spend an hour every day — 7 to 8 every morning is learning German".
His efforts are clearly paying off: Gopalan gave today's 25‑minute presentation entirely in German. He focused on some familiar themes, such as flagging TDE's accelerated deployment of fibre‑to‑the‑premises (FTTP) and 5G networks, while also reiterating calls for faster application and approval processes, and underlining the need for partnerships to achieve digitalisation objectives.
The good news, he said, is that TDE deployed 1.2 million FTTP connections in 2021 — which was double its performance in 2020. The NatCo is targeting two million connections (premises passed) in 2022, and aims to reach ten million connections by 2024. From 2024, the average run‑rate on new connections is expected to be 2.5 million per year.
In terms of 5G deployment, 63,000 antennas now support 5G, and more than 3,500 antennas in the 3.6GHz band are now technically capable of supporting the standalone version of 5G (5G SA). The 5G network currently covers 90% of the population, with 90% geographic coverage expected to be achieved by the end of 2025. TDE also said it has connected 350 industrial areas and laid 70,000 km of fibre cable this year.
However, Gopalan reiterated that TDE needs support from local communities, the government, and other operators and organisations if Germany is to become a fully digitised society. "No company can digitalise Germany alone", he said, describing the process as a "team sport" and calling for all networks to be built on an open access basis.
Gopalan has previously indicated he will draw on all the tricks he knows to help TDE speed up fibre deployment.
"By 2030, every household and every company in Germany should have a fibre‑optic connection. We will build a large part of this", he added. He repeated DT's target to build eight million FTTP connections in communities with fewer than 20,000 inhabitants by 2030. "In addition, our GlasfaserPlus joint venture will provide four million rural households with a fibre‑optic connection", he said.
Here, Gopalan is referring to Deutsche Telekom's new German fibre joint venture that is being set up as a 50:50 JV with Australia's IFM Investors. It aims to begin deploying infrastructure in 2022 and bring four million Gigabit 'connections' to "rural and development areas" by 2028 (Deutsche Telekomwatch, #103, #105, and #108).
Multi‑pronged approach
In general, the CEO underlined the requirement for different types of investments and partnerships to ensure nationwide fibre coverage. "There is no one‑size‑fits‑all solution" for Germany, he said. Partnerships must be economically viable, bring advantages to both parties, and be sustainable, he commented.
He particularly highlighted public‑private partnerships, such as those DT has formed with state‑owned utilities in Munich, Münster, and Stuttgart. Gopalan also made a brief reference to Glasfaser Nordwest — DT's FTTP JV with energy, IT, and telecoms group EWE. In September, a 2019 ruling that paved the way for the somewhat controversial creation of the JV was revoked and deemed "illegal".
Gopalan said DT "is fighting for this company", and noted that it is set to pass 200,000 households by the end of 2021, with 1.4 million planned in total.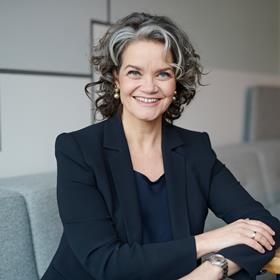 Also speaking at the event was Claudia Nemat, Head of Technology & Innovation at DT, who repeated the Group's environmental targets, such as: using only renewable energy sources by 2021; achieving net‑zero in‑house emissions by 2025; and completely eliminating its carbon footprint by 2040. To achieve the latter, the Group has said it is anchoring higher‑priority emissions targets in contracts with partners.
Nemat addressed further topics such as the ultimate aim to adopt open radio access network (RAN) systems in order to create greater vendor diversity. Here, she made particular mention of the i14y Lab that was established in November and initially plans to focus on open RAN.
The Federal Ministry for Transport and Digital Infrastructure (BMVI) is providing €17m in funding for the new facility, and a similar amount is being contributed by a consortium led by DT. The consortium also includes BISDN, Capgemini Engineering, EANTC, Fraunhofer HHI, highstreet technologies, Nokia, Rohde & Schwarz, Telefónica Deutschland, TU Berlin, and Vodafone Germany.
With regard to the deployment of 5G SA technology and network slicing, Nemat said initial applications will be targeted at enterprise customers, such as campus networks, while consumer services would arrive as use cases and devices emerged. She ended her presentation with a flourish, introducing a performance by Dave Gahan & Soulsavers as a world premier demonstration of 5G SA technology between Berlin and Bonn.
Gopalan, a British citizen with Indian roots, was appointed CEO of Telekom Deutschland on 1 November 2020, succeeding Dirk Wössner. He was previously responsible for the Europe segment of DT. He is not the first non‑German national to head up the Group's domestic business: the Dutch native Niek Jan van Damme served as board member for Germany from 2009 to 2017, for example.


Anne Morris is a freelance journalist, editor and translator. She has been working as a reporter and news analyst for TelcoTitans since 2016.