Carter kept in the Deutsche Telekom family with Senior Advisory Council seat.
DTCP gains exec's TMT investment expertise and experience.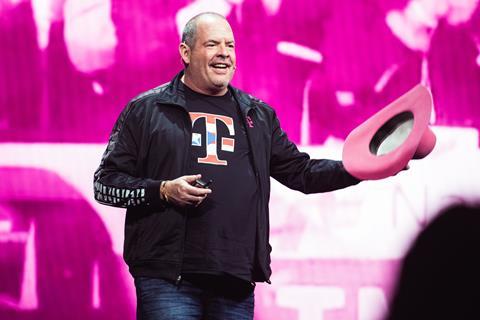 Deutsche Telekom Capital Partners (DTCP) announced yet another addition to its Senior Advisory Council, tasked with steering its venturing activity.
It has appointed former T-Mobile US Chief Financial Officer Braxton Carter, who left the operator and his famed magenta cowboy hat behind in July.
Carter spent 19 years at the Un-Carrier, if including his spell at 2013 acquisition MetroPCS (now fully subsumed as Metro by T-Mobile). Though he officially retired in July, he remains a strategic advisor at the NatCo until "at least" the end of the year, to support the transition process to his successor Peter Osvaldik (Deutsche Telekomwatch, #89).
The day after his official retirement, Carter was appointed to the Board of Directors at Assurant, a T-Mobile insurance services partner (Deutsche Telekomwatch, #97).
He was a hugely influential figure in the turnaround of T-Mobile, with Chief Executive Mike Sievert earlier this year flagging his "tireless advocacy" in growing the operator. "We will miss him", he added. It is unsurprising, then, that Deutsche Telekom has moved to keep him in its ecosystem before he has fully left it.
Carter reportedly makes investments in the technology, media, and telecoms sector via his eponymous venturing vehicle Carter Companies, and is a member of the Board at Stockholm-based private equity firm EQT Group, which oversees 16 funds and €46bn (£41.5bn) in assets.
As a sidenote, Carter's appointment comes with T-Mobile itself making a play in the corporate venture capital space, with the launch of a new, 5G-focused T-Mobile Ventures arm — although neither it nor DTCP have detailed any plans to collaborate.
Another one
Carter's appointment to the DTCP Senior Advisory Council follows a string of additions in recent months that could indicate a new phase in the vehicle's ongoing ramp-up. Affirmed Networks co-founder Hassan Ahmed, serial venture capitalist Orna Berry, and Fastly CFO Adriel Lares have each been appointed since mid-2020.
DTCP remains a prolific investor, including in the USA. Recent deals include additional backing for Cellwize Wireless Technologies, as part of a $32m (£24m/€26.5m) Series-B round, and a contribution to Arctic Wolf's $200m Series-E.
The investment vehicle also recently flagged the success of mobile attribution specialist and portfolio company AppsFlyer, which tipped the scales to gain a valuation of $2bn, following an extended Series D funding round. Security operations specialist Arctic Wolf is also valued in unicorn territory at $1.3bn, so too is cloud-based identity platform provider Auth0, at $1.9bn.
DTCP advisory board members, December 2020
Advisor
Highlights
Source: DTCP.

Hassan Ahmed

Co-Founder of Affirmed Networks

Orna Berry

Industry executive and seasoned entrepreneur

Marco Börries

CEO and Founder of DTCP portfolio company NumberFour (now enfore)

Braxton Carter

Former CFO at T-Mobile US

Jay Eum

Co-Founder at TransLink Capital

Trevor Healy

Co-Founder & Managing Partner at Sansa Advisors

Rainer Hillebrand

Vice-Chairman of the Executive Board at Otto Group

Lars Hinrichs

CEO of Cinco Capital; former CEO of XING

Timotheus Höttges

Deutsche Telekom Group CEO

Michael Kaschke

Former President & CEO at Zeiss Group

Karl Lamprecht

President & CEO at Zeiss Group

Thorsten Langheim

Co-founder and Chairman of DTCP; Management Board member for USA & Group Development at Deutsche Telekom; Chairman of Deutsche Funkturm; Non-Executive Board Member of T-Mobile US

Adriel Lares

CFO of Fastly, former CFO of Lookout

Michael Sommer

Former member of Deutsche Telekom Supervisory Board

Dragos Stefanescu

Founder & President at Sitka Global Advisory Service

Helena Svancar

Head of Mergers & Acquisitions at Ericsson

Joseph Purnell is a Staff Reporter for TelcoTitans, contributing telecoms news analysis since 2019 as part of the TelcoTitans Editorial team.