Berlin device- as-a-service startup gets €34m injection as remote-working norms establish demand.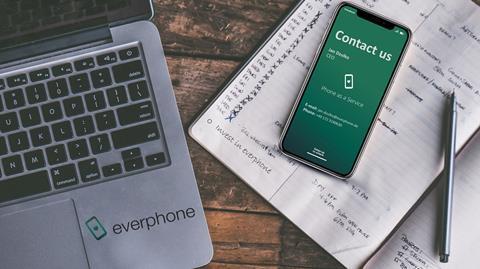 Device-as-a-service (DaaS) provider everphone bagged Deutsche Telekom (DT) investment as part of its Series-B funding round. The round, led by new participant signals Venture Capital, raised €34m (£30.8m) for the startup. Specific investment quantities were not revealed.
DT joined the round via its strategic investment arm Telekom Innovation Pool (which suggests the Group sees the relationship developing beyond financing), alongside fellow new investors US-based venture capital fund AlleyCorp and Dutch bank NIBC.
In previous funding rounds everphone received backing from ApolloCapital and Angel Invest (Series-A, December 2017, €4.4m), and Swiss Founders Fund and ApolloCapital (Seed round, October 2016, €2.2m).
Jan Dzulko, Chief Executive of everphone, accepted that the global health crisis had benefited the company ahead of its call for funding: "The global pandemic has been a catalyst for growth in the field of digitisation", he said. He added that the funding will be earmarked for a European expansion project. Till Stenzel, Managing Director of Deutsche Telekom Capital Partners' Advisory Team, set his ambitions markedly wider: "we see not only significant growth potential in Germany, but also across the world".
DaaS is not a new concept and as such everphone has strived to promote itself as a security- and convenience-first outfit as its USP. Exactly how its service improves upon competitors' offerings remains unclear, but with DT and venture capital behind it, there is potential for it to become a significant European business-to-business player. Competitors include VodafoneZiggo's Hardware-as-a-Service and Vodafone Global Enterprise's (VGE) Device Lifecycle Management product. VGE partnered with terminal distribution specialist Ingram Micro for its offering.
There is a growing expectation that the DaaS market will see a boom in the coming months — if it hasn't already started — as businesses adapt to COVID-19 related remote-working, which for many necessitates the provision of devices for off-site employees. DT's engagement in the round suggests it anticipates that same market growth. everphone's proposition includes refurbished and new device rental as well as parallel premium app subscriptions (given the "App-as-a-Benefit" moniker), maintenance and support, and the offer of replacement devices should they be required. Peter Arbitter, Head of Portfolio & Product Marketing for Business Customers at Telekom Deutschland, said that the tie-up with everphone will enable "attractive leasing models", adding that there are plans to boost DT's existing rental propositions "in conjunction with everphone".
Of particular interest to DT will be everphone's promise of configurability and security, with devices operating within a company's internal IT infrastructure and managed centrally. This suits an organisation like DT, which has hinted at scaling back its physical office footprint and encouraging further remote-working where possible. Group Chief Executive Tim Höttges told investors in April 2020 that changes will be made where "we might not need all the office space that we have today", mooting a "hybrid office" system in its place (Deutsche Telekomwatch, #94). Chief Security Officer Thomas Tschersich has, however, highlighted security as a prominent issue in remote-working. Data being handled off-site, outside the DT "security fence", is his primary concern — something he said could only be addressed by handing over more control to cloud service providers or, apparently as the preferred option, increasing investment in cybersecurity and tech to enable safe remote data access.
Security has long been a key driver in DTCP investments and new impetus appears to have been provided with the recent spin-off of Telekom Security from T-Systems. DTCP participated in cloud-based identity platform Auth0's €105.3m Series F round earlier this month. Israeli cybersecurity and breach protection company Cynet also received funding from the DTCP-advised Telekom Innovation Pool in June.
A full list of DTCP Telekom Innovation Pool investments to July 2020 can be found here.