T‑Mobile US joins 6G alliance with industry bigwigs, and foots a Sprint bill for Lifeline abuse.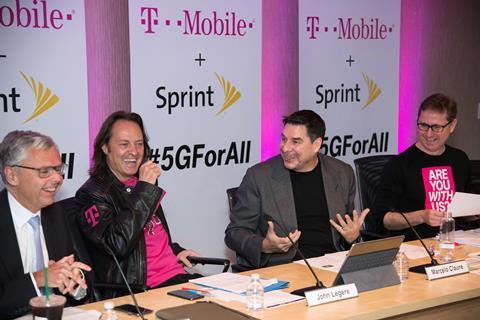 T‑Mobile US (TMUS) software vendor Smith Micro Software flagged that it was planning to migrate the NatCo's customers to its new family-orientated connected lifestyle platform SafePath7 during the "first half of 2021". New "best‑in‑class" parental controls — based on source code acquired via its recent $13.5m (€11.3m) acquisition of rival Circle Media Labs' operating business (Deutsche Telekomwatch, #92) — include features to help monitor and manage minors' screen time. Location-based services, such as real‑time tracking and location history, are apparently marked upgrades. During its latest earnings call, Chief Executive Bill Smith stated that it was working with TMUS on "marketing plans" for the upgraded service, with the inference that Smith Micro is to provide TMUS customers with a new white‑label product in a similar mould to the NatCo's current Familymode offering (which is underpinned by technology from Circle).
SoftBank continued its transition from holding company to investment manager by rotating its Board of Directors. Exits announced in November 2020 included Chief Operating Officer Marcelo Claure, Executive Chairman of commercial real estate company WeWork, and one of the key architects of the Sprint–TMUS merger. Claure also sits on the Board at TMUS.
Wireless power provider Ossia's Cota platform was granted authorisation from the US Federal Communications Commission (FCC), enabling the wireless power delivery platform to be offered in the USA. The Cota platform is used by TMUS under a partnership between T‑Mobile for Business and Ossia. Mike Katz, EVP of the operator's enterprise arm, said Ossia's technology will "play an important role" in the "exponential growth with Internet of Things [IoT]". IoT devices connected by TMUS and powered by Cota enable "scalable and geographically dispersed data transmission", Katz added.
TMUS was ordered to pay a $200m (€167m) fine to settle an FCC investigation into Sprint's compliance with Lifeline, a telephone and broadband service initially established in the 1980s that supports low‑income consumers. The FCC alleged that Sprint had continued to claim monthly subsidies for 885,000 subscribers, despite those customers not using the service. The FCC allocates operators a $9.25‑per‑month subsidy for subscribers that use the service at least once a month.
TMUS joined fellow operators AT&T, US Cellular, and Verizon Communications, along with technology heavyweights Ericsson, Google, and Nokia, as a founding member of the Next G Alliance. The group, formed by the Alliance for Telecommunications Industry Solutions, aims to advance mobile technology leadership through private sector‑led efforts in North America. Specifically, it targets 6G research and development initiatives, and will focus on lobbying the US government to direct funding towards the technology. It will also release a national 6G roadmap and established working groups from 2021. Other founding members include Hewlett Packard Enterprise, Intel, Mavenir, Microsoft, Qualcomm, and Samsung.