Corona‑Warn‑App goes B2B.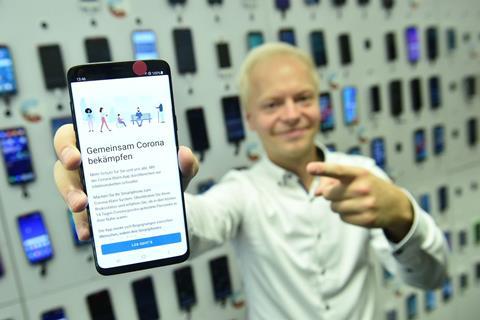 T‑Systems (T‑Sys) introduced a service called Enterprise Protection System (EPS) that is targeted at production and logistics facilities, and aims to detect and limit the spread of coronavirus infections among employees. The system combines functionalities of the Corona‑Warn‑App, developed by T‑Sys and SAP (Deutsche Telekomwatch, #93–#97), and SafeTag wearable devices from Internet of Things specialist KINEXON that use ultra-wideband short-range wireless technology. In work environments where smartphones are not allowed, employees wear the SafeTag devices to help them maintain safe distances between co‑workers. EPS is one of T‑Sys's "New Work" solutions in its Digital Business Transformation category of services, which appears to be inspired by the COVID‑19 pandemic. Other New Work offers include T‑Sys's "Health@Work" solution suite and Microsoft Teams quick start for businesses to support remote workers.
T‑Sys began "experimenting with" Glue Collaboration, a vendor specialising in artificial intelligence (AI)‑ and virtual reality-based software services, on the development of video conferencing service Glue. The platform — which creates an animated meeting room for participants to interact via a self‑styled avatar — is being used by T‑Sys for "remote collaborations".
T‑Systems Singapore flagged its work with Malaysia's Thomas Hospital Kota Damansara (THKD) to migrate the latter's IT infrastructure onto a secure, cloud‑based platform. The project is based on SAP enterprise resource planning and healthcare-oriented applications, and aims to automate ordering of medical equipment and supplies, while enabling medics to access patient records and appointment data in "real‑time" via an interactive dashboard. It forms part of a wider THKD expansion and digitisation programme scheduled for completion in 2023.
T‑Systems Iberia (T‑Sys Ib) launched Digital Supply Chain, a platform designed to weld together disparate systems and devices to maximise transparency between "industrial companies". The "technological suite" — reportedly in the process of being adopted by car‑maker SEAT — is said to deliver a "real‑time" product tracking and management service that leverages AI to "anticipate production errors".
Health insurance player Barmer GEK signed a contract with T‑Sys after an "invitation to tender" process geared towards bringing about "further advances in the ongoing digitisation of healthcare". Little further detail was provided.