DT IoT targets startups with new NB‑IoT enabler and T‑Sys expands Industry 4.0 play to Dutch manufacturers.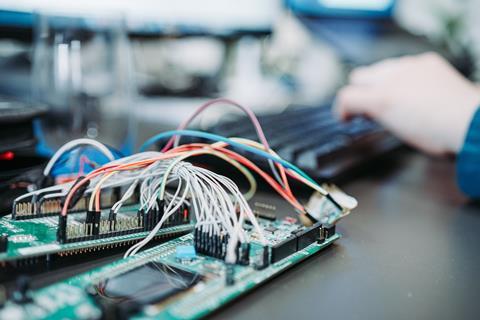 Deutsche Telekom IoT (DT IoT) launched an IoT Creators-branded platform to encourage mobile IoT adoption for startups. Presented as a "community", IoT Creators is in effect another channel to sell access to DT's mobile network for flexible IoT scaling, and comes with an online portal to visualise connections. Four pricing options for Narrowband IoT (NB‑IoT) access were available at launch, and an LTE‑M‑based alternative is apparently in the works (reflecting Telekom Deutschland's recent launch of the technology — Deutsche Telekomwatch, #96). It appears similar to DT's existing IoT Solution Optimizer, but targets startups rather than enterprise clientele.
Smart‑sensor specialist and IoT Solution Optimizer partner CEVA flagged that its Dragonfly NB2 IP turnkey NB‑IoT solution received "full certification" from DT IoT. DT Head of IoT Devices Uday Patil said the certification guarantees "out‑of‑the‑box interoperability".
T‑Systems South Africa (T‑Sys SA) opened applications to its T‑Sys Enterprise & Supplier Development Program, which aims to support black economic empowerment in SA. The unit asked for applications from small businesses that have suffered because of coronavirus, giving preference to black‑owned ICT players that add value to T‑Sys SA as a supplier. Through the programme, T‑Sys SA will subsidise rent payments or offer training and work‑from‑home tools.
T‑Systems Netherlands (T‑Sys NL) launched The New Factory Campus service portfolio under the Smart Industry banner in the Netherlands. The Smart Industry team, led by T‑Sys NL's Director of Public Cloud & Digital Solutions Hans Aaldering, will bring services to the Dutch market services that were first developed for Germany. DT's 5G Campus and Edge Cloud were named examples. T‑Mobile Netherlands will provide the network connectivity, while T‑Sys NL will offer "knowledge and insight gained internationally". An ecosystem of partners was also flagged, including Detecon, Ericsson, Hewlett Packard Enterprise, Microsoft, SAP, and Siemens.
Professional cooking technology manufacturer MKN flagged a partnership with DT IoT. Utilising DT's Cloud of Things platform, MKN is providing smart-solutions for professional kitchens, including predictive maintenance, cleaning logs, and automatically loading recipes to appliances. T‑Sys is also working with MKN to develop a cloud platform for its FlexiChef appliance.

Joseph Purnell is a Staff Reporter for TelcoTitans, contributing telecoms news analysis since 2019 as part of the TelcoTitans Editorial team.