T‑Sys reborn again as operational rejig completed. COVID‑19 and cloud aggregation dominate in new products and projects.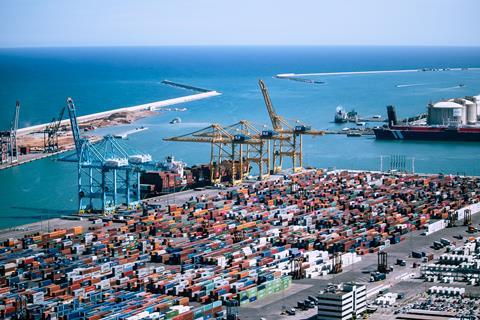 Deutsche Telekom (DT) made further progress in its latest, wide-ranging reshuffle of business-to-business (B2B) interests. It completed the spin‑out of T‑Systems' (T‑Sys) security and Internet of Things (IoT) units and firmed up a transfer of the division's Telecommunications Services and Classified ICT operations to Telekom Deutschland's new, over-arching B2B operation Deutsche Telekom Business Solutions (Deutsche Telekomwatch, #94 and passim). The measures, initiated in August 2019, have seen the creation of Deutsche Telekom Security and Deutsche Telekom IoT as independent entities, although their leaders (Thomas Fetten and Rami Avidan, respectively) will continue to report into T‑Sys Chief Executive Adel Al‑Saleh. The overall process is not yet fully complete, however, as DT Business Solutions is not expected to firm up a planned takeover of Deutsche Telekom Global Carrier until around October 2020 (Deutsche Telekomwatch, #94). The move distils a significantly slimmed-down T‑Sys' focus onto IT services.
The European Union-backed Archiver project selected five consortia — one of which is led by T‑Systems (T‑Sys) — to participate in a four‑month "solution design" phase. Archiver, or Archiving and Preservation for Research Environments, aims to meet IT requirements of European scientists in a hybrid cloud environment. The aim is to handle data "generated in the petabyte range" on an "end‑to‑end" basis. The T‑Sys consortium, which includes partners GWDG and Onedata, is working on a data preservation solution that will be Open Archival Information System-compliant and operated via its Open Telekom Cloud platform. Amazon Web Services and Google were among the other tender winners.
Deutsche Telekom (DT) began rolling out a series of solutions aimed at helping different vertical industries deal with post‑lockdown restrictions. An Internet of Things (IoT)‑enabled access control management solution and smart‑lighting system is being marketed to retailers by Deutsche Telekom IoT, while hoteliers are being offered a package of connectivity, digital media, and other solutions, supported by goingsoft, an Austria‑based software supplier DT bought in 2019 (Deutsche Telekomwatch, #80).
T‑Sys continued recent years' shift towards an aggregator role in cloud infrastructure and services with the launch of the Multi Cloud Connectivity Platform, offering data lines dedicated to public cloud applications from Amazon Web Services, Google, and Microsoft, as well as T‑Sys's own private cloud offerings. The service, which is billed by consumption, makes direct connections and virtual private networks available from a self‑service portal.
T‑Systems Iberia secured a deal to supply La Autoridad Portuaria de Barcelona, Barcelona's port authority, with a traffic monitoring system. The solution is said to track the passage of trucks through different areas of the port in real‑time, and is aimed at streamlining management of cargo and reducing traffic in the complex. It was suggested that T‑Sys remains in development mode with the artificial intelligence-enabled system, which is based on Amazon Web Services cloud infrastructure.