Deutsche Funkturm startup gradually moving toward 2021 footprint target.
2020 has seen operator tweak approach in e‑mobility with sale of GET CHARGE offering to Switzerland's Alpiq.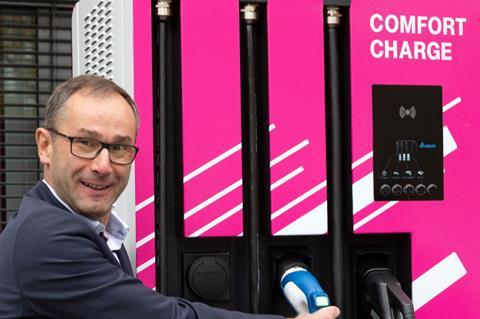 Comfortcharge, a Deutsche Telekom (DT) startup focused on fitting vehicle‑charging facilities within the operator's street cabinets, said it has now rolled out almost 140 direct current (DC) stations as part of an ongoing deployment programme announced in early‑2018 (Deutsche Telekomwatch, #71 and passim).
A Group spokesperson said the fast‑charging DC stations "form the heart" of Comfortcharge and have a charging power of more than 100kW. The spokesperson added that Comfortcharge now also operates a "middle three‑digit number" of alternating current (AC) stations, which tend to have lower power output.
The business, which sits within the Group's Deutsche Funkturm infrastructure business, has therefore continued to expand its footprint as promised during 2020. However, the business still seems some way off a target, laid out in late‑2018, of rolling out 500 fast‑charging stations over the following three years (Deutsche Telekomwatch, #78).
GoingElectric, a German news site and blog covering electric cars and e‑mobility services, currently lists 154 locations with 554 loading points in the Comfortcharge network.
The 500‑cabinet target was laid down after an apparent reassessment of the potential to bring Comfortcharge services to DT cabinets, with the Group having originally mooted a 12,500 station footprint when the venture was first announced at Mobile World Congress in February 2018 (Deutsche Telekomwatch, #71).
It is not clear whether new installations have been significantly hampered by movement restrictions related to the coronavirus pandemic. DT has previously cited the challenge of gaining local authority permits for site upgrades and competitor activity as hurdles to Comfortcharge's expansion.
Nevertheless, the Group appears to remain committed to the venture, and the spokesperson noted that Comfortcharge continues to provide "reliable services" during the pandemic.
GET CHARGE changes hands
DT has been making a few tweaks to its e‑mobility portfolio in recent months.
GET CHARGE, an aggregator service that now offers access to more than 56,000 stations from European partners (including Comfortcharge's units), was sold to Alpiq, a Swiss energy services provider and electricity producer, in July 2020.
A spokesperson for Alpiq said no formal announcement of the acquisition from DT was required. "The customers were informed accordingly", the spokesperson added. Alpiq provides integrated mobility solutions including an access and billing system called Easy4You, which is available in Austria, Germany, Italy, and Switzerland.
A spokesperson for DT indicated that the German operator and Alpiq have formed a partnership in the e‑mobility field. "Deutsche Telekom and Alpiq bundle their competencies for a common approach to the market. Telekom brings in certified technical staff for expansion and maintenance of charging facilities in Germany", the spokesperson said, without giving any further details.
The Group's other e‑mobility investments include a minority stake acquired in Austrian charging infrastructure enabler ENIO in April 2019 (Deutsche Telekomwatch, #82). In 2019, DT also launched the Xride e‑mobility platform, underpinned by the Ståx blockchain operating stack (Deutsche Telekomwatch, #86).
Various other NatCos have also made plays in the space. In Croatia, Hrvatski Telekom formed a cooperation agreement with Slovenia‑based e‑mobility service provider GEN‑I in November 2019. The telco operates at least 180 charging stations in Croatia, and launched the espoTs digital charging service for electric vehicles in July 2020.

Anne Morris is a freelance journalist, editor and translator. She has been working as a reporter and news analyst for TelcoTitans since 2016.