Nascent German business Angsa Robotics beats competition from ten other startups to win Deutsche Telekom backing.
Startup gearing up for launch next year.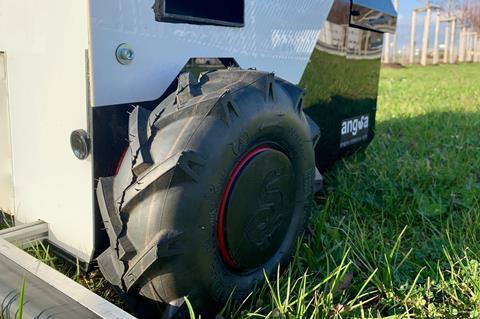 Deutsche Telekom's innovation hothouse hubraum named Angsa Robotics, the developer of an autonomous "trash removal" robot, as the winner of its 2021 Accuracy Unlocked acceleration programme.
Angsa Robotics will now receive a cash injection from the telco. This will likely go towards accelerating product development, with a market launch scheduled in 2022. Its solution is in its "fourth prototype" phase.
The German startup could now be offered a "joint business opportunity" as DT seeks use‑cases for the Precise Positioning technology it is developing with positioning solutions provider Swift Navigation, and which led to the instigation of Accuracy Unlocked (Deutsche Telekomwatch, #92 and #95).
The winner was announced after the programme's eleven finalists pitched their solutions on a "final demo day" event on 11 August 2021.
Speaking at the event, Babak Aghajani-Talesh, Senior Product Manager for Technology & Innovation at DT, said the decision was partly down to Angsa Robotics promoting a "sustainability"-focused innovation, adding that this aligns with the increasing importance the Group is attaching to environmental objectives.
Gearing up for the get-go
Angsa Robotics was founded in 2019 by the trio of Bilal Tariq, Karl Schulz, and Philippo Rabast. All the founders are Technische Universität München (TUM) graduates. The startup, which is currently hiring, holds office space at the UnternehmerTUM campus in Garching, near Munich. According to PitchBook, in mid‑2020 it received $5,460 (£3,928/€4,597) from an unnamed investor as a result of its participation in the UnternehmerTUM-organised Xpreneurs, an early-stage startup incubator programme. One main use‑case of the startup's solution is the cleaning of festival venues after events. Using a "robot‑as-a‑service" model, Angsa Robotics offers corporate festival organisers the chance to become a "beta tester". Precise localisation via GNSS is said to be essential to its operation.


Sam Patterson is a Staff Reporter for TelcoTitans, contributing telecoms news analysis since September 2020 as part of the TelcoTitans Editorial team.