Group's fixed-line assets in Romania currently worth just under €0.5m.
Romanian footing remains, with TRMC still falling under DT's convoluted structure — for now.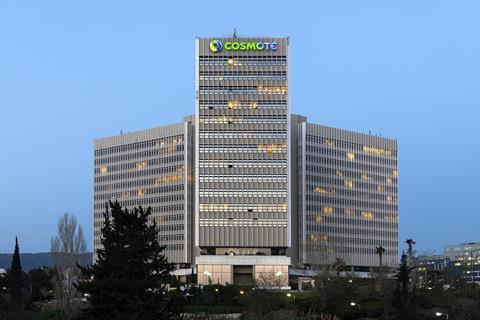 OTE Group agreed a deal to sell its 54% stake in Telekom Romania's (TR) fixed-line business Telekom Romania Communications (TRC) to Orange Romania, for €268m.
In total, Orange is set to pay €497m in the takeover (of both OTE's holding and a stake owned by the Romanian government), in a transaction set for completion "within the second half of 2021", according to the statement. OTE Chief Executive (CEO) Michael Tsamaz described the sale as a "strategic decision taken in the context of redefining the priorities and growth plans of the OTE Group".
OTE is to maintain its 70% stake in mobile business Telekom Romania Mobile Communications (TRMC), of which TR holds the remaining 30% (Deutsche Telekomwatch, #97).
While both TR and TRMC have long been the subject of sale speculation, OTE's latest earnings call, in early-November 2020, saw Chief Financial Officer Charalampos Mazarakis express tentative optimism about future prospects for the mobile business, and reaffirmed OTE's ambition to turn the business around organically. But with just a mobile service offering, it faces a greater risk of churn (including to both a bulked up Orange Romania and rival Vodafone Romania, which recently acquired cableco UPC Romania) and does not represent a fit with Deutsche Telekom's (DT) convergence-focused strategy. On paper, a future sale of TRMC thus appears to be a possibility.
TRC indirectly falls under the DT umbrella through the Group's minority-but-controlling stake (45%) in Greek incumbent OTE. DT has held shares in OTE since 2008, and subsequently expanded its holding to the present level via a government cash-raising exercise (Deutsche Telekomwatch, #2, #11, and #71). The sale of TRMC adds to longer-running trimming of OTE interests, to reduce debt and support DT's longstanding ambition to simplify, harmonise, and strengthen its fragmented Europe segment. OTE's group also includes carrier services arm OTEGlobe and maritime specialist OTEsat-Maritel, but the past decade has seen it sell out of Telekom Albania, Bulgaria's Globul, and satellite service provider Hellas Sat (Deutsche Telekomwatch. #19, #84, #97, and #99).
Operation
Subscribers

Telekom Romania customer base, as of Q3 2020

Orange Romania is set to snag TRC's fixed-line services, and projected to gain control of 930,000 broadband and 1.2 million TV subscribers once deal is formalised.
The prospective sale will also see TR's fixed-mobile convergence subscribers — currently 900,000 — switch to Orange.

Sources: Deutsche Telekomwatch, OTE Group

Fixed-line subscribers

1.1 million

Broadband subscribers

934,159

TV subscribers

1.2 million

Fixed-mobile convergence subscribers

908,898
Perpetually in red
The relinquishment of DT's interest in TRC has been on the cards for a while, and it has made no secret of its openness to an exit from the Romanian market, following years of poor results.
TR showed glimmers of a revival in late-2019 (Deutsche Telekomwatch, #89), but subscriber figures and revenue have since slumped. OTE's recent Q3 FY20 results, published in early-November 2020, again showed major year-on-year drops in both fixed-line (-14.9%) and broadband (-10.1%) customers.
In DT's annual financial report for FY19, published in February 2020, the Group disclosed that it had carried out impairment tests on its Romanian assets (fixed and mobile), owing to what was described as "business development that was worse than expected on the back of intense competition". It recognised an impairment loss on intangible assets and property, plant, and equipment of €320m.
It will be interesting to see how Orange's strategy evolves in Romania, which, unlike DT, will be able to wrap its mobile services and fixed-line assets and offer converged services in the country. The French operator's majority ownership of Orange Romania will enable it to more easily instigate top–down organisational changes, decrease churn, and push back against regulatory barriers (see below). It will also be able to compete more aggressively with Vodafone Romania, following Vodafone's buyout of Liberty Global assets in Romania, as well as the Czech Republic, Germany, and Hungary, during 2019 (Deutsche Telekomwatch, passim).
The importance of singing from the same hymn sheet
The Group's frustrations in Romania are a totem of its scepticism towards the regulatory environment in Europe.
DT's openness to an outgoing M&A move will have no doubt been intensified by the local "Greed Tax", a 3% levy on operator turnover instigated by the Romanian government on the telecoms sector in early-2019 (Deutsche Telekomwatch, #79). The government has also meddled in the country's minimum pricing guidelines for 5G spectrum and delayed publishing the requisite legislation for the auctions — which have now reportedly been pushed back to 2021.
DT's position is complicated even further by the Romania government's belief that a total divestment of TR would be to the detriment of its telecoms market — something the President of the country's Consiliul Concurentei (Competition Council) Bogdan Chirițoiu made clear in a video conference during July 2020 (Deutsche Telekomwatch, #95). The deal with Orange Romania may yet hit a snag because of the government's proprietorial rights over TRC.
The layers of regulatory complexity behind telecoms deal-making in Romania — the number of intermediate parties, the government's first-right of refusal, and the European Commission's mandatory review — bought local news outlet Ziarul Financiar to the conclusion some months ago, rather accurately in hindsight, that, if a sale was agreed, it expected it to take months, perhaps even a year, for the details to be ironed out.
Even so, TR and TRMC remain separate businesses, not in line with the Group's convergence-led "radical simplification" strategy in Europe, as instigated by DT's former regional CEO Srini Gopalan and the Group's top brass. So its decision to (partly) sell out is hardly surprising, especially in a market where the NatCo is peripheral and bracketed as an underperforming "converged challenger".
Looking forward, an interesting side note is the recent appointment of former Proxiums CEO Dominique Leroy as the new Head of Europe, replacing Gopalan. In recent years, DT's strategy has appeared to centre on offsetting European deterioration by leaning on and pumping substantial capital into its perpetual growth engine across the Atlantic — T-Mobile US (Deutsche Telekomwatch, passim). Now, with the US NatCo on an entirely new footing following the Sprint takeover, and new regional management in place, it is clear that DT is mustering another attempt to overcome (and tackle head-on) the competitive and regulatory pressures plaguing business in Europe.

Sam Patterson is a Staff Reporter for TelcoTitans, contributing telecoms news analysis since September 2020 as part of the TelcoTitans Editorial team.