Group moves from E-Band to W-Band in ongoing 5G mmWave backhaul trials.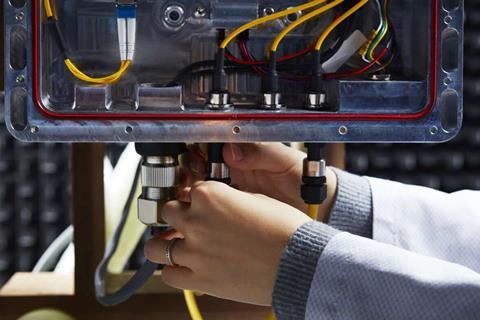 Deutsche Telekom (DT) highlighted further work with Ericsson on microwave link development, as it continues to test the viability of millimetre wave (mmWave) spectrum for 5G — and eventually 6G — backhaul.
The latest trial took place at DT's Mobile Backhaul Service Center at Cosmote's headquarters in Athens, and explored how the W-Band (92GHz–114GHz) could be used to enable "multi-Gigabit" wireless backhaul.
The joint field trial demonstrated a W-Band wireless hop over a 1.5km range using pre-commercial equipment. DT and Ericsson said the W-Band hop "was installed parallel with a 1.5km E-Band hop, to show that the W-Band has a similar long-term performance to E-Band".
The trial purportedly recorded speeds of 5.7Gbps over the 1.5km distance and more than 10Gbps over 1km hops. According to the trial partners, the result proved that W-Band can perform on the same level as the E-Band (70/80GHz), "which is currently the only frequency band supporting 10Gbps wireless backhaul capacities for 4G and 5G. The W-Band is expected to add more untapped spectrum needed for high-capacity wireless transport", they added.
Wireless backhaul currently uses frequency bands from 4GHz to 80GHz to support 5G transport requirements.
Building mmWave momentum
DT did not detail any plans for full deployment of the technology. Konstantinos Chalkiotis, Vice-President, 5G Solutions, Access & Home Networks at DT, said: "We hope soon to see those solutions brought into real production in a cost-efficient manner".
Chalkiotis emphasised that the latest trial with Ericsson confirms the "feasibility of using higher frequency bands with wider channels as another solution in our portfolio to deliver high capacity and high performance backhaul for our customers in the 5G era".
Ericsson has been engaged in a long-running microwave backhaul research and development programme with DT in Greece. In 2019, the partners claimed to have achieved a "landmark" throughput of 100Gbps (Deutsche Telekomwatch, #83), while in 2018 they said tests of an E-Band (70/80GHz)-based mobile transport system achieved 40Gbps (Deutsche Telekomwatch, #79).

Anne Morris is a freelance journalist, editor and translator. She has been working as a reporter and news analyst for TelcoTitans since 2016.