Upbeat executives comfortable enough to keep guidance and dividend unchanged, despite some COVID‑19 impact on B2B projects and consumer sales.
Typically energetic Höttges gets pro-active in post-COVID‑19 politics, positioning DT as key enabler for socio-economic recovery and dismissing cable rivals' broadband platform as illusory.
Messages differ across Atlantic, with TMUS delaying forecasts and reviewing costs.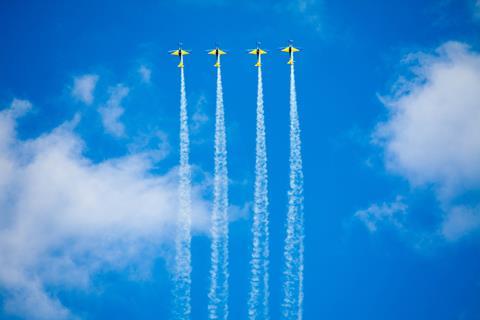 Deutsche Telekom (DT) put another one over many of its European telco rivals by leaving its dividend and outlook untouched in the face of the COVID‑19 pandemic.
The Group's results for the quarter to 31 March 2020 (Q1 FY20) — headlined with the bold assurance that DT "continues to deliver" — saw it reiterate the FY20 guidance it laid out when it reported its annual figures in February 2020, as well as confirming mid-term expectations for the FY17–FY21 period derived from its last Capital Markets Day back in 2018. It also left its proposed FY20 dividend unchanged (Deutsche Telekomwatch, #74 and #92).
The tone of DT's presentation was strikingly upbeat, given the current environment, and there was no dampening of the boxing promoter-esque patter by Chief Executive (CEO) Timotheus Höttges.
We've got the minerals
Höttges was clearly on manoeuvres, politically — fully aware that the pandemic is throwing more spice into the policy mix and creating a new platform for change, with both threat and opportunity for DT.
The significance of how Germany will approach post-coronavirus recovery and consideration of intermingled issues around supplier security and diversity were noted, and Höttges said he had had a "very intense discussion" with Thierry Breton, the increasingly high-profile European Commissioner for Internal Market. This discussion proved "very encouraging", because Breton — a former Atos CEO who was nominated by French President Emmanuel Macron to become a Commissioner in the EC's 2019 refresh — "understands the industry and he understands the language of what our problems and challenges are", said the CEO.
Accentuating DT's financial and network strength versus rivals remained a key theme, with Höttges highlighting a need for "superior infrastructure networks" in the post-coronavirus era. He pointedly referenced the lack of clarity being provided by other telcos in their Q1 announcements, and declared DT to be an "anchor of stability in a global crisis". He also trumpeted the operator's rollout of new services and offers to help worried customers in Europe, he said DT had received numerous thankyous from politicians and big enterprise customers, and noted that "our critics are very, very quiet".
More Q1 analysis from Deutsche Telekomwatch here: