DT partners with BMVI‑funded KODRONA research project, supporting development of BVLOS drone flight for improved medical logistics.
Campus Network M product included in partnership.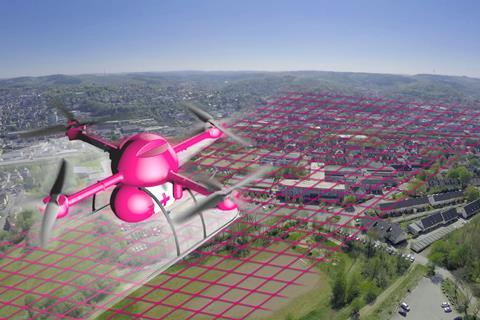 Deutsche Telekom (DT) highlighted involvement in KODRONA, a research project investigating the use of drone technology to transport medicines between hospitals and labs. It will set up a campus network for the project, enabling communication between drones and the KODRONA control centre.
DT joins with the project already in motion, and will offer Campus‑Netz M, its mid‑tier private network solution, to support continued testing. Using a 2.5km test route for beyond visual line of sight (BVLOS) drone flights, KODRONA is transporting medical supplies between three hospitals in the city of Siegen. It aims to develop collision avoidance techniques and validate the benefits of drone flights in the reduction of carbon emissions.
It also aims to prove their viability for medical logistics in accordance with safety guidelines and legislation. In July 2020 the European Union (EU) relaxed and simplified drone legislation, allowing pilots to fly in designated zones with a permit. The new EU rules make it easier — on paper, at least — to conduct BVLOS drone test flights.
KODRONA's initial proof‑of‑concept phase is now completed, having run from July 2019 to February 2020. Primary partners were: the University of Siegen; DRK Kinderklinik, the city's children's hospital; and Microdrones, an unmanned aerial vehicle solutions provider operating out of the city. Two other city hospitals were named as associated partners alongside IT solution provider Guntermann & Drunck. It appears that DT has joined the project as a lead partner, alongside the University of Siegen. The KODRONA project is part‑funded by the Bundesministerium für Verkehr und digitale Infrastruktur (Federal Ministry of Transport and Digital Infrastructure), up to a total of €435,023 (£392,432). Pending further funding, a new round of tests will begin in early‑2021.
Two birds with one stone
The KODRONA project ties together two technology streams the operator has placed substantial emphasis on in recent months.
DT has flagged several partnerships and investments in managing unmanned flights, including a tie‑up with partner DroneShield and through Droniq, its joint venture with Deutsche Flugsicherung, the German air traffic control service (Deutsche Telekomwatch, #94). Interestingly, Droniq is not involved with the KODRONA project, despite naming management of BVLOS flights for enterprises and public organisations a key part of its focus.
The second area is private networks. Alongside strategic partner Ericsson, DT has made public several (largely pilot) campus network deployments across Europe and begun marketing a three‑tiered proposition to clients: Campus Network L; M; and S. The M solution, as deployed in the KODRONA project, uses existing masts to create a virtual private network, as opposed to the L offering, which necessitates the installation of dedicated antennas and a local core network (Deutsche Telekomwatch, #96).

Joseph Purnell is a Staff Reporter for TelcoTitans, contributing telecoms news analysis since 2019 as part of the TelcoTitans Editorial team.