Indoor Booster 5G goes on sale in Bavaria initially.
SK Telecom completes reorganisation into SKT and SK Square.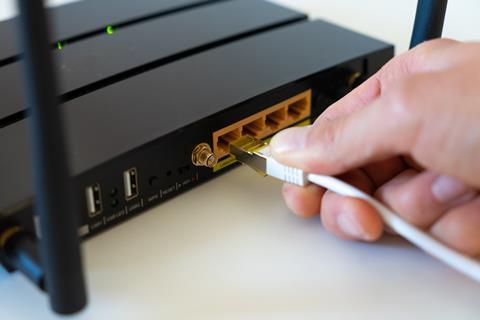 Techmaker, the 5G technology joint venture between Deutsche Telekom and SK Telecom (SKT), achieved its ambition of launching a 5G indoor repeater in Germany during the fourth quarter of 2021.
In November, DT announced the introduction of the Indoor Booster 5G, which is based on SKT's 5G repeater technology and designed for the European market (Deutsche Telekomwatch, #92 and #103).
The new product is currently available in Bavaria to customers that have a mobile contract with Telekom Deutschland. DT also noted that those living in other federal states can register their interest in the product via a dedicated website. The Indoor Booster 5G costs €19.95 (£17.09) per month, with a one-off installation fee of €139.90 and delivery charge of €6.95.
Partners sought
The product launch is an important milestone for the new venture. The 50:50 JV officially got up and running in early-2021, but the operators have been working together on the product since at least 2019. The 5G indoor repeater is one element of a broader strategic partnership between the two telcos that was announced in 2016 (Deutsche Telekomwatch, #89, #93, and #100).
DT has previously indicated that the coronavirus pandemic had a big impact on getting the JV off the ground. Dr. Alex Jinsung Choi, SVP of Strategy and Technology Innovation at DT, said on LinkedIn that it had been a long road to achieve such a fruitful result, but he is sure that many more will follow. Choi also highlighted the support given to the project by DT CEO Timotheus Höttges.
After the initial rollout in Germany, Techmaker expects to offer the 5G repeater product to other telcos across Europe. The JV is also considering other projects such as working on AR and VR 5G services.
SKT's investments in Techmaker and ID Quantique have a new corporate home. SKT completed the process of separating its telecoms businesses and technology investments into two companies on 1 November 2021. One company, focused on "AI and digital infrastructure", retains the telecoms operations and SKT name, and a new entity, called SK Square, is dedicated to investing in semiconductor and ICT. The Techmaker JV and ID Quantique have been incorporated within SK Square, along with memory semiconductor company SK Hynix and 13 other companies. Park Jung-ho, the former CEO of SKT, has been appointed CEO of SK Square, while Ryu Young-sang, who was previously President of the MNO Business, has been appointed CEO of SKT.
Korea highlights: SKT–DT partnership timeline

Year
Development
Source: Deutsche Telekomwatch.

December 2015

Two operators trial SKT's cloud streaming technology at T-Labs facility.

February 2016

DT and SKT enter "strategic business partnership" encompassing collaboration in IoT, roaming, smart cities, and other areas. Plans include deployment of the "world's first transcontinental 5G trial network", as well as various tech swaps involving, among other things, DT's in-car Wi-Fi solution and SKT's pico beamer offering.

SKT named as one founding member of Next Generation Enterprise Network Alliance upon spin out from DT.

February 2017

The two operators form Quantum Alliance, focused on secure communications.

Collaboration with Ericsson, following on from international 5G trial flagged a year earlier, sees Mobile World Congress demo of "federated network slicing for 5G roaming".

March 2018

DT opens Telecom Infra Project Ecosystem Acceleration Centre, joining SKT in contributing a Centre to initiative's research and development network.

October 2018

Cross-Investment Agreement sees SKT commit to investing in DT edge platform spinout MobiledgeX and DT provide equivalent backing to SKT-supported quantum cryptography player ID Quantique.

February 2019

Memorandum of Understanding signed by two Groups at MWC to "accelerate" their strategic partnership and "seek technological partnership opportunities in LTE and 5G networks, OTT media, security, and cloud".

T-Labs and SKT formalise additional MoU on joint development and commercialisation of blockchain-based mobile identification services.

Operators set up a Social VR Experience Zone at MWC.

December 2019

Deutsche Telekom Capital Partners flags the creation of an office in South Korea, building on SKT's participation in the arm's Venture and Growth Fund II.

February 2020

Operators officially announce cooperation on in-building 4G/5G solutions and highlight wider collaboration on 5G, AI, and campus networks.

November 2020

Duo firm up plans to establish Techmaker, a 50:50 JV focused on "innovative 5G solutions for the European market".

Anne Morris is a freelance journalist, editor and translator. She has been working as a reporter and news analyst for TelcoTitans since 2016.