A bundle of connectivity, IoT platform, and cloud services for enterprises.
Trio aims for IoT that's "simple as a click".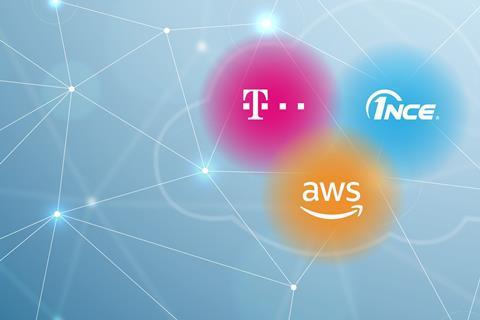 Deutsche Telekom and 1NCE, its minority‑owned Internet of Things (IoT) managed connectivity platform provider, have partnered with Amazon Web Services (AWS) to make IoT services "as simple as a click".
Highlighted at the Telekom Tech Grounds virtual event the new offering, referred to as "Seamless IoT" and a "zero‑touch integration service", bundles together 1NCE's IoT platform, Deutsche Telekom's connectivity, and AWS cloud services with pre‑activated SIM cards and device authentication for faster onboarding.
The service is said to save up to three months for enterprises to get IoT services up and running as well as reduce associated IT costs.
1NCE has worked with AWS since 2018 on cloud‑based managed IoT connectivity services. In December 2020, the company launched a free "1NCE For All" tariff with free cellular IoT connectivity for twelve months, available on the AWS Marketplace, giving developers an opportunity to build projects on 1NCE and AWS services.
Seperately, Deutsche Telekom offers its own branded IoT services to its enterprise customers based on 1NCE in Germany and the Netherlands, called Business Smart Connect and IoT Easy Connect, respectively (Deutsche Telekomwatch, #87, #92, and #99).
1NCE was founded in 2017 and Deutsche Telekom has a 25% stake in the company through its Telekom Innovation Pool investment fund (Deutsche Telekomwatch, #71, #73, and #95). Deutsche Telekom executives have three of the seven Supervisory Board seats at 1NCE: Bruno Jackobfeuerborn, Chief Executive of Deutsche Funktum; Dennis Nikles, Managing Director of Deutsche Telekom IoT (DT IoT); and Hagen Rickmann, Head of Business Customers Division at Telekom Deutschland. The connectivity for 1NCE's managed services is provided via Deutsche Telekom and its roaming partners as well as through partnership with China Telecom to provide services in China, Macao, and Hong Kong.
On a mission to simplify IoT
The move to provide enterprises an ostensibly easier and faster way to get started with IoT chimes with ambition of DT IoT Managing Director Nikles, who was appointed on 1 April 2021 after former CEO Rami Avidan left the company.
At the time of his appointment, Nikles said his focus is on "making it easier for companies to access and implement IoT solutions" as the unit aims to make IoT "available to customers faster and more effectively". DT also said at the time that it is working with partners to "bring together all the elements of IoT", including cloud services, connectivity, data analysis, and devices.


Michelle Donegan is an experienced telecoms writer and has been contributing as a reporter and news analyst for TelcoTitans since July 2020.