DTCP invest in SafeBreach and cash in on video conferencing software Blue Jeans; hub:raum co-led blockchain investment round in Ubirch.
Tim Höttges rotates for Adel Al-Saleh on BT board.
TMUS confirmed contracts with Bandwidth Inc, Avangrid Renewables, and AWS' A2I solution.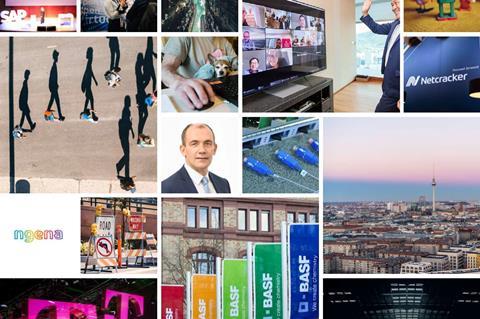 Deutsche Telekom Group
Deals
Blue Jeans Network, a cloud-based video collaboration specialist and long-time Deutsche Telekom (DT) investment — agreed a deal to sell its business to Group US rival Verizon Communications. The sale — seen as partially linked with the uptick in traction for Zoom-style video conferencing applications, amid COVID‑19 containment measures — builds on an existing unified communications relationship with Verizon Business, the telco's enterprise arm. Verizon did not release details of how much it will pay for Blue Jeans — nor, by extension, what DT's proceeds might be. The Group invested in Blue Jeans back in the early‑2010s, via now-retired international investment vehicle T‑Venture. The two businesses subsequently partnered on a VideoMeet-branded service for DT's enterprise customers in Europe, but have made no mention of the tie‑up, or any further collaboration, for several years now (Deutsche Telekomwatch, #2 and passim).
Deutsche Telekom Capital Partners (DTCP) participated in a Series‑C funding round in SafeBreach, a cybersecurity startup, which raised $19m (€17.3m). The round brings the total capital raised by SafeBreach to more than $50m. OCV Partners led the round, with participation from previous investors also including DNX Ventures, Hewlett Packard Pathfinder, PayPal, and Sequoia Capital. SafeBreach said it will use the additional funding to accelerate product development, including a new breach‑and-attack simulation platform that validates security controls, visualises security risks, and prioritises remediations. DTCP first invested in SafeBreach in a 2016 Series‑A financing round, as part of a concerted drive into security. It also participated in the vendor's 2018 Series‑B round (Deutsche Telekomwatch, #56 and passim).
hub:raum, Deutsche Telekom's innovation hub, co‑led an investment round in Ubirch, a blockchain startup, which raised capital in the "seven‑digit" euro range. The funding round, representing the third in the startup, also involved NRW.BANK, the development bank for North Rhine-Westphalia. Cologne‑based Ubirch is a blockchain and Internet of Things (IoT) specialist with offices in Berlin and Munich, focused on customers in the energy, insurance, logistics, and smart-cities verticals. The startup purportedly uses a new approach for securing end‑to-end IoT data transmission, called the "Blockchain for Things", which is said to seal sensor data directly at its source, the SIM chip, rather than after it has been stored in a blockchain in the cloud. Ubirch is also part of a consortium that has proposed a solution called the Corona Health Certificate, an IT infrastructure that anchors the status and other relevant data of tested patients in a blockchain, and provides the information to businesses, healthcare providers, and patients.
Partnerships
Deutsche Telekom (DT) signed Narrowband Internet of Things (NB‑IoT) roaming agreements with three European peers: Swisscom, Telia Company, and Vodafone. The deals were described as ensuring interoperability between DT's nine NB‑IoT networks in Europe and ten from the three competitors (two from Swisscom, four from Telia, and five from Vodafone). However, some of Vodafone's coverage is in countries where DT already has a direct presence (Germany and the Netherlands). Vodafone is also contributing the UK, where Group minority investment BT Group might have been seen as a more likely ally, had it been a more aggressive NB‑IoT proponent. Rami Avidan, Head of Deutsche Telekom IoT, said the Group was "working hard to help accelerate the adoption of NB‑IoT roaming in Europe and beyond".
Germany
Coronavirus response
Telekom Deutschland (TDE) began re‑opening retail stores across Germany, following their closure in the aftermath of the coronavirus lockdown. After a more than five‑week closure, the NatCo had opened 150 outlets by 24 April 2020 and aimed to restart business at the rest of its shops over the following two weeks. TDE said it had implemented various measures to ensure the safety of its staff and customers, including by providing: plexiglass panels at its cash registers; basic hygiene equipment, such as medical protective masks, gloves, and disinfectant; markings in front of tills to ensure social distancing is maintained in queues; and cashless payment. TDE recently flagged plans to close 99 of its 504 stores, to further cost savings, but has not offered an update on the move since the COVID‑19 pandemic (Deutsche Telekomwatch, #91).
Legal and regulatory
Germany's Bundesnetzagentur (Federal Networks Agency/BNetzA) confirmed that Telekom Deutschland (TDE) and rivals face financial penalisation if they do not quickly address 4G coverage shortfalls (Deutsche Telekomwatch, #91). Jochen Homann, President of the BNetzA, confirmed he had mandated Germany's three main mobile operators to "fully meet" rollout targets by the end of 2020, as well as setting them interim quarterly goals and putting them on a regime of monthly progress updates. If they fail to catch up, the body has an "option to impose penalties and fines", he added. Homann's comments came following a BNetzA review of the operators' self‑published coverage data, which showed all three had missed targets linked to 700MHz licences acquired in 2015. Like rivals Telefónica Deutschland and Vodafone Germany, TDE fell short on motorway and railway connectivity goals. Along with Telefónica, it also missed some regional-level obligations.
Partnerships
Telekom Deutschland (TDE) agreed a mobile virtual network operator (MVNO) deal with hypermarket chain Kaufland, usurping incumbent network partner Telefónica Deutschland. New 4G plans coming with fairly pedestrian downlink speeds of up-to-25Mbps are available in Kaufland's 660 stores across Germany. Kaufland mobile replaces the retail group's prepaid MVNO K‑Classic mobil tariff, and existing customers have until the end of October 2020 to transfer their numbers to the new plans, with a €50 credit incentive in place for those that move by the end of July 2020. The new MVNO is offering four packages, which start at €4.99 per month, compared with TDE's cheapest bundle at €9.95, in addition to a "Basic" plan with no monthly fee and calls charged at €0.09 per minute.
Products and services
Telekom Deutschland (TDE) upped its game in the discount end

of the mobile market with the release of a new, app-based plan under the brand

Fraenk

. The service initially offers a low-end, €10-per-month 4G offering that includes a 4GB data allowance at downlink speeds of up-to-25Mbps. Emphasising its low-touch nature,

the plan can be cancelled with one month's notice and is managed via a dedicated

Android

and

iOS

app. Settlements must be made via

PayPal

. TDE applied to trademark the term

Fraenk

earlier in 2020, and does not yet appear to be heavily marketing the service, so may have wider plans for the platform.
Europe
Czech Republic / Slovakia
Video application developer 24i Media flagged a deployment with Slovak Telekom (ST) and T‑Mobile Czech Republic (TMCZ), focused on video analytics, audience measurement, data optimisation, and targeting. 24i's Smart Operator product is now said to provide a single code base across three of the NatCos' video applications (Digi GO, Magio GO, and T‑Mobile TV GO) — and across Android, Android TV, iOS, Samsung smart TVs, web, and on Linux and Android IPTV set‑top‑boxes. Netherlands-based 24i was an early recipient of funding from Deutsche Telekom innovation venture hub:raum (Deutsche Telekomwatch, #72).
PosAm, a software subsidiary of Slovak Telekom (ST), highlighted progress on bridge-building within Deutsche Telekom (DT). In its Annual Report for the year to 31 December 2019 (FY19), Chief Executive Marian Marek said its portfolio was "gradually becoming a preferred Group solution" for DT, and stressed ambitions to "fulfil… synergies" with the operator. The Report showed various transactional links between PosAm and other DT businesses, including: ST and sister NatCo T‑Mobile Czech Republic (TMCZ); T‑Systems; certain DT central functions; and Deutsche Telekom Pan‑Net, the network functions harmonisation arm of DT's Europe segment, which has previously flagged PosAm as an enabler (Deutsche Telekomwatch, #66). PosAm name‑checked two products as particularly underpinning DT ties: Commander Services, a data management offering for corporate fleets, which PosAm inherited through an acquisition in 2018; and ParkDots, a smart-parking solution jointly developed with DT (Deutsche Telekomwatch, #64 and #72). PosAm also highlighted work on a Hitachi Data Systems-focused storage consolidation project for ST and TMCZ. Overall, FY19 saw PosAm increase revenue by 2.5%, to €30.1m.
Greece
Cosmote Greece confirmed reports it had selected Ericsson to support 5G networks (Deutsche Telekomwatch, #90). The Swedish vendor was named Cosmote's 5G radio access network supplier ahead of a launch slated for 2021. Previous reports in the local media had suggested the deal covered both 4G and 5G rollout and was worth around €170m. Cosmote is said to have, up until now, relied on a split-vendor strategy, supported by Ericsson and Nokia. The operator has not confirmed vendor selection for 5G core network kit, with reports suggesting Huawei Technologies and Nokia were being retained, despite ongoing scrutiny of the Chinese supplier's place in core 5G platforms.
OTE Group won a contract with the European Chemicals Agency (ECHA) for the provision, management, and support of the latter's IT team based at the European Union (EU) agency's headquarters in Helsinki, Finland. The two‑year deal, won via an open tender, comes with an option to extend for a further two years. OTE will supply, install, manage, and support the ECHA's IT hardware and software on an 'as‑a-service' basis, with second‑level, and "occasionally" first‑level, IT support services provided both onsite and remotely by OTE via Athens. ECHA is responsible for the safe use of chemical products in the EU.
Hungary
Magyar Telekom (MT HU) confirmed it has relinquished co‑control of E2 Hungary, a corporate electricity services joint venture (JV) set up with MET Holding, an electricity and oil and gas trader, in 2015 (Deutsche Telekomwatch, #49). In financial documentation, the NatCo said it had signed an agreement with MET in December 2019, which "eventuated that the Company lost the joint control and significant influence over E2 Hungary Zrt". Details of the move's practicalities remain patchy and conflicting, with some reports suggesting it has been brought about through an increase in MET's stake to 50.25%, and a cut in MT HU's to 49.75%. It was noted that the tweak will give MET a full say over dividend distribution and senior management appointments at the JV (which is currently led by former MT HU executive Roland Krascsenics). MT HU did not provide its reasons for agreeing to the move, nor has it released numbers on E2 Hungary's financial performance since its creation. Reports suggest the JV has contracts with several universities and public sector bodies. Hrvatski Telekom was another NatCo to venture into energy services in the past decade, but existed in 2018 by selling its retail business to RWE Hrvatska.
North Macedonia
Makedonski Telekom (MkT) denied that it was testing 5G to the detriment of public health after "false information" was circulated on social media. A statement issued by the NatCo called on the public to "not allow fake news and attacks [to] create panic", while claiming that it is currently not testing any 5G networks in North Macedonia anyway. Fake news drawing links between the ongoing COVID‑19 pandemic and 5G network rollout has circulated in several countries, with many network sites being the target of arsonists in the UK (BTwatch, #311). In late‑2019, MkT flagged that it was setting up a 5G network in the capital Skopje and was planning testing "during 2020".
Systems Solutions
Partnerships
Telekom Security deepened existing ties with Palo Alto Networks

. The network and enterprise security vendor has been part of the Group security ecosystem for some years (

Deutsche Telekomwatch

, #3 and #66). A recent announcement signalled the start of a more strategic relationship, with plans to develop and offer managed cyber security services. The joint product portfolio will include:

VM‑Series

, a virtualised version of Palo Alto firewalls for deployment on private and public cloud platforms; cloud security solutions based on the vendor's cloud‑native security platform

Prisma Cloud

; secure remote and mobile access solutions using

Prisma Access

; and managed threat detection and response services. In the latter case, Palo Alto's

Cortex

security operations suite will be used to run the Telekom Security managed security operations centre.
USA
Coronavirus response
TMUS Chief Executive Mike Sievert was named a member of a telecoms‑focused group of senior executives that will supposedly advise US President Donald Trump on the steps necessary to reopen the country's economy. The Great American Economic Revival Industry Group also includes leaders from Altec, Charter Communications, Comcast, Liberty Media, and Verizon Communications, but notably not AT&T. Groups have been established featuring senior figures from a wide range of industries, and collectively the objective is to "produce a more independent, self-sufficient, and resilient" nation in the aftermath of the coronavirus pandemic.
Legal and regulatory
VoIP and communications platform service provider Bandwidth Inc confirmed it has enabled cross‑message call verification for traffic travelling between its network and that of T‑Mobile US (TMUS), based on the NatCo's Caller Verified service (Deutsche Telekomwatch, #81). The solution is built on the Federal Communications Commission's STIR (Secure Telephony Identity Revisited) and SHAKEN (Secure Handling of Asserted Information using toKENs) standards, and designed to help users reduce unwanted communications by displaying "Caller Verified" on their screen when calls are known to be authentic. The deal with the IP platform provider follows similar deals with more conventional operators AT&T, Comcast, and Sprint, as well as interconnection specialist Inteliquent (Deutsche Telekomwatch, #83 and #86). TMUS became the first US operator to implement a solution based on the STIR and SHAKEN standards when it released the Caller Verified feature in January 2019. It was also the first operator in the country to announce readiness for the new standards in November 2018, after integrating its Scam Block and Scam ID call blocking services at network level (Deutsche Telekomwatch, #63, #66, and #78).
T‑Mobile US (TMUS) confirmed its ongoing commitment to the Federal Communications Commission's Keep Americans Connected pledge, which will now see it extend protections to customers facing difficulties in paying their mobile bills until 30 June 2020. As part of its response to the coronavirus pandemic, affected TMUS customers are urged to contact the operator directly to arrange revised payment terms. The extension of TMUS' commitment beyond the initial 60-day term agreed in March 2020 reflects similar promises from its peers.
Partnerships
Closely watched T‑Mobile US (TMUS) video startup partner Quibi failed to meet expectations as it fell out of the Apple App Store's list of 'top 50' applications just two weeks after launch. Though the app made a strong debut, at number-four in the download charts, it dropped to 57th place after a fortnight. It sat at eleventh in the US App Store's Entertainment category as of late‑April 2020. Quibi focuses on short-form video content for consumption on‑the‑go, and with half of the world's population currently isolated in their own homes it appears demand for its proposition has been significantly dampened. Before launching, Quibi named TMUS as its "exclusive wireless distributor", with the NatCo bundling Quibi's two‑tier, subscription-based services with certain plans (Deutsche Telekomwatch, #88 and #90).
Suppliers
T‑Mobile US (TMUS) agreed a "long‑term" contract with sustainable energy provider Avangrid Renewables. Under the deal, it appears that TMUS will acquire an undisclosed amount of national renewable energy credits from the Otter Creek Wind Farm in Illinois. These credits can be used to designate electricity drawn from the US national grid as renewable energy even if it is not possible to directly link the power source to a sustainable means of production. The wind farm became operational in March 2020 and is expected to generate more than 504,100 MW hours of electricity annually. The agreement marks the NatCo's third wind power partnership, following previous deals with Infinity Renewables in Kansas during 2018 and Enel Green Power in Oklahoma in 2017. TMUS recently claimed it was on track to meet its target of relying solely on renewable energy by 2021, which was set in 2018 and is expected to save $100m (€91m) in energy costs by 2033 (Deutsche Telekomwatch, #71 and #91).
T‑Mobile US (TMUS) was referenced as one of the first users of Amazon Web Services' (AWS) newly released Augmented Artificial Intelligence (A2I) solution, a managed service that makes it easier to include human input to validate machine learning (ML) predictions. Amazon A2I is purported to help developers incorporate human judgment into ML applications, with an aim to ensure higher quality predictions over a sustained period of time. Heather Nollis, ML Engineer at TMUS, said the NatCo's customer service agents were currently using ML to retrieve real‑time information such as account details and available discounts, and added that use of A2I would enable it to ensure that its models "continuously deliver top‑quality insights by having humans validate random samples of model predictions". Other organisations that were flagged as using A2I were the UK's National Health Service and consultancy Deloitte.
IBM's Cloud Pak for Data solution is being used to optimise the T‑Mobile US (TMUS) supply chain management, according to Erdem Eskigun, the operator's Director of Supply Chain Data Analytics & Operations Research. Eskigun highlighted the deployment as part of IBM's May 2020 Think Digital conference. Three new capabilities were launched, building on existing functions of three IBM solutions: Cloud Pak for Data; Cloud Pak for Automation; and Watson Assistant. Eskigun flagged that TMUS was using the former to ensure a "more responsive and agile supply chain, while saving costs and delivering superior customer service". The data and artificial intelligence platform is bringing together disparate databases from across TMUS to better optimise operations. "Now, we can go from idea inception to delivery to business users much quicker", Eskigun added.