"Immersive" virtual meetings and challenges of network management on refreshed agenda.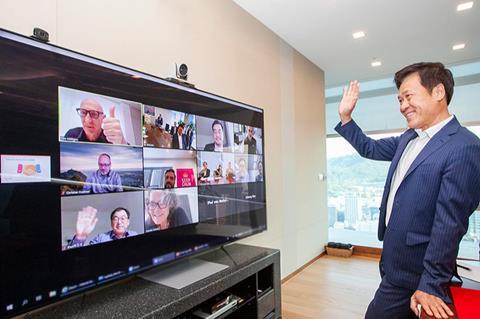 Another sign emerged of a coming, COVID‑19-prompted pivot in Deutsche Telekom's (DT) investment strategy with news of an agenda-refresh in its technology partnership with SK Telecom (SKT).
In a release, SKT said its Chief Executive (CEO) Park Jungho and DT counterpart Timotheus Höttges, as well as other senior executives at the operators, had held a video call to discuss ways to "deepen" the close relationship they have fostered since 2016.
Geared to "alleviate challenges caused by the coronavirus pandemic" and "thoroughly prepare for the post‑coronavirus era", the discussion name-checked 5G, artificial intelligence (AI), and mobile edge computing (MEC) as areas being looked at as part of development of the tie‑up. The two operators see particular opportunity to use AI and MEC in post‑COVID‑19 use‑cases, including "immersive video calling and smart meeting solutions".
They went on to say they will initiate a Network Engineer Exchange Program for knowledge sharing on network management and operation. This involves sharing of "experience in handling data traffic surges caused by a dramatic increase in the number of people working or learning from home".
New era, new thinking
There have already been signals from within DT of a broader strategy and technology remix, following the pandemic. Both Höttges and T‑Systems' CEO Adel Al‑Saleh have recently been alluding to what they call "Horizon 2" (mid‑term) and "Horizon 3" (long‑term) plans at the telco ("Horizon 1" presumably covering immediate business continuity efforts). Dirk Backofen, formerly Head of Telekom Security, shifted to a new role as Senior Vice‑President of Business Development for T‑Sys on 1 May 2020, focused on "new innovative platforms which will combine connectivity, applications, collaboration, security, and identity management in the post-‑corona era" (see separate reports).
Beyond new agenda items, DT and SKT reiterated Deutsche Telekom Capital Partners' (DTCP) interest in the South Korean startup scene following the opening of an office in Seoul during 2019 (Deutsche Telekomwatch, #89 and #90). They also looked to have firmed up plans for a European 5G‑focused technology joint venture (JV), scheduled to launch later in 2020. Transport and in‑building solutions have previously been cited as focus areas for the JV, which was first flagged in 2019 (Deutsche Telekomwatch, #85).
Seoul mates
DT and SKT's business and technology partnership, announced at Mobile World Congress 2016, remains strikingly productive, especially in an industry thin on examples of successful bilateral tie‑ups. Beyond the above, the two operators have flagged worked together on:
Various testing initiatives focused on 5G components, cloud‑based TV, in‑vehicle connectivity, and elsewhere.
Common membership of numerous industry initiatives, including the Telecom Infra Project, O‑RAN Alliance, and recently announced Telco Edge Cloud grouping.
Joint launch of the Quantum Alliance, with DT testing SKT's quantum cryptographic communications system and investing in Swiss technology player ID Quantique, controlled by SKT.
SKT backing for DT‑initiated platform venture MobiledgeX.
SKT investment in DTCP's Fund II.
Common membership of enterprise connectivity platform ngena.