Robotics players first to win places in Deutsche Telekom's Industry 4.0 innovation scheme.
Solutions to emerge from hubraum programme could be integrated with Group products.
DT's partner ecosystem steadily growing.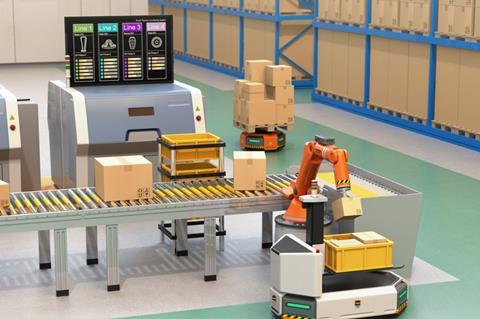 hubraum, Deutsche Telekom's (DT) technology incubator, unveiled the first startups to become members of its Campus Network Program, which was launched in February this year as part of the Group's ecosystem-building play around private networks.
Antje Williams, Senior‑Vice President of 5G Campus Networks at DT, made use of social media to introduce two of what are likely to be several "promising" startups identified by hubraum and T‑Systems.
The first is Austria‑based incubed IT, which specialises in hardware‑independent navigation software for autonomous mobile robots. Incubed IT has in fact been around for some time; it was founded by graduates of Graz University of Technology in 2011.
The second is Israel‑based RobotAI, which is developing software, sensors, and controls to enable robots to perform high‑level tasks.
The aim of the programme is to allow startups to test their ideas within the Center Connected Industry (CCI) environment, a scientific and industrial grouping that was founded in 2016 and includes DT as a member.
Williams said the various solutions developed by the startups are co‑created, implemented, and demonstrated at the CCI site at RWTH Aachen University. To support this, DT and Ericsson have deployed a 5G standalone private network at the site, as a testbed for industrial use‑cases (Deutsche Telekomwatch, #79 and #96).
Campus focus
DT's campus network solutions remain one of its key areas of go‑to‑market focus around enterprise 5G. The Campus Network Program for startups is designed to help discover new industrial solutions that are able to exploit 5G and edge computing capabilities of private wireless networks.
The programme specifically focuses on augmented and virtual reality (AR/VR) solutions, automated guided vehicles (AGV), artificial intelligence, and campus positioning, both indoor and outdoor.
Startups are given the opportunity to test their solutions on campus network infrastructure, gain access to technology experts and DT business customers, and potentially integrate their solutions with DT's product portfolio. There is also the possibility of an investment by hubraum.
RobotAI was named in April as one of four startup teams engaged in the early phases of the programme at the CCI site in Aachen.
The other three mentioned at the time were:
Neuron Soundware, a Czech team focusing on predictive maintenance;
Box ID, which was exploring how to track objects within the entire industrial supply chain, and;
Holo‑Light, a developer of location and 3D‑based monitoring of live machine data via AR glasses or tablets.
Beyond these smaller players, solution providers DT has previously flagged it is working with in the campus network space include:
Cradlepoint, on industrial wireless routers.
Dynabook (AR smart glasses).
EK Automation (AGVs).
Endress+Hauser: connected sensors.
InSystems Automation: (AGVs).
Konica Minolta: lightweight AR glasses.
RealWare: AR smart glasses.
It also recently highlighted a tie-up with Accenture on solution testing at the Industry X.0 Innovation Centre at Essen's Zollverein colliery complex (Deutsche Telekomwatch, #100).
T‑Systems recently appeared on the list of organisations that have been granted 'local' 5G allocations in Germany. A DT spokesperson said the private 5G licence was obtained for the development and testing of industrial use cases in the 3.7GHz/3.8GHz frequency band. DT acquired 5G‑enabling spectrum in the 2.1GHz and 3.6GHz bands in June 2019 (Deutsche Telekomwatch, #84 and passim).

Anne Morris is a freelance journalist, editor and translator. She has been working as a reporter and news analyst for TelcoTitans since 2016.