36 key people moves tracked and analysed.
Bohle takes over delicate privacy role from Kremer.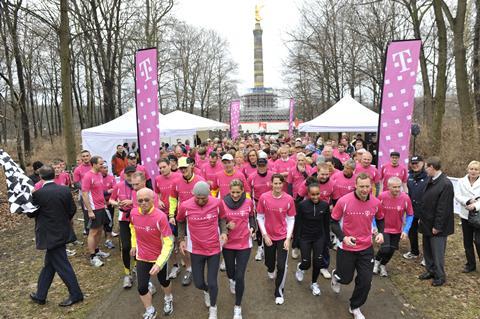 Group
Company

Executive

Activity

Details

Board of Management

Human Resources

Birgit Bohle

Expanded role

Thomas Kremer (right), long-time Head of Data Privacy, Legal Affairs & Compliance (DRC) at Deutsche Telekom (DT), is to leave the Group on 31 March 2020, almost eight years after joining from ThyssenKrupp.

Board-level oversight of DRC issues will, from 1 January 2020, will be absorbed by DT Human Resources Head Birgit Bohle (left), rather than continuing to form a distinct area. Working under Bohle, Dr. Claudia Junker will become Head of DRC (and an Executive Vice-President) once Kremer departs. She has been General Counsel of DT's Group Legal department since November 2010.

Kremer is widely portrayed as having revamped DT's approach to privacy in part-response to its high-profile scandals of the 2000s, and gained praise from Group Chairman Ullrich Lehner for having given the issue of data privacy a "completely different meaning in the company today compared to when the DRC division was established".

2018's settlement of the Group's long-festering TollCollect dispute with Germany's government was cited as one reason for melding the DRC unit within Group Human Resources (Deutsche Telekomwatch, #77).

Dr. Claudia Junker

New role

Thomas Kremer

Departure

Europe

Anette Schaefer

Departure

Anette Schaefer, Vice-President (VP) of TV Business for Europe, left the Group. Schaefer has become an Advisory Board Member at Croatian TV analytics solution provider AdScanner, and is also an Industry Analyst at research consultancy BIGPicture.

Technology & Innovation

Miodrag Bukvic

Departure

Miodrag Bukvic, Head of Key Relationship Management at hub:raum, DT's technology incubator, joined Ericsson as Global Portfolio Manager.

Steffen Horst

Departure

Steffen Horst, VP of Nearshore and Offshore Controlling at DT IT, left to become Managing Director at German IT service provider GKVInformatik.

Manuel Melles

Departure

Manuel Melles, Head of New Business, Partner Management & Marketing within DT's Consumer Internet of Things (IoT) unit, became Senior Manager of Partner Sales for Germany, Austria & Switzerland at enterprise software vendor SoftwareAG.

Hartmut Müller

Departure

Hartmut Müller, Senior Vice‑President (SVP) of Business Solutions at DT, departed to become VP of IT at German automotive giant Daimler.

Thomas Wind

Departure

Thomas Wind, VP of Executive Business Development and Product Innovation Sales Manager at DT, left to become VP of Business Design for the Europe, Middle East & Africa region at messaging platform provider LivePerson, a partner of T‑Mobile US (TMUS).

USA & Corporate Development

Dhananjay Mirchandani

Appointment

DT appointed Dhananjay Mirchandani SVP of Investment Management.

Mirchandani was previously Senior Research Analyst for EuropeanTelecoms at American investment management specialist AB Bernstein.
Germany
Company

Executive

Activity

Details

Telekom Deutschland

Lars Kindervater

New role

Lars Kindervater, Head of Internet Sales Management at Telekom Deutschland (TDE), became Head of a New Residential Areas End-to-End Project. Kindervater has also become a Member of the Fixed‑Line Commercial Management Leadership Team at TDE's Consumer business unit.

Andrea Schmitt

New role

Andrea Schmitt, VP of Central Scheduling in TDE's Field Service unit, changed remit to become VP of Service Provider Management within the division.
Europe
Company

Executive

Activity

Details

Deutsche Telekom Global Carrier

Gergely Vadas

New role

Gergely Vadas, Head of Mobile Services & Carrier Partnerships at Deutsche Telekom Global Carrier, became Head of Global Voice Buying & Messaging at the unit.

Hrvatski Telekom

Daniel Daub

Additional role

Daniel Daub, Hrvatski Telekom's (HT) Chief Financial Officer, took on an additional role and became a Board of Directors member at HT-controlled Crnogorski Telekom.

Magenta Telekom

Gerhard Feimer

Departure

Gerhard Feimer, VP of Human Resources (HR) Operations at Magenta Telekom (formerly T‑Mobile Austria), left to become Manager of HR at national news agency Austria Press Agency.

Michael Rochel

New role

Gerald Schwanzer (right), SVP of Consumer Marketing at Magenta Telekom, left to become Head of Telecommunications Business Development at German utility WienEnergie.

Schwanzer is succeeded by Michael Rochel, formerly VP of Consumer Marketing at the Austrian NatCo.

Gerald Schwanzer

Departure

T‑Mobile Poland

Piotr Hołownia

New role

Piotr Hołownia, Senior Head of IoT & Terminal Technologies for the IoT Factory within T‑Mobile Poland, was promoted to become Director of Innovation & Architecture Department within the same unit.
Systems Solutions
Company

Executive

Activity

Details

T‑Systems

Eleonore Betz

Appointment

Eleonore Betz, Head of Operational Risk Management at DT, switched to T‑Systems (T‑Sys) to become VP of Portfolio Strategy.

Kerstin Gross

Departure

Kerstin Gross, Head of Portfolio Controlling at T‑Sys, left to join German insulation materials manufacturer Knauf as Director of Central Digital.

Peter Klingenburg

Appointment

T‑Sys re‑hired Peter Klingenburg, Head of Digital Enterprise at German IT service provider Materna, as Head of Transformation & Integration.

Klingenburg was Managing Director of T-Systems Multimedia Solutions, DT's specialist digital media services unit, between 2006 and 2018.

Stefan Pütz

New role

Stefan Pütz, VP of Network & Infrastructure Security at T‑Sys, had an apparent slight change in remit and became VP of Network and IT Security.

János Stefán

New role

János Stefán, Head of ControlTower Service Delivery Unit at T‑Sys, changed roles to become Head of Automation for the Hungarian Shared Service Centre at T‑Sys.

T‑Systems Brazil

Alexandre Pedroso

New role

Alexandre Pedroso, Head of SAP & Digital Sales Portfolio at T‑Systems Brazil, changed remit to become Head of International Sales.

T‑Systems Iberia

Faustino Lozano

Appointment

T‑Systems Iberia appointed Faustino Lozano Headof Data Intelligence.

Lozano was previously Headof Insights & Data for Barcelona at French consulting and professional services provider Capgemini.

T‑Systems North America

Montse Salvany

Appointment

Montse Salvany, Senior Leadership, Development & Culture Consultant at DT, switched to T‑Systems North America to become VP of Human Resources.
USA
Company

Executive

Activity

Details

T‑MobileUS

David Anderson

New role

David Anderson, Director of Business Development & Partner Management at TMUS, was promoted to Senior Director of Business Development & Partner Management.

Matt Cantu

New role

Matt Cantu, Director of Market Sales at TMUS, took on a new role as Director of Sales Operations& Business Planning.

Paul Chapple

Departure

TMUS executive Paul Chapple, VP of Supplier & Product Management, joined Vodafone Group as Director of Mobile Products & Services.

Laura Chase

Departure

Laura Chase, Director of Digital Analytics & Optimisation at TMUS, left to join Amazon Web Services as Head of Website Testing & Analytics.

Lisa Munro Collins

Departure

Lisa Munro Collins, Director of New Customer Acquisition& Strategic Planning at TMUS, joined American health snack manufacturer Skinny Dipped as VP of Marketing.

Lowell Handy

Appointment

TMUS hired Lowell Handy as Director of Network Engineering & Operations. Handy joins from media conglomerate Cox Enterprises, where he was Director of Construction & Planning for California.

Angelique Sabin

Appointment

TMUS appointed Angelique Sabin Director of Integrated Marketing Strategy.

Sabin was previously Brand Director at American snack vendor Caveman Foods, and prior to that Director of Marketing at coffee chain Starbucks.

Taylor Wolfe

Departure

Taylor Wolfe, Director of Corporate Strategy at TMUS, left to become Head of IoT Business Development at cloud communications platform provider Twilio.
Alumni
Company

Executive

Activity

Details

E.ON

Sascha Mager

Alumni

Former T‑Mobile Deutschland executive Sacha Mager was appointed Chief Transformation Officer and Board Member at utility E.ON UK.

Mager was VP of Retention & Campaign Management at T‑Mobile Deutschland between 2006 and 2008, before joining Vodafone Romania.

Syniverse

Simeon Irvine

Alumni

Simeon Irvine, Head of Finance Services at T‑Mobile Deutschland between 2001 and 2004, was appointed Chief Transformation Officer at mobile technology provider Syniverse.
Sources: Deutsche Telekom, various.