Q4 results draw line under pre-Sprint era, continue rapid, Un-Carrier-led growth.
American NatCo now producing more revenue than Group's other three main segments added together.
Sprint merger hastily wrapped up as COVID-19 crisis escalates.
DT leadership joy evident as transaction goes through with improved terms and seemingly better-than-expected regulatory outcome.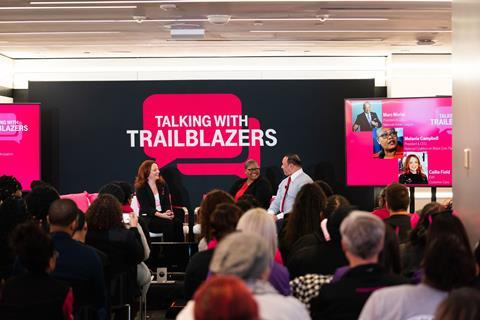 T-Mobile US (TMUS) made what would be its last results presentation as a standalone business, delivering another set of strong numbers and underlining the end of its status as sub-scale market upstart with the completion of its mega-merger with Sprint.
The quarter to 31 December 2019 (Q4 FY19) saw the Un-Carrier produce what Deutsche Telekom (DT) Chief Executive (CEO) Timotheus Höttges deemed an "outstanding performance", again built on controlled commercial aggression.
Deutsche Telekom, US area financial summary (as reported), Q4 FY19
Q4 FY18
Q4 FY19
Change
Note: * Cash capex line includes spectrum purchases.
Sources: DT and Deutsche Telekomwatch.

Total revenue

€10,018m

€10,791m

7.7%

218

EBITDA

€2,436m

€3,300m

35.5%

1000

EBITDA margin

24.3%

30.6%

6.3pp

Depreciation, amortisation, impairment

-€1,393m

-€2,097m

Operating profit (EBIT)

€1,043m

€1,203m

15.3%

433

Cash capex *

€1,008m

€1,055m

4.7%

131
Highlights included:
TMUS' trademark act of producing one million-plus branded postpaid net additions in Q4 (+1.3 million). The operator delivered 4.5 million net adds in this category across FY19, on par with FY18's performance. Its FY19 customer adds total (of seven million) was also in line with the previous year — a suggestion of 'growth management' and room to spare in the commercial space, if needed (at least pre-COVID-19).
An ongoing strategic focus on loyalty. In the branded postpaid category, churn was up very marginally to 1.01% (against 0.99% in Q4 FY18). Also emerging, relatedly, is an increased focus on higher-lifetime-value contract customers. TMUS appears to have taken its foot off the gas in the prepaid segment in the last two quarters, seeing a 477,000-dip in its base during H2 FY19.
A 4%-increase in revenue in dollar terms, giving TMUS the same level of growth across FY19 as a whole. In DT's euro-based books, where TMUS' sales have been boosted further by recent times' strengthening of the dollar, Q4 saw TMUS' top-line (€10.79bn) surpass that of the Germany, Europe, and Systems Solutions segments combined (€10.74bn) — a mark of how dramatically the NatCo's contribution to DT has changed from unwanted drag to primary engine.
A 9%-rise in adjusted earnings before interest, taxation, depreciation, and amortisation (EBITDA), with 8%-growth across FY19.
Guidance for significant growth in EBITDA and free cash flow in FY20, albeit super-ceded by the Sprint deal's conclusion and COVID-19 pandemic.
Deutsche Telekom, US area operational indicators, Q4 FY19
Q4 FY18
Q4 FY19
Change
Sources: DT and Deutsche Telekomwatch.

Customers ('000)

Total

79,651

86,046

8.0%

756

Branded contract

42,519

47,034

10.6%

1000

Branded prepaid

21,137

20,860

-1.3%

-123

Average revenue-per-user

Branded contract

€37

€37

–

Branded prepaid

€32

€34

6.3%

Churn

Branded contract

1.2%

1.2%

–

Branded prepaid

4.0%

4.0%

–
Last-minute rush to wrap Sprint deal as markets recoil
A few weeks after the Q4 presentation, on 1 April 2020, TMUS announced completion of the Sprint transaction following a near-two-year legal and regulatory battle, including a pivotal, remedy-aided agreement with the Federal Communications Commission in 2019 and court win against state authorities earlier in 2020 (Deutsche Telekomwatch, #73, #88, #91, and passim). While the two businesses operated separately during Q1 FY20, their results for that quarter will be presented by the newly-enlarged TMUS. Sprint's public-facing investor relations website has already been subsumed into that of TMUS.
Sprint's results for the quarter to 31 December 2019 served to underline its reliance on the merger being allowed to go through, displaying ongoing contraction in revenue and churn among branded postpaid subscribers.
TMUS' move to wrap up the transaction came despite one remaining regulatory loose end — securing a green light from the California Public Utilities Commission (CPUC). TMUS CEO Mike Sievert reportedly indicated the NatCo had decided to press on with completion, without a formal/full CPUC nod, to give security over deal financing amid the uncertainty in financial markets. Further, TMUS indicated it had secured a preliminary go-ahead from the Commission. Subsequently, however, the CPUC warned in a tweet that TMUS was not in its rights to begin merging it and Sprint's operations in California until after a Voting Meeting, scheduled for 16 April 2020.
Late icing on cake
DT's own Q4 presentation also came before the Sprint deal was fully tied down — but management were clearly full of joy that the transaction had cleared all major hurdles and appeared unstoppable at that stage.
Höttges called the merger the "biggest thing of everything" being discussed during the Q4 session and said he was "very happy about the outcome" of the recent court battle. "What an incredible journey this has been", he said, again highlighting TMUS' "unprecedented turnaround" since the 2012 appointment of John Legere as CEO of the NatCo (Deutsche Telekomwatch, #13). As previously announced, Legere has now stepped down and been replaced by Sievert, following the deal's completion.
Both Höttges and Chief Financial Officer Christian Illek reaffirmed the business modelling behind the merger — i.e. shifting intra-Group debt off DT's balance sheet and turning TMUS into a major cash cow as the 2020s progress — and various other late-stage events will have added to DT's confidence that it and TMUS have pulled off a remarkable win.
Remedies 'could have been worse': Despite the 23-month effort to secure a green light, and multi-faceted compromise agreed with the FCC in 2019, Höttges assured that the "logic of this deal is fully intact". He indicated TMUS starts its new life within range of forecast cost synergy opportunities — pegged at more than $6bn (€5.6bn) annually, from the mid-term — and without having to give up more spectrum than expected (i.e. just a future transfer of 800MHz frequencies to Dish Network, as agreed with the FCC). There was also a hint DT and TMUS has emerged from the fight with fewer bruises than expected. "We had even anticipated [in] our business case… that we might have additional remedies or legal costs to carry, which [were] not foreseen at that point in time", said Höttges.
SoftBank gives up more ground: Shortly after DT's Q4 presentation, TMUS and Sprint flagged an amended Business Combination Agreement, seemingly reflecting DT's eagerness to absorb further divergence in the two operators' fortunes during the prolonged merger review. The main tweak saw Sprint majority owner SoftBank Corp. agree to surrender around 48.8 million Sprint shares at closure of the deal, effectively increasing the worth of TMUS stock being injected into the merged entity. The upshot is DT owns around 43% of the new business, up from the 41.7% projected when the deal was first announced in 2018. DT also continues to hold management control via a "perpetual" mechanism lending it the voting rights that are attached to SoftBank's holding.
Debt offload confirmed, despite COVID-19: As the coronavirus crisis rose up to create new questions over the merger timeline, TMUS' management stepped in to assure the markets. The operator said it had secured "broad support" from "16 leading US and global banks" to help meet the refinancing costs of the transaction — which particularly centre on repayments of much of the financing DT has provided TMUS to fuel its aggressive expansion in recent years. TMUS then launched a $19bn senior secured notes offering the day after the transaction was completed. When the merger was first announced, TMUS had $17.1bn in loans from DT and planned to slash this to $6.6bn on completion, with further repayments thereafter. Full details of the switcheroo are yet to emerge, but the manoeuvre is likely to have major benefits for other parts of DT (although the Group remains overall 'guardian' of TMUS and its borrowing). With debt reduced and cash flow from TMUS set to ramp-up, DT's next M&A steps are sure to come into focus.