New business to develop 5G in‑building solution for European market and collaborate on AR/VR, MEC, and apps.
Longstanding partners DT and SKT extend relationship.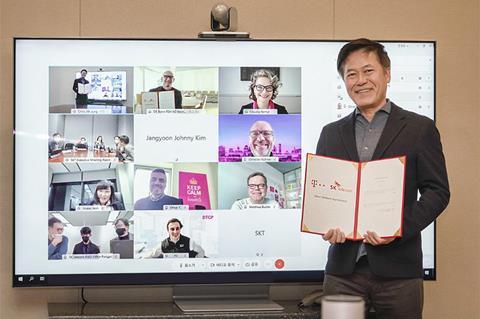 Deutsche Telekom (DT) and long‑time partner SK Telecom (SKT) deepened their relationship with the creation of a 5G joint venture (JV), with initial plans to develop in‑building solutions for the European market, and, "in the mid‑to‑long term", cooperate on augmented and virtual reality (AR/VR), mobile edge computing (MEC), and the "app market".
First flagged in May 2020, the deal is expected to close by the end of 2020, with each operator to hold a 50% stake in the JV, which will be headquartered in Germany (Deutsche Telekomwatch, #93). DT added that each operator will name one representative to lead the new entity. SKT will also contribute in‑building wireless technology assets.
DT and SKT are aiming to get a head start on the market for 5G in‑building solutions in Europe by building on the work they have already done in this area, following their tie‑up in July 2019 on 5G transport solutions that included repeaters and in‑building solutions (Deutsche Telekomwatch, #85 and #92).
In August 2020, the operators conducted customer trials in eight German cities using a 5G/LTE dual‑mode repeater from SKT. Through the new JV, the operators plan to launch a 5G/LTE dual‑mode repeater, initially for the European market.
DT Chief Executive Timotheus Höttges posted on LinkedIn: "A pandemic does not stop us from intercontinental partnerships!… By combining our strengths [with SKT], we work together to develop new and innovative 5G products that improve the customer experience".
DT and SKT's long, fruitful relationship
DT and SKT's business and technology partnership, announced at Mobile World Congress 2016, remains strikingly productive, especially in an industry thin on examples of successful bilateral tie‑ups. Beyond the above, the two operators have worked on:
Various testing initiatives focused on 5G components, cloud‑based TV, in‑vehicle connectivity, and elsewhere.
Common membership of numerous industry initiatives, including enterprise connectivity platform ngena, the Telecom Infra Project, O‑RAN Alliance, and the recently announced Telco Edge Cloud grouping.
Joint launch of the Quantum Alliance, with DT testing SKT's quantum cryptographic communications system and investing in Swiss technology player, and SKT‑controlled, ID Quantique.
SKT backing for DT‑initiated platform venture MobiledgeX.
SKT investment in Deutsche Telekom Capital Partners' Fund II.