Telekom Innovation Pool investment 1NCE builds DT commercial partnership.
IoT Easy Connect platform‑as‑a‑service offering aims to make IoT accessible for Dutch SMEs.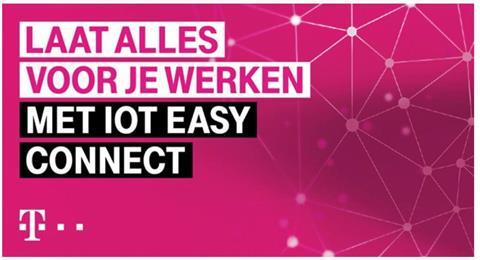 Deutsche Telekom (DT) expanded its commercial partnership with minority-owned Internet of Things (IoT) platform provider 1NCE to the Netherlands, building on an existing, comparable deal in Germany.
T‑Mobile Netherlands launched its IoT Easy Connect product, an IoT management solution built on 1NCE's cloud‑native white‑label platform, in September 2020. Telekom Deutschland's German equivalent was launched in August 2018, under the marque Business Smart Connect.
Similar to the German sales tie‑up, IoT Easy Connect is targeted at Dutch startups and small‑ and medium‑size enterprises. It supports IoT connectivity via a mobile network (including Narrowband‑IoT and LTE‑M) using a single SIM card, and comes with prepaid tariffs.
Two products are available in the Netherlands:
Easy Connect: from €6 (£5.46) for 300MB over five years.
Easy Connect Low Power: from €9 for 10MB over five years, specifically designed for energy‑efficient devices.
In Germany, the package consists of a flat‑rate IoT enterprise data tariff (Deutsche Telekomwatch, #87 and #92).
DT has a 25% stake in 1NCE via its Telekom Innovation Pool investment arm.


Joseph Purnell is a Staff Reporter for TelcoTitans, contributing telecoms news analysis since 2019 as part of the TelcoTitans and Market Mettle Editorial team.