Telekom Innovation Pool investment 1NCE builds DT commercial partnership.
IoT Easy Connect platform-as-a-service offering aims to make IoT accessible for Dutch SMEs.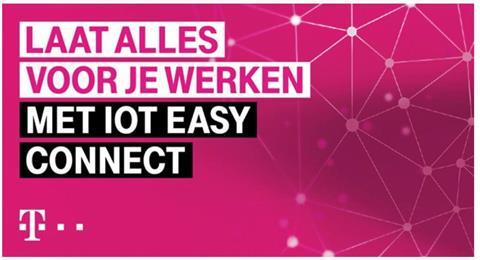 Deutsche Telekom (DT) expanded its commercial partnership with minority-owned Internet of Things (IoT) platform provider 1NCE to the Netherlands, building on an existing comparable deal in Germany (Deutsche Telekomwatch, #87 and #92).
T-Mobile Netherlands launched its IoT Easy Connect product, an IoT management solution built on 1NCE's cloud-native white-label platform, in September 2020. Telekom Deutschland's German equivalent was released in August 2018, under the Business Smart Connect marque.
Similar to the German sales tie-up, IoT Easy Connect is targeted at Dutch startups and small- and medium-size enterprises (SME). It supports IoT connectivity via a mobile network (including Narrowband-IoT and LTE-M) using a single SIM card, and comes with prepaid tariffs.
DT has a 25% stake in 1NCE through its Telekom Innovation Pool investment fund.
Footprint growing
In terms of telcos, 1NCE also boasts a partnership with China Telecom Global, through which it can access connectivity in mainland China, Hong Kong, and Macau. 1NCE lists Amazon Web Services, Software AG, and blockchain-based IoT specialist ubirch among its ecosystem partners.

Joseph Purnell is a Staff Reporter for TelcoTitans, contributing telecoms news analysis since 2019 as part of the TelcoTitans Editorial team.