One Braham, soon to be BT's main office, is reportedly being readied for a £500m sale.
BT due to move at the end of the year after leaving 81 Newgate Street.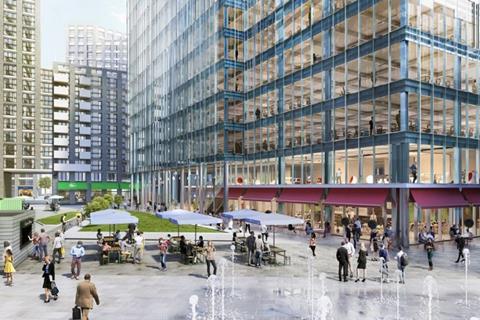 BT's future headquarters, One Braham, is being prepared for a £500m sale by its owners Aldgate Developments. According to a Property Week report, AGC Equity Partners is in "early-stage talks" to buy the east London building.
BT signed a lease for the 18-floor Aldgate Street facility in mid-2019 and expects to complete its move by the end of 2021. The site will become BT's central office and global HQ, and the operator will rename the building — as it did for current stomping ground 81 Newgate Street, or "The BT Centre". 81 Newgate Street in St Paul's was sold for £210m to Orion Capital Managers with a 30-month lease-back deal that will keep BT as a tenant until the end of this year (BTwatch, #305 and #309).
Better Workplace still on course
The move is part of BT's Better Workplace transformation programme, which was instigated in 2018 and includes shifting staff to strategically-located offices — or regional hubs. Though BT is reportedly "still on course" for the London move, a similar transition in Birmingham has faced delays due to lockdown measures and delays are expected at other sites across the country.
Thirty regional hubs are planned by 2024 as part of the Better Workplace programme, with Birmingham's Three Snowhill (3,000 employees), Bristol's Assembly Building (2,000), and Manchester's Four New Bailey (2,000) the largest of the bunch. Other host cities include Bangor, Belfast, Bristol, Cardiff, Doncaster, Dundee, Edinburgh, Glasgow, Ipswich, Liverpool, London, Manchester, Plymouth, and Sheffield (BTwatch, #319).
Beyond coronavirus restrictions making moves difficult, BT has faced considerable local resistance against the transformation programme, which ostensibly reduces headcount and encourages some relocations (BTwatch, #314, #315, and passim). The Group has seen strike action by Openreach engineers in recent weeks over broader employee concerns and faces an upcoming Communication Workers Union ballot over a national strike (BTwatch, #321).

Joseph Purnell is a Staff Reporter for TelcoTitans, contributing telecoms news analysis since 2019 as part of the TelcoTitans Editorial team.